Les Moonves Stepped Down As CEO Of CBS After More Sexual Misconduct Allegations Surfaced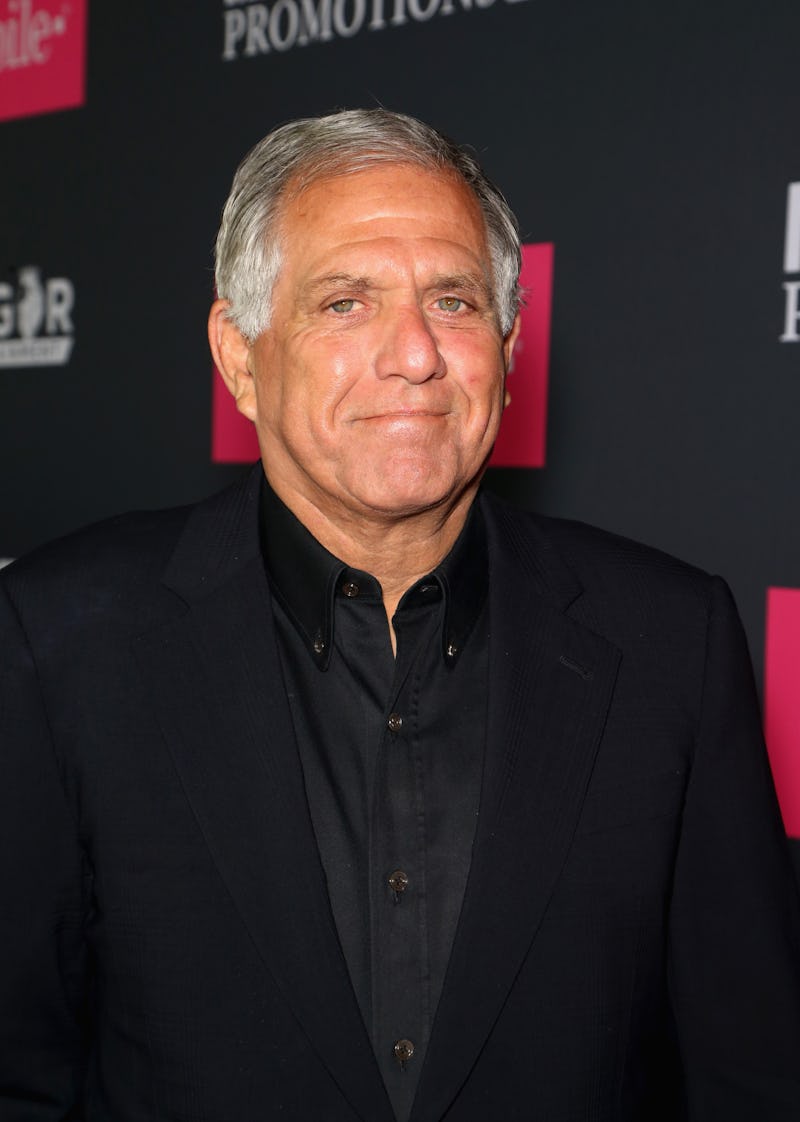 Gabe Ginsberg/Getty Images Entertainment/Getty Images
Following allegations of sexual assault and harassment by multiple women, CBS' longtime chief executive officer is out. According to an announcement made by the network on Sunday, Les Moonves has resigned from CBS after 15 years as the CEO. Moonves will also be making a $20 million donation to organizations that support the #MeToo movement, which will come directly out of his severance package. However, CBS also said that he will not receive his severance benefits until an independent investigation into these claims has been completed. Meanwhile, Moonves maintains that these are "untrue allegations from decades ago... that are not consistent with who I am," according to Variety. (Bustle reached out to Moonves' lawyer for comment, but did not receive an immediate response.)
This news comes after Ronan Farrow's second exposé about Moonves for the New Yorker. In the first article, which was published in July, six women accused him of harassment and intimidation, and in the second, which was published on Sunday, six additional women came forward. One woman, Phyllis Golden-Gottlieb, told Farrow that she'd already filed a police report after Moonves allegedly forced her to perform oral sex on her in the '80s. Other women have accused Moonves of unwanted kissing or touching, often allegedly threatening their careers if they didn't do as he asked.
In response, Moonves' statement to the New Yorker read,
"The appalling accusations in this article are untrue. What is true is that I had consensual relations with three of the women some 25 years ago before I came to CBS. And I have never used my position to hinder the advancement or careers of women. In my 40 years of work, I have never before heard of such disturbing accusations."
Moonves also claimed this was "part of a concerted effort by others to destroy my name, my reputation, and my career. Anyone who knows me knows that the person described in this article is not me."
Moonves' departure is effective immediately, with the network's COO, Joseph Ianniello, stepping in as interim CEO for now. On Sunday, Moonves released the following full statement to Variety about his resignation:
"For the past 24 years it has been an incredible privilege to lead CBS's renaissance and transformation into a leading global media company. The best part of this journey has been working alongside the dedicated and talented people in this company. Together, we built CBS into a destination where the best in the business come to work and succeed. Untrue allegations from decades ago are now being made against me that are not consistent with who I am. Effective immediately I will no longer be Chairman and Chief Executive Officer of CBS. I am deeply saddened to be leaving the company. I wish nothing but the best for the organization, the newly comprised board of directors and all of its employees."
Earlier that day, the Time's Up movement also released a statement on the situation in a press release before Moonves' departure was officially announced. The statement reads, in part:
"Six more women have made bone-chilling allegations of abuse, harassment and retaliation against Les Moonves. We believe them. These new allegations are in addition to the previous six women who have already bravely spoken out and detailed horrific behavior from Moonves."
The Time's Up statement also called out the board of directors, asking them to "move swiftly and decisively to create a safe work environment for all and rid the company of this toxic culture." The message continued:
"CBS, as you sit in a room debating next steps to rectify the damage done, remember that the world is watching. We will accept nothing less than full transparency of the investigation's findings, a commitment to real change across all levels of CBS management and no reward for Les Moonves."
The organization also posted a follow-up tweet, once news broke of Moonves' donation. Time's Up's tweet read, "A $20 million donation is a first step in acknowledging that you have a problem, @CBS. But it is far from a solution. You have $180 million set aside to pay Moonves. Use that money instead to help women. Cleansing the company of this toxic culture demands real systemic change."
So far, there's no word on what's next for Moonves, and CBS' investigation into the situation is ongoing.
If you or someone you know has been sexually assaulted, call the National Sexual Assault Telephone Hotline at 800-656-HOPE (4673) or visit online.rainn.org.