A Top Republican Just Asked For A Criminal Investigation Into One Of Kavanaugh's Accusers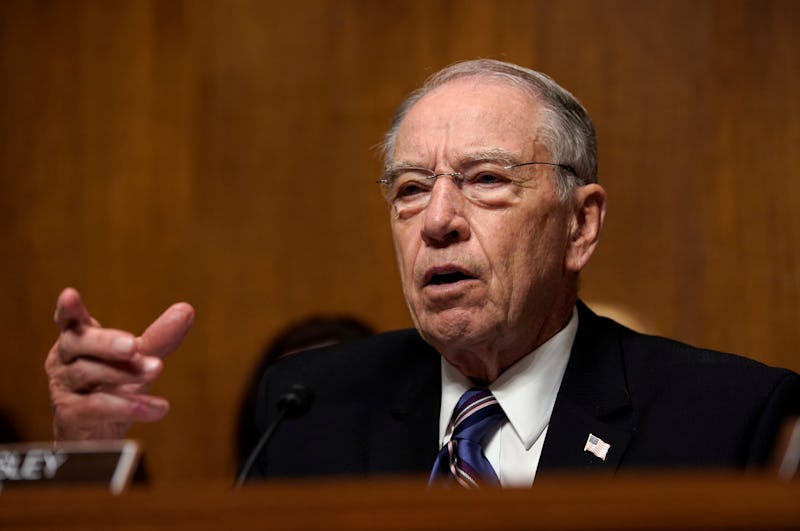 Pool/Getty Images News/Getty Images
On Thursday, Senate Judiciary Committee Chairman Chuck Grassley announced that he had referred Julie Swetnick and her lawyer, Michael Avenatti, to the Department of Justice for a possible criminal investigation. In a letter addressed to Attorney General Jeff Sessions and FBI Director Christopher Wray, Grassley alleged that Swetnick and Avenatti potential "materially false statements" regarding Swetnick's sexual misconduct allegation against Brett Kavanaugh, and that they may have tried "to knowingly mislead the committee." Bustle has reached out to Grassley and the Justice Department for comment.
In a statement to CNN, Grassley, a top Republican from Iowa, argued that he took sexual misconduct allegations seriously, but that he was nonetheless concerned about partisanship playing a role in the allegations made against Kavanaugh:
When a well-meaning citizen comes forward with information relevant to the committee's work, I take it seriously. It takes courage to come forward, especially with allegations of sexual misconduct or personal trauma. I'm grateful for those who find that courage. But in the heat of partisan moments, some do try to knowingly mislead the committee. That's unfair to my colleagues, the nominees and others providing information who are seeking the truth.
In response to Grassley's letter, Avenatti directed Bustle to tweets in which he suggested that the Iowa senator was being hypocritical.
"It is ironic that Senator Grassley now is interested in investigations," Avenatti tweeted on Thursday. "He didn't care when it came to putting a man on the SCOTUS for life. We welcome the investigation as now we can finally get to the bottom of Judge Kavanaugh's lies and conduct. Let the truth be known."
Avenatti also tells Bustle that "Sen. Grassley has just made a major mistake."
"Let the investigation into Kavanaugh and his lies begin," Avenatti adds.
Last month, Swetnick stated in an affidavit that she and Kavanaugh were both present at a house party in 1982, where she alleged she was gang raped. Kavanaugh has denied this allegation, The Washington Post reported. But in an unusual move, the Republicans on the Senate Judiciary Committee subsequently released a statement earlier this month claiming to describe Swetnick's sexual preferences; this statement, as The Washington Post remarked, contained details that were not confirmed. Avenatti condemned the statement as a "bogus and outrageous" effort to push Kavanaugh's confirmation through.
According to The Hill, Grassley has also asked the Justice Department to look into whether Avenatti and Swetnick were trying to obstruct the Judiciary Committee's investigation into the allegations made against Kavanaugh.
"The law prohibits such false statements to Congress and obstruction of congressional committee investigations," Grassley said in a statement, per The Hill. "For the law to work, we can't just brush aside potential violations. I don't take lightly making a referral of this nature, but ignoring this behavior will just invite more of it in the future."
The Judiciary Committee also released a statement, CNBC reported, suggesting that Avenatti and Swetnick had contradicted the allegation they made against Kavanaugh, and that there was a "lack of substantiating or corroborating evidence" for Swetnick's allegation. However, although Grassley has referred Avenatti and Swetnick to the Department of Justice, the department has not yet announced whether or not it will open an investigation.