Julie Swetnick Says She's "Disgusted" By The Way The GOP Treated Her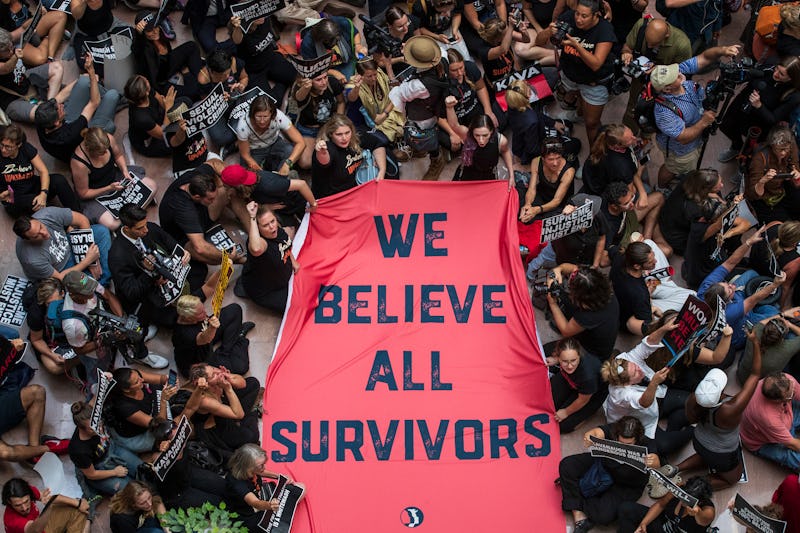 Drew Angerer/Getty Images News/Getty Images
The third woman who accused newly-sworn in Supreme Court Justice Brett Kavanaugh of sexual misconduct lashed out at politicians, investigators, and media pundits Sunday in a statement released by her lawyer, Michael Avenatti. In her response to Kavanaugh's confirmation, Julie Swetnick said she was outraged by how her allegations were handled, claiming she'd been re-victimized by it.
"As a sexual assault victim, I am disgusted and appalled by the way that I have been re-victimized over the last 2 weeks after I had the courage to come forward," Swetnick said in a statement Avenatti released Sunday on Twitter. "These attacks have included certain media 'pundits' (i.e. Chuck Todd) and politicians (i.e. senators Coons and Kennedy) claiming I should have 'shut up' and continued to stay silent about what happened to me. They claim my allegations were 'not helpful to the process.' This is outrageous and shows a complete lack of empathy for survivors."
"I had every right to come forward and I literally placed my life in jeopardy to do so," she continued.
In a sworn affidavit made public by Avenatti, Swetnick alleged Kavanaugh, then a student at Georgetown Preparatory School, was present at parties in the 1980s where women were allegedly assaulted and coerced into becoming "disoriented" with drugs or alcohol. Swetnick also alleged she'd seen Kavanaugh participating in some of the misconduct, including seeing him lined up outside a room with "numerous boys" allegedly "waiting for their 'turn' with the girl inside the room." Kavanaugh denied this.
In a statement released in late September, Kavanaugh denied knowing Swetnick and characterized her allegations as "ridiculous and from the Twilight Zone."
"I don't know who this is and this never happened," he said.
In her statement Sunday, Swetnick argued that her allegations should have been investigated and said she'd had multiple corroborating witnesses prepared to speak with the FBI. "But because of the efforts of the Senate Judiciary Committee and the White House, the FBI refused to interview us or even attempt to hear our stories," she said. "They could not be bothered to take one hour or even ten minutes to hear about what happened to us and what we witnessed."
Swetnick went on to accuse politicians like Donald Trump, Susan Collins, Charles Grassley, Lindsey Graham, Ted Cruz, Mitch McConnell, Ben Sasse, and others of not wanting to know the truth and having "purposely prevented any inquiry" into her claims as well as those of other sexual assault survivors.
But Swetnick seemed particularly offended by Sen. Susan Collins, who announced her intention to vote in favor of Kavanaugh's confirmation on Friday. "Collins' actions on Friday were especially shameful and an attack on all sexual assault victims," Swetnick said. Swetnick went on to claim that Collins had echoed her calls for an investigation into her allegations but then "attacked" her on the Senate floor and labeled her not credible despite the fact there had not been an investigation.
"She showed herself to be someone that cares more about politics than women and victims," Swetnick said. "Be clear — Susan Collins does not deserve to represent women in the United States Senate."
If you or someone you know has been sexually assaulted, call the National Sexual Assault Telephone Hotline at 800-656-HOPE (4673) or visit online.rainn.org.