Susan Collins Just Confirmed She Will Vote For Brett Kavanaugh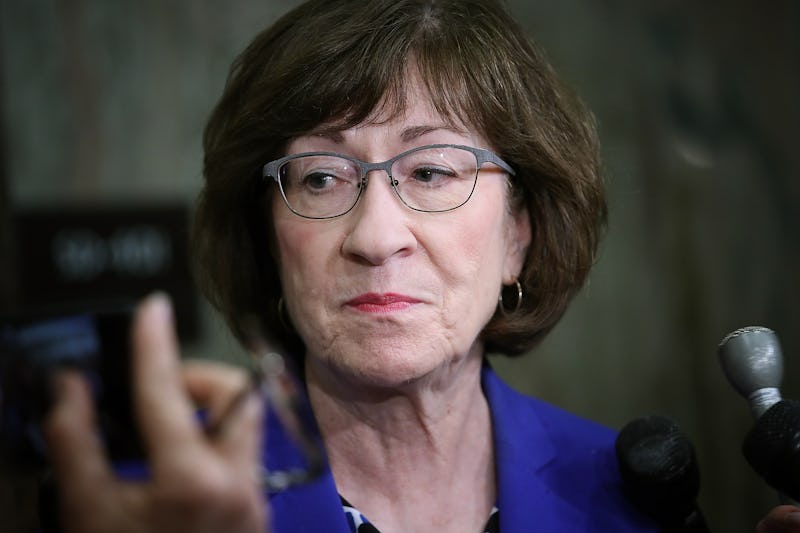 Win McNamee/Getty Images News/Getty Images
After intense speculation about whether or not she would vote to confirm Brett Kavanaugh, Maine Sen. Susan Collins announced that she would vote for Kavanaugh. On Friday morning, Collins voted in favor of moving Kavanaugh's nomination forward to a full Senate vote, but did not immediately say whether or not she would vote to confirm him. It was only later on Friday afternoon that Collins announced her decision and explained her rationale.
During her speech on the Senate floor, Collins justified her vote by shooting down claims that Kavanaugh would eliminate key provisions of the Affordable Care Act. She also argued that Kavanaugh could be trusted to assess the president's wrongdoing should such a case ever come before him as a justice on the Supreme Court. Collins then went on to denounce concerns that Kavanaugh would remove protections for same-sex couples and make reproductive health care access more difficult. Citing previous Kavanaugh rulings, Collins asserted that the Supreme Court nominee was dedicated to respecting precedent.
In response to the sexual assault allegations made against Kavanaugh, Collins repeated multiple times that the presumption of innocence is vital "in evaluating any given claim of misconduct." (Kavanaugh has denied all the allegations.) She also expressed her belief that Christine Blasey Ford was "sincere" in her testimony, but argued that her allegation was not corroborated by other witnesses cited by Ford.
"This is not a criminal trial and I do not believe that claims such as these need to be proved beyond a reasonable doubt," Collins told the Senate. "Nevertheless, fairness would dictate that the claims at least should meet a threshold of more likely than not as our standard. The facts presented do not mean that Professor Ford was not sexually assaulted that night, or at some other time, but they do lead me to conclude that the allegations failed to meet the more likely than not standard. Therefore, I do not believe that these charges can fairly prevent Judge Kavanaugh from serving on the Court."
Following Friday's cloture vote, which Kavanaugh cleared 51-49, Collins was one of just two senators who did not indicate how they would vote on Kavanaugh's confirmation. The other senator is West Virginia Sen. Joe Manchin, a Democrat who is running for reelection in a state that Donald Trump won during the 2016 presidential election; Manchin also announced on Friday that he would vote to confirm Kavanaugh. According to NBC News, at least one of these two senators needed to vote for Kavanaugh in order for him to be confirmed; their Friday announcements therefore increased Kavanaugh's likelihood of being confirmed.
"As those who have known him best have attested, he has been an exemplary public servant, judge, teacher, coach, and father," Collins said of Kavanaugh. "Despite the turbulent, bitter fight surrounding his nomination, my fervent hope is that Brett Kavanaugh will work to lessen the divisions in the Supreme Court."
The other two key senators in Kavanaugh's confirmation process are Arizona Sen. Jeff Flake and Alaska Sen. Lisa Murkowski. Murkowski broke with party lines during Friday's cloture vote, becoming the only Republican to vote "no." Flake, meanwhile, voted "yes" during the procedural vote, and signaled that he would vote to confirm Kavanaugh "unless something big were to change." The full Senate is expected to vote on Kavanaugh's confirmation on Saturday.