Junot Díaz Restored To Pulitzer Prize Board After A Review Of Sexual Misconduct Allegations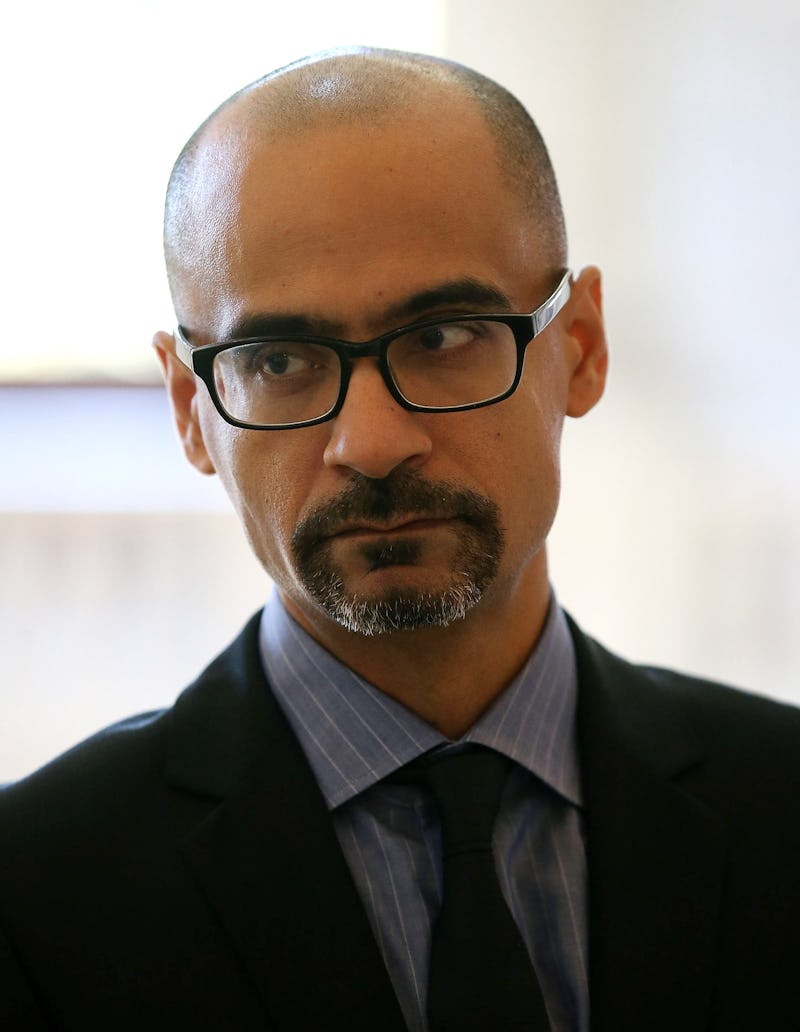 Mark Wilson/Getty Images News/Getty Images
Six months after he stepped down amid sexual assault and harassment accusations, This Is How You Lose Her author Junot Díaz has been reinstated in his role as Pulitzer Prize Board Chairman. Following an independent review of the evidence, Díaz will be allowed to complete his term as chairman, and will serve through April 2019. That review included testimony from more than 50 individuals who claimed to have witnessed or been targeted by sexual misconduct from the Pulitzer Prize-winning author.
Fellow writers drew attention to Junot Díaz's alleged history of sexual misbehavior in May, when What We Lose author Zinzi Clemmons tweeted that Díaz had "forcibly kiss[ed]" her when she was a 26-year-old grad student, and claimed that she was "far from the only one he's done this [to]." Clemmons later told Bustle, via email, that:
"Junot Diaz has made his behavior the burden of young women — particularly women of color — for far too long, enabled by his team and the institutions that employ him. When this happened, I was a student; now I am a Professor and I cannot bear to think of the young women he has exploited in his position, and the many more that would be harmed if I said nothing. It is time for the burden of his bad behavior to be laid squarely at his feet, and for him to deal with the consequences of his actions. Not in a self-serving personal essay, but by losing some of what he has accumulated while conducting himself in this manner."
Following Clemmons' tweet, other authors began to come forward with their own stories about Díaz. Her Body and Other Parties author Carmen Maria Machado said that Díaz "raised his voice, paced, implied I was a prude who didn't know how to read or draw reasonable conclusions from text," all because she asked him a question — during a Q&A session — "about his protagonist's unhealthy, pathological relationship with women." The Girl in the Road author Monica Byrne also alleged that Junot Díaz had harassed her. "I was 32 and my first novel hadn't come out yet," she wrote in a tweet. "I was invited to a dinner and sat next to him. I disagreed with him on a minor point. He shouted the word 'rape' in my face to prove his. It was completely bizarre, disproportionate, and violent."
Accusations against Díaz came after he published an essay, "The Silence: The Legacy of Childhood Trauma," in The New Yorker. In that piece, which contains the story of Díaz's rape as an eight-year-old child, the author wrote: "I was hiding, I was drinking, I was at the gym; I was running around with other women. I was creating model homes, and then, just as soon as they were up, abandoning them. Classic trauma psychology: approach and retreat, approach and retreat. And hurting other people in the process."
That last sentence drew attention from internet onlookers, who wondered whether Díaz's "hurting other people" involved sexual misconduct. Some writers, including Clarkisha Kent and Meena Kandasamy took to Twitter to express their belief that Díaz had released the essay as a form of damage control to preempt accusations from Clemmons and others. That perspective resembles reactions to Kevin Spacey's decision to come out as gay in his "apology" to actor Anthony Rapp, who had accused him of sexual assault.
Responding to Clemmons' accusations on May 4, Díaz released the following statement to The New York Times, via his agent: "I take responsibility for my past . . . That is the reason I made the decision to tell the truth of my rape and its damaging aftermath. This conversation is important and must continue. I am listening to and learning from women's stories in this essential and overdue cultural movement. We must continue to teach all men about consent and boundaries." Speaking with The Boston Globe on June 30, Díaz walked back that response, calling his statement "the worst thing I've written, the worst thing I've put my name to." In that interview, Díaz also took the opportunity to categorically deny Clemmons' story, which he had initially appeared to corroborate.
With news of Junot Díaz's reinstatement to the Pulitzer Prize Board released on Friday, Byrne posted a statement to Facebook that read, in part: "There was no scenario . . . I could imagine where the Pulitzer Board would receive the 50+ accounts . . . of sexual and professional power abuse we gave to the independent counsel, and decide that Junor Diaz [sic] was still fit to occupy a position of power over young women." Byrne also observed, "This is the same Pulitzer Board that just awarded a prize for #metoo coverage."