Junot Díaz Denied The Sexual Harassment Allegations Against Him & His Accusers Are Speaking Out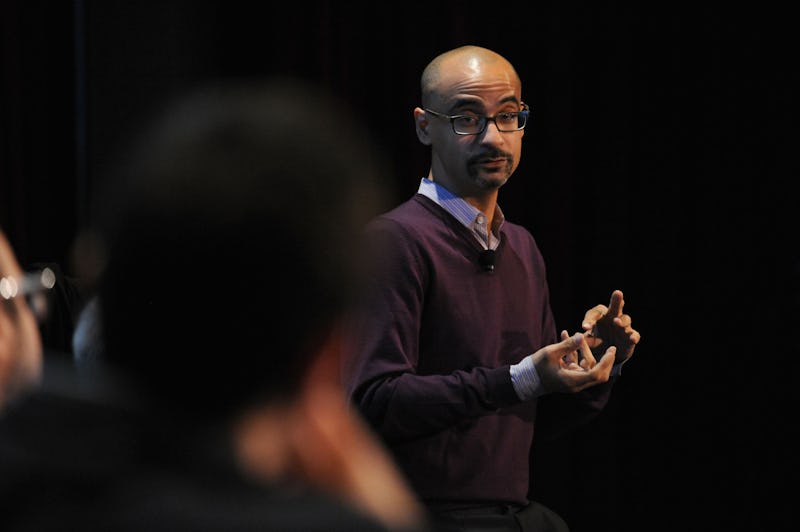 Andrew Toth/Getty Images Entertainment/Getty Images
In May 2018, when The Brief Wondrous Life of Oscar Wao author Junot Díaz became one of the first men in publishing to be hit with #MeToo accusations, he issued a statement through his literary agent Nicole Aragi, in which he took "responsibility" for his behavior, which is alleged to be the forcible kissing of What We Lose author Zinzi Clemmons. In this statement to The New York Times, Díaz said, "I take responsibility for my past... This conversation is important and must continue. I am listening to and learning from women's stories in this essential and overdue cultural movement. We must continue to teach all men about consent and boundaries." Now, Díaz has walked back his original response to Clemmons' accusations, calling it "the worst thing I've written, the worst thing I've put my name to" in an interview published with The Boston Globe on June 30, and it's downright terrible.
Zinzi Clemmons tweeted about her alleged experience with Junot Díaz on May 4, a few weeks after the This Is How You Lose Her author published a personal essay about childhood sexual abuse, titled "The Silence: The Legacy of Childhood Trauma," in The New Yorker. Clemmons wrote that she "was an unknown wide-eyed 26-year-old" during her encounter with Díaz, adding that "he used it as an opportunity to corner and forcibly kiss me."
Following that tweet, several other women writers came forward with both support for Clemmons and their own accusations against Díaz. Her Body and Other Parties author Carmen Maria Machado alleged that Díaz "went off for me for twenty minutes [sic]" after she "made the mistake of asking him a question about his protagonist's unhealthy, pathological relationship with women." The Girl in the Road author Monica Byrne offered this alleged account of her meeting with Díaz: "I was 32 and my first novel hadn't come out yet. I was invited to a dinner and sat next to him. I disagreed with him on a minor point. He shouted the word 'rape' in my face to prove his. It was completely bizarre, disproportionate, and violent."
These accusations and the accused's swift apology weren't enough to sway the opinions of his employers, however. Three Boston Review poetry editors resigned in protest over the literary magazine's decision to keep Díaz in his position as fiction editor, and The Boston Globe reports that he "is keeping his teaching job at MIT and his editing position at Boston Review after separate investigations found the accusations lacked 'the kind of severity that animated the #MeToo movement,' as Boston Review's top editors put it."
Díaz spoke to The Boston Globe with a lawyer present, and "arrived at the interview with names and contact information of friends, colleagues, former students, and even ex-girlfriends who could attest to his character." The author told The Boston Globe that he gave his original statement to The New York Times because "I didn't feel like anyone would listen to me. I felt like people had already moved on to the punishment phase." Díaz also denied Clemmons' accusations outright, saying, "I did not kiss anyone. I did not forcibly kiss Zinzi Clemmons. I did not kiss Zinzi Clemmons... It didn't happen."
Díaz's accusers continued to speak out following the publication of The Boston Globe interview on June 30. Clemmons called Globe writer Stephanie Ebbert "extremely aggressive" during their interview for the piece, as well as "unprofessional and clearly biased" against the accusers. Byrne agreed, saying Ebbert "seemed to have come into [their interview] with her mind made up." Machado referred to The Boston Globe piece as "horrifying."