Jussie Smollett Pleads Not Guilty To Charges Of Lying About A Hate Crime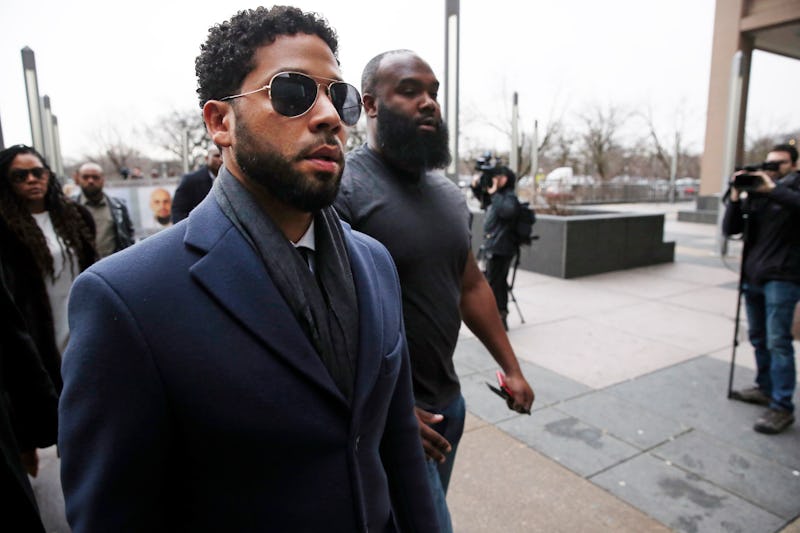 Nuccio DiNuzzo/Getty Images News/Getty Images
In a Chicago courtroom Thursday morning, Empire actor Jussie Smollett pleaded not guilty to 16 counts of disorderly conduct. The felony charges were filed against him alleging that he faked and lied to police about a possible violent hate crime in January. The plea was entered by his legal team, though Smollett was present in the courtroom, NPR reported.
Smollett was indicted last week on the 16 felony charges. He had told police that he was attacked in Chicago by men who called him racist and homophobic slurs, poured a chemical on him, and put a rope around his neck. Police claim Smollett orchestrated a scheme to fake an attack against himself to "promote his career." He denies those allegations.
But Chicago police believe they can prove Smollett's guilt. According to them, the actor paid two brothers, Olabinjo and Abimbola Osundairo, to stage the assault. Investigators say they have the check Smollett used to pay the Osundairos, who reportedly turned on the actor during police interrogation.
The prosecutors' bond proffer describes additional evidence. "While the staged attack was occurring, a witness ... had just parked and exited her vehicle just around the corner from the location of the staged attack," the proffer reads. "This witness indicated that she heard nothing at the time the staged attack was occurring," even though Smollett told law enforcement that his assaulters had shouted slurs.
Prosecutors are also accusing Smollett of trying to make it seem like his attackers were white, when they were actually black. The actor allegedly told police that the mens' faces were nearly entirely covered by ski masks but that he could see a ring of white skin around their eyes. Then, the proffer argues, Smollett made statements in public interviews that "further misled the police and the public to believe that his attackers were white."
When skepticism about Smollett's story arose last month, the actor appeared on Good Morning America and seemed to imply that he'd been attacked by white men. "It feels like if I had said it was a Muslim, or a Mexican, or someone black, I feel like the doubters would have supported me much more," he said, adding, "And that says a lot about the place that we are in our country right now."
Smollett and his team insist on his innocence; they argue that "misinformation" has tainted public perception of the story. In a Feb. 21 statement, the actor's lawyers claimed that the police's treatment of the case has been "an organized law enforcement spectacle that has no place in the American legal system." They said that Smollett deserves to be treated as innocent until he is proven guilty.
If Smollett is ultimately found guilty, his allegedly staged attack will be among the very few cases of hate crime hoaxes that occur every year. According to research completed by Brian Levin, director of the Center for the Study of Hate and Extremism at California State University in San Bernardino, only 0.2 percent of hate crimes reported between 2016 and 2018 were faked.
Smollett is due to appear in court again on April 17.