Jussie Smollett Has Been Indicted For Allegedly Faking A Hate Crime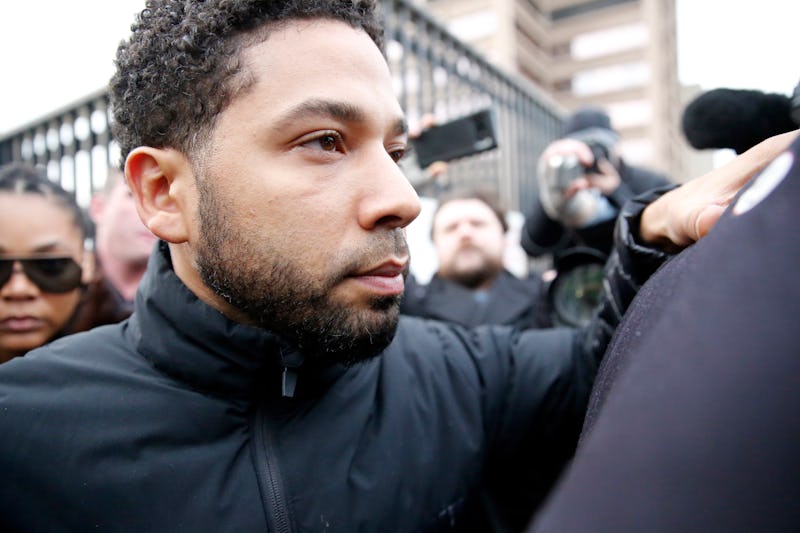 Nuccio DiNuzzo/Getty Images News/Getty Images
After being charged last month for allegedly filing a false report to Chicago police last month, Jussie Smollett was indicted by a grand jury Friday on 16 felony counts. Smollett, who stars in the hit show Empire, had originally told Chicago police that he was assaulted by two men while walking down the street, but Smollett is now accused of orchestrating the incident himself and lying to police about what happened.
Smollett, through his lawyers, has vehemently denied the allegation that he staged the attack. In February, Smollet was charged with disorderly conduct for allegedly filing a false police report; although the actor has not yet entered a plea for the most recent charges, he pleaded not guilty to the disorderly conduct charge, and was released on $100,000 bail.
Smollett had initially told police that, while walking home on the morning of Jan. 29, two men approached him on the street, assaulted him, wrapped a rope around his neck, and shouted racist and homophobic slurs. He was admitted to a hospital and questioned by police, who soon released surveillance images of two "people of interest" in their investigation and, two weeks later, arrested two Nigerian brothers in connection with the case.
However, police soon began to doubt Smollett's story. They released the two brothers without charge, and Chicago police spokesman Anthony Guglielmi said on Feb. 17 that "the information received from the individuals questioned by police earlier in the Empire case has in fact shifted the trajectory of the investigation." Smollett's lawyers later said that one of the men arrested was Smollett's personal trainer, but that it is "impossible to believe that this person could have played a role in the crime against Jussie or would falsely claim Jussie's complicity."
Three days later, Smollett was charged with felony disorderly conduct for allegedly filing a false police report about the attack. Two law enforcement sources had told CNN earlier that police suspected that Smollett staged the attack, and Chicago police confirmed that this was their suspicion at a Feb. 21 press conference. Smollett turned himself in the next day.
"This announcement today recognizes that 'Empire' actor Jussie Smolett took advantage of the pain and anger of racism to promote his career," Chicago Police Supt. Eddie Johnson told reporters. "I'm left hanging my head and asking why."
Smollet, through his lawyers, vowed to fight the charges.
"Like any other citizen, Mr. Smollett enjoys the presumption of innocence, particularly when there has been an investigation like this one where information, both true and false, has been repeatedly leaked," Smollett's legal team said in a statement after the initial charges were announced. "Given these circumstances, we intend to conduct a thorough investigation and to mount an aggressive defense."
When Smollett made his initial claims, he received an outpouring of support from celebrities, fans, and activists. The revelation that he may have staged his attack disheartened many of his supporters, who feared that the story might lead people to doubt future, legitimate reports of hate crimes. Some pointed out that hate crimes against black people have been on the rise for three years straight, according to the FBI, while others stressed that, according to a study published in The Color of Crime, the majority of racial hoaxes involve white people falsely claiming to have been victimized by black people, not the other way around.
According to ABC 7, experts believe that Smollett will take a plea deal and potentially not serve any prison time.