The Prosecutor Who Dropped Jussie Smollett's Charges Doesn't Believe He's Innocent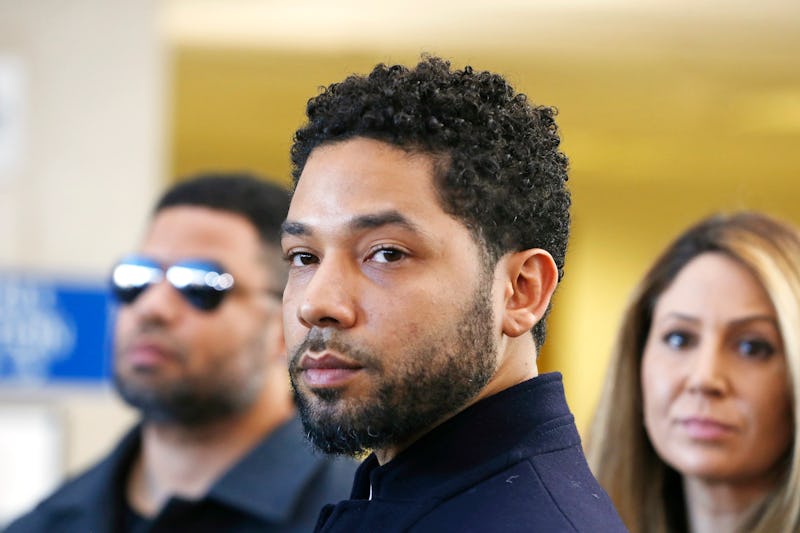 Nuccio DiNuzzo/Getty Images Entertainment/Getty Images
Following the announcement from Jussie Smollett's lawyers on Tuesday that the multiple felony charges against the actor had been dropped, Chicago officials heavily criticized the move by the office of the Cook County State's Attorney. Later in the day, in an attempt to clarify his decision, the prosecutor said dropping Smollett's charges wasn't an exoneration
The first announcements on Tuesday came from Smollett and his lawyers, who maintained that Smollett is innocent. But both the mayor and the police superintendent fiercely criticized the decision. First Assistant State's Attorney Joe Magats, the prosecutor on the case, then spoke with several local media outlets about his decision to drop the charges — which was originally summarized for the media in a brief statement from the prosecutors' office.
"We believe he did what he was charged with doing," Magats told local ABC affiliate WLS. "This was not an exoneration. To say he was exonerated by us or anyone else is not true."
The prosecutor explained his decision to drop the charges by saying that he thought it was fair and that their resources could be better allocated elsewhere. "Our goal and our number one priority is combating violent crime and the drivers of violence," Magats told WLS. "And we look to our resources to do that, and I don't think that Mr. Smollett is a driver of violence or a violent individual."
Smollett's lawyers heavily criticized both the Chicago Police Department and the office of the Cook County State's Attorney in their initial statement and in a press conference following Tuesday's hearing. One of his attorneys, Patricia Brown Holmes, said CPD tried "to utilize the press to convict people before they are tried in a court of law." Bustle has reached out to CPD for comment.
The prosecutor defended the police investigation when speaking with the Chicago Sun-Times. "We stand behind the CPD investigation done in this case, we stand behind the approval of charges in this case. They did a fantastic job," Magats told the Sun-Times. "The fact there was an alternative disposition in this case is not and should not be viewed as some kind of admission there was something wrong with the case, or something wrong with the investigation that the Chicago police did."
Chicago Police Superintendent Eddie Johnson responded publicly to the news, which he found out about at the same time as the public. "If you want to say you're innocent of a situation, then you take your day in court. I would never, if someone falsely accused me, I would never hide behind a brokered deal in secrecy, period," Johnson told reporters. He went on to say he didn't think justice was served and that "this city is owed an apology."
Mayor Rahm Emmanuel called the decision a "whitewash of justice" and further criticized Smollett. "A grand jury saw the evidence (and) realized this was a hoax — a hoax on the city, a hoax on hate crimes, a hoax on people of good values who actually were empathetic at first," Emmanuel said at a Tuesday news conference.
Magats countered the mayor's version of events, including that Smollett got special treatment for being a celebrity. "Not true, it's just not," Magats told the CBS affiliate WBBM. "It's not a whitewash, he did community service, he has forfeited his bond, it's just not a whitewash."
Smollett did 16 hours of community service with the civil rights group Rainbow PUSH and donated the $10,000 he already paid in bond to the city, which reportedly spent some 1,000 hours investigating his claims.