Justin Bieber Just Confirmed His Engagement To Hailey Baldwin & Declared He's "Soooo In Love"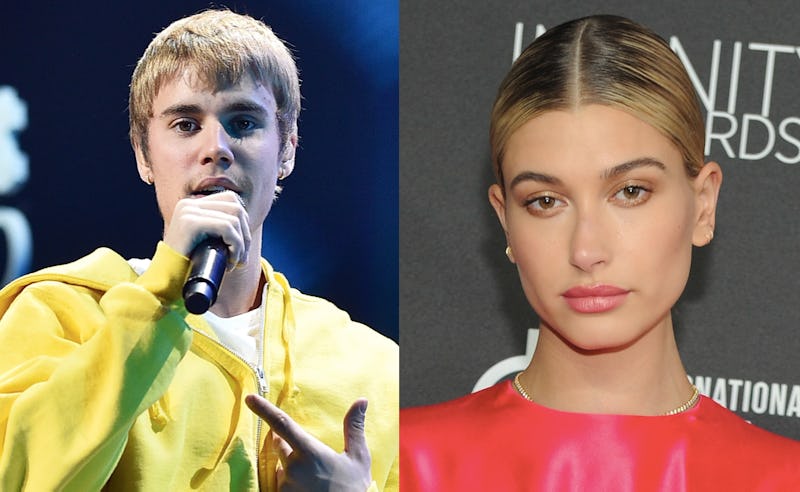 Mike Windle/Getty Images Entertainment/Getty Images; Craig Barritt/Getty Images Entertainment/Getty Images
The whirlwind romance continues. On Monday, July 9, Justin Bieber confirmed his engagement to Hailey Baldwin on Instagram. The pop star posted a lengthy caption, alongside a photo of him and Baldwin.
Bieber wrote,
"Was gonna wait a while to say anything but word travels fast, listen plain and simple Hailey I am soooo in love with everything about you! So committed to spending my life getting to know every single part of you loving you patiently and kindLY. I promise to lead our family with honor and integrity letting Jesus through his Holy Spirit guide us in everything we do and every decision we make. My heart is COMPLETELY and FULLY YOURS and I will ALWAYS put you first! You are the love of my life Hailey Baldwin and I wouldn't want to spend it with anybody else. You make me so much better and we compliment eachother so well!! Can't wait for the best season of life yet!. It's funny because now with you everything seems to make sense! The thing I am most excited for is that my little brother and sister get to see another healthy stable marriage and look for the same!!! Gods timing really is literally perfect, we got engaged on the seventh day of the seventh month, the number seven is the number of spiritual perfection, it's true GOOGLE IT! Isn't that nuts? By the way I didn't plan that, anyways My goodness does feel good to have our future secured! WERE GONNA VE BETTER AT 70 BABY HERE WE GO! "He who finds a wife finds a good thing and obtains FAVOR from the Lord!" This is the year of favor!!!!"
His post confirms that the stars' rumored engagement is definitely real.
Following his Instagram post on Monday, his bride-to-be, Baldwin, confirmed on her Twitter with a sweet message as well:
The two confirmed the news on Monday, just one day after TMZ reported he proposed to Baldwin in the Bahamas on Saturday. Fans have collectively been mourning/chomping at the bit for a confirmation, even though the couple's parents had somewhat confirmed the news on their respective Twitter and Instagram accounts on Sunday.
In a since-deleted tweet on Sunday, Baldwin's father posted a congratulatory message, saying, "Sweet smile on my face! me&wife (Kennya) always pray 4 God's will!! He is moving in the hearts of JB&HB, Let's all pray for His will to be done. Love you 2 so much!!! #Godstiming #bestisyettocome Congrats @JeremyBieber." In a cryptic Instagram post on Sunday, Bieber's father wrote, "@justinbieber Proud is an understatement! Excited for the next chapter!" And his mother Pattie Mallette tweeted, "Love Love Love Love Love Love Love" that day, followed by a Bible passage about love.
Beliebers may be crushed at their non-existent chances with the singer, but fellow famous friends have publicly congratulated the couple already. Paris Hilton tweeted at Hailey Baldwin, writing, "Congrats babe!" On Bieber's post, Normani Kordei wrote a series of crying emojis, Ty Dolla $ign wrote, "Congrats my boy !" Khalil commented, "so proud for you two," and Bachelorette's Kaitlyn Bristowe wrote, "WHY HAVE I READ THIS 6 TIMES."
The on-again-off-again couple started dating rumors in 2014 and have been spending more and more time together in the last few weeks, and they were spotted giving PDA in cities like Miami, Los Angeles, and New York. A source told E! News about how the engagement reportedly went down. "It happened Saturday night in front of a crowd in Baker's Bay," the source said. "Justin made arrangements for the ring when they were in NYC and knew that he wanted to propose to her. It was a sudden decision but Justin always knew Hailey and him had a special bond that was incomparable."
Of course, all eyes are now on Selena Gomez, who was reportedly unfazed by the news while boating over the weekend. Fans may never know how she's really feeling about the engagement, but hopefully some great new music will come out of it.