Hailey Baldwin & Justin Bieber Reportedly Kicked Off Their Marriage By Moving Up North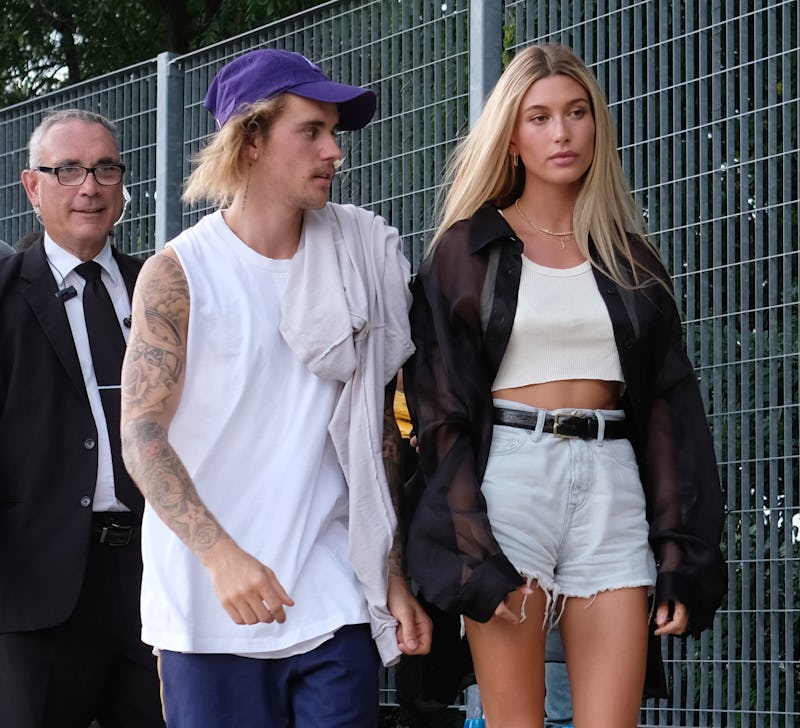 Nicholas Hunt/Getty Images Entertainment/Getty Images
It's still hard to believe that Justin Bieber and Hailey Baldwin are married, and now, it sounds like they've made a pretty important decision to kick off their life together as husband and wife. According to Us Weekly, Bieber and Baldwin have reportedly moved to Canada, which is sure to offer a far more low-key life than Los Angeles can.
A source close to to the newlyweds told the magazine that they've recently decided to live in Ontario full-time, and it sounds like they're both enjoying a more chill way of life where they can be in tune with nature, since they're reportedly living on a lake. The insider claimed,
"Hailey and Justin are living in Waterloo, Ontario, full-time now. That's their home base. Justin has a huge home up there — 9,000 square feet, 1,000 acres, on a lake. He loves it up there and so does Hailey."
The source also added that they celebrated Thanksgiving with their families there, reportedly inviting their parents, family, and friends to join them for a meal that Baldwin cooked. Talk about a housewarming, right? Moving and hosting Thanksgiving for the first time are both pretty stressful life events — especially when you've just recently gotten married — but it sounds like Baldwin and Bieber took it all in stride.
And speaking of family? These two might be starting one of their own soon according to what this insider had to say.
"They're very much in love," the source told the magazine. "They get along so well. She's not pregnant right now. But it's going to happen. They want to raise their family up there."
If this insider is legit, it definitely sounds like they could be filling their new home with kids sooner rather than later... but being that they've had such a busy year, it wouldn't be surprising at all if they did decide to wait.
After much speculation about the state of their relationship — and Baldwin changing her last name to Bieber on Instagram — the singer confirmed their marriage last week, saying that he was celebrating his first Thanksgiving "as a married man."
He wrote,
"Happy late thanksgiving to everyone. First thanksgiving as a married man, first time hosting thanksgiving. First time both sides of the family has come together. Relationships are hard and love isn't always easy but thank you Jesus for showing me how! Every day is a learning process, trying to be more like him, patient, kind, selfless, boy I got a long way! But gods grace is sufficient !"
Baldwin shared a Thanksgiving post of her own, although she kept her caption short and simple, writing, "very thankful" with a heart emoji. Her post included black and white photos of her and her new husband kissing with icing on their faces.
So far, Bieber and Baldwin haven't confirmed whether or not they've made a permanent move to Canada, but it seems like wherever they are, they're happy together, and that's what really matters.