Justin Bieber Serenaded Hailey Baldwin Outside Buckingham Palace — Yes, Really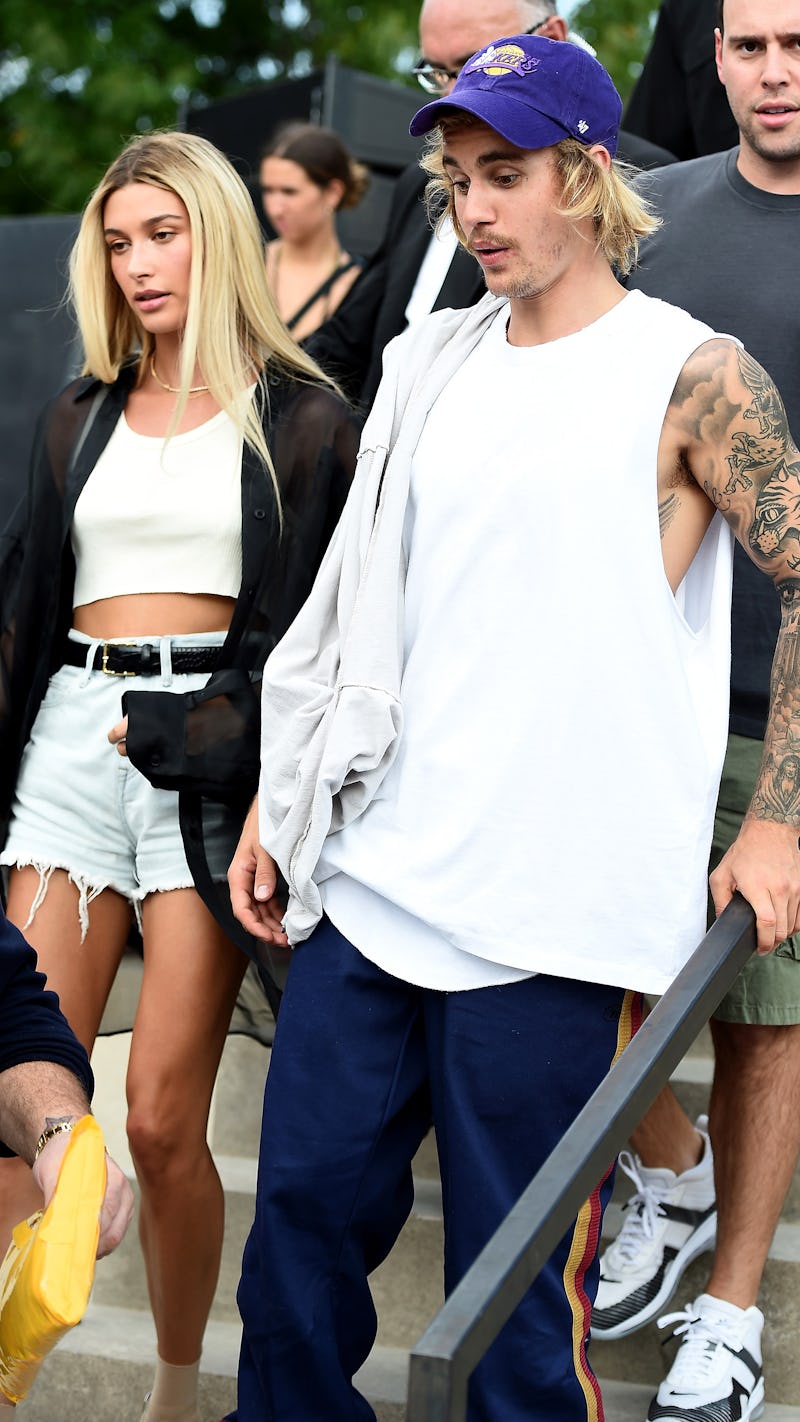 Theo Wargo/Getty Images Entertainment/Getty Images
Justin Bieber and Hailey Baldwin may not be married yet, but they are on a romantic-looking trip to London. And during their travels, Justin Bieber sang to Hailey Baldwin outside Buckingham Palace, because apparently their love knows no bounds. According to People, Bieber sang "Cold Water," which he recorded with with Major Lazer and MØ, as well as a cover of Tracy Chapman's song "Fast Car."
Passersby might not have noticed it was the "Sorry" singer at first, though. As seen in the video shared by Newsweek below, Bieber is dressed casually in a sweatshirt and shorts, and he could easily blend in with other London tourists. Plus, his guitar case is open in front of him, the way a street performer's would be for tips — probably not what fans would expect from one of the biggest pop stars in the world.
The couple traveled to London earlier this week for Baldwin's job, and it looks like they decided to make a vacation out of it afterward. People explained that Baldwin took part in the Adidas Originals Falcon and JD fashion show on Monday, and Bieber was by her side for support. Bieber and Baldwin were also seen strolling about the city, visiting the London Eye and stopping for drinks at Joe & The Juice and Pret-A-Manger.
Baldwin and Bieber sent fans into a frenzy last week, when they were seen at a New York City courthouse. People reported that the two of them were there to get married, though Baldwin later clarified that they haven't tied the knot just yet. The model tweeted (and then deleted), "I understand where the speculation is coming from, but I'm not married yet!"
Fans have also speculated that the two of them may have been at the courthouse to obtain a marriage license, which is valid for 60 days in New York state. So even if they haven't tied the knot just yet, they'd need to do so in the next two months, or else they'll have to get a new marriage license. (Bustle previously reached out to their reps on the reports, but did not hear back.)
Still, People has reported this week that Bieber and Baldwin are legally married, as of last Thursday, but are planning a larger ceremony with family and friends for a later date. An unnamed source told the magazine that the couple "didn't want anyone but their families to know they got married."
"They can't wait to have a wedding," the source claimed to People. "But for other reasons, it was easier for them to get the legal stuff out of the way now and to get married." Still, Baldwin and Bieber haven't confirmed the source's report. And based on Baldwin's statement last week, it sounds like they aren't married at the moment.
Back in July, Bieber confirmed his engagement to Baldwin with a heartfelt Instagram post. "You are the love of my life Hailey Baldwin and I wouldn't want to spend it with anybody else," Bieber wrote in his lengthy post.
At this point, fans are eagerly awaiting details from the couple about when and where they plan to get married. But in the meantime, it looks like Baldwin and Bieber are just enjoying each other's company on vacation.