Justin Bieber & Selena Gomez's PDA-Filled Weekend Is Sending Twitter Into Overdrive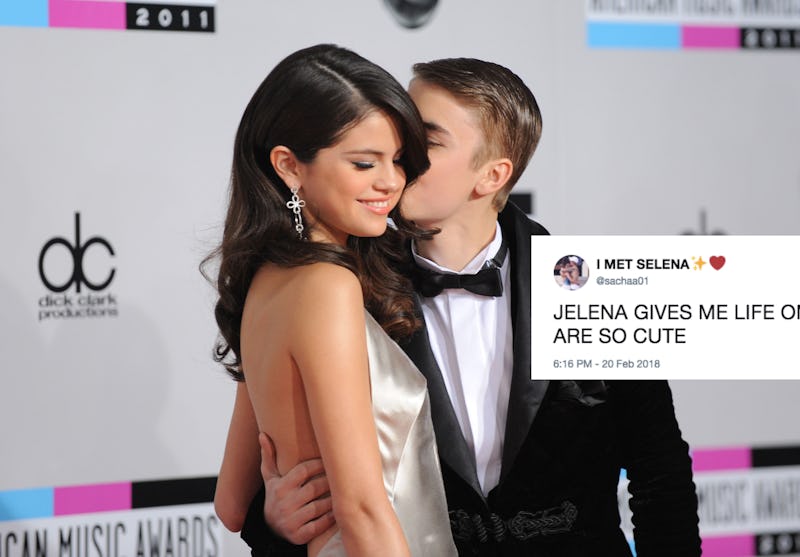 Jason Merritt/Getty Images Entertainment/Getty Images; sachaa01/Twitter
In a picture-perfect wedding ceremony for the ages, Justin Bieber's father said "I do" on Monday along the glittery shores of Montego Bay. But based on photos of Justin Bieber and Selena Gomez's wedding PDA circulating the internet, it seems to be the younger Bieber whose romantic weekend antics made headlines. According to a report by TMZ on Tuesday, Feb. 20, the couple (who have been romantically intertwined, albeit on-and-off, for several years now) was really feeling the love in Montego Bay. And for those in need of a little convincing, the report touts a whole gallery of snapshots to prove it.
As far as Bieber and Gomez's romance goes, the photo gallery, which TMZ published along with their report Tuesday afternoon, doesn't leave much up to the imagination. (It's called public displays of affection for a reason, after all.) The gallery is comprised of a whopping 31 paparazzi-helmed photographs, which collectively feature the young couple doing what young couples in love do: smooching, snuggling, laughing, hand-holding, and the like.
TMZ's report even went so far as to suggest that Bieber and Gomez's tangible amour in those photographs "set off wedding bell alerts" — no word yet on the legitimacy of that particular claim, but still, the photos alone were more than enough to send the internet into a furious (read: really excited) bout of hysterics.
In the few hours since TMZ's report first hit cyberspace, Twitter has been ablaze with frenzied fan reactions to Bieber and Gomez's PDA. And as is to be expected when it comes to the love affairs of Hollywood's A-list celebrities (especially when the celebrity love affair in question concerns these two), the responses from diehard Bieber-Gomez supporters on social media pretty much boil down to one loud, collective swoon. In lieu of a reaction tweet of their own (to Bieber and Gomez's PDA at least), one Twitter user managed to sum up the situation pretty perfectly.
The fan-fueled chaos, suffice to say, is certainly not unwarranted. Because if longtime Bieber-Gomez shippers thought they were obsessed with the couple's relationship before, it seems the Montego Bay gallery has only served to up the adoration.
For the record, it's this shot of Bieber and Gomez's gentle, bathing suit-clad embrace that seems to be sparking the most attention. That being said, these two images — which show a heartwarmingly giddy Gomez donning a sunny floral dress and hugging Bieber sweetly from behind — are definitely a close second and third.
In responding to the photos, one Twitter fan even dubbed Gomez "selegend." Still, it seemed like "Jelena" was definitely fans' nickname of choice.
As People reported over the weekend, Bieber and Gomez embarked on their starry-eyed island venture on Sunday, ahead of Bieber's father's wedding ceremony. His father, Jeremy, took to Instagram the day before, on Saturday afternoon, Feb. 18, to share a photo of himself and his fiancée, Chelsey Rebelo, before jetting off to Montego Bay. For its caption, the elder, newly married Bieber kept it pretty simple. "Times," he wrote, finishing with a "sun" emoji. Appropriate, given the weather and the equally sunny occasion.
Jeremy also shared a second travel-themed photo with his Instagram followers on Saturday afternoon. This time, the selfie showed the groom-to-be smiling alongside a handful of family members. "The crew off to airport," the caption read. For anyone wondering why Bieber doesn't appear in the family photo, it seems he was simply fulfilling his "good boyfriend" duties instead. As People noted in their report, an anonymous source claimed that Bieber few from L.A. to Texas on Sunday to scoop Gomez before heading to the wedding together.
So for any fans out there holding their breath for the next unexpected Bieber-Gomez breakup, take a deep breath. Judging by the couple's beachside canoodling, it seems pretty safe to say Gomez and Bieber are still hooked on that same old love.
Correction: A previous version of this article included the incorrect location of Justin Bieber's father's wedding. It has been updated.