Justin Bieber May Have Predicted His Rumored Engagement To Hailey Baldwin YEARS Ago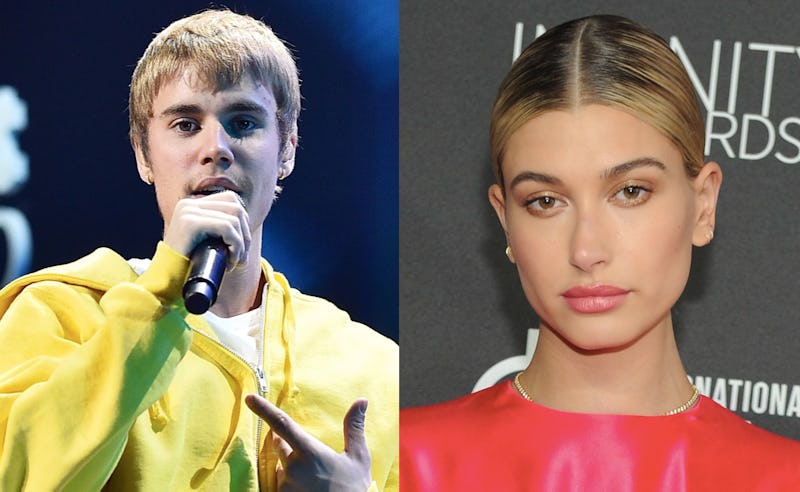 Mike Windle/Getty Images Entertainment/Getty Images; Craig Barritt/Getty Images Entertainment/Getty Images
On Sunday, July 8, TMZ's report that Justin Bieber and Hailey Baldwin were reportedly engaged shocked fans. However, it may not have been too surprising if you consider this 2016 GQ interview, in which Bieber was quoted saying he was thinking of marrying Baldwin even back then. (Bustle has reached to Bieber and Baldwin's representatives for comment on the rumors, but did not hear back by the time of publication.)
UPDATE: On Monday afternoon, Bieber confirmed his engagement to Baldwin with a lengthy Instagram caption. He also shared two black-and-white photos of the pair together, writing, in part:
"Was gonna wait a while to say anything but word travels fast, listen plain and simple Hailey I am soooo in love with everything about you! So committed to spending my life getting to know every single part of you loving you patiently and kindLY."
EARLIER: Bieber told the following to GQ in the February 2016 interview:
What if Hailey ends up being the girl I'm gonna marry, right? If I rush into anything, if I damage her, then it's always gonna be damaged. It's really hard to fix wounds like that. It's so hard.… I just don't want to hurt her."
According to the interview, Bieber and Baldwin were dating and he said that Baldwin was "someone I really love. We spend a lot of time together." He also told GQ that he wanted to get married one day, but did not specifically mention a hypothetical marriage to Baldwin until he said the above quote. He expressed not wanting to rush into marriage with anyone, saying the following:
"I don't want to put anyone in a position where they feel like I'm only theirs, only to be hurt in the end. Right now in my life, I don't want to be held down by anything. I already have a lot that I have to commit to. A lot of responsibilities. I don't want to feel like the girl I love is an added responsibility. I know that in the past I've hurt people and said things that I didn't mean to make them happy in the moment. So now I'm just more so looking at the future, making sure I'm not damaging them."
Rumors about Bieber and Baldwin's relationship first surfaced around November 2014 in a report by the website Hollywood Life; the site noted that this was about a month after Bieber and long-time girlfriend Selena Gomez split up. Soon after the rumors began swirling, Baldwin denied that she was dating Bieber, telling E! Online in December 2014 that they were just good friends. "I've known him since I was so young — since I was like 13 — and we've just been good friends over the years," she told E! in a report published on Dec. 8, 2014. "We have just stayed close and there's nothing more to it than that."
By 2016, it seemed like Bieber and Baldwin finally confirmed their romance. On Jan. 3, 2016, Bieber posted an Instagram photo of himself kissing a woman, who is tagged as Baldwin. Then came the prescient GQ interview, which was published on Feb. 11, 2016. But soon after, the pair seemed to split later in 2016, which was confirmed by Baldwin in a May 2018 interview with the Sunday Times.
According to People, she said that they "went through a long period of time when we weren't friends," after they broke up. "We didn't speak for quite some time and there was a lot of weirdness that went on," but concluded that they "moved past that."
But then rumors of a rekindled romance began circulating again last month. According to People, Bieber and Baldwin were spotted together in Miami and then New York City, where they where all smiles to anyone taking photos of them. On July 2, the Daily Mail published photos of Bieber and Baldwin embracing and holding hands in Brooklyn.
And as of July 8, the couple is now reportedly engaged. But marriage might have always been on Bieber's mind regarding Baldwin.