Justin Bieber's Mom Just Welcomed Hailey Baldwin Into The Family With The Sweetest Tweet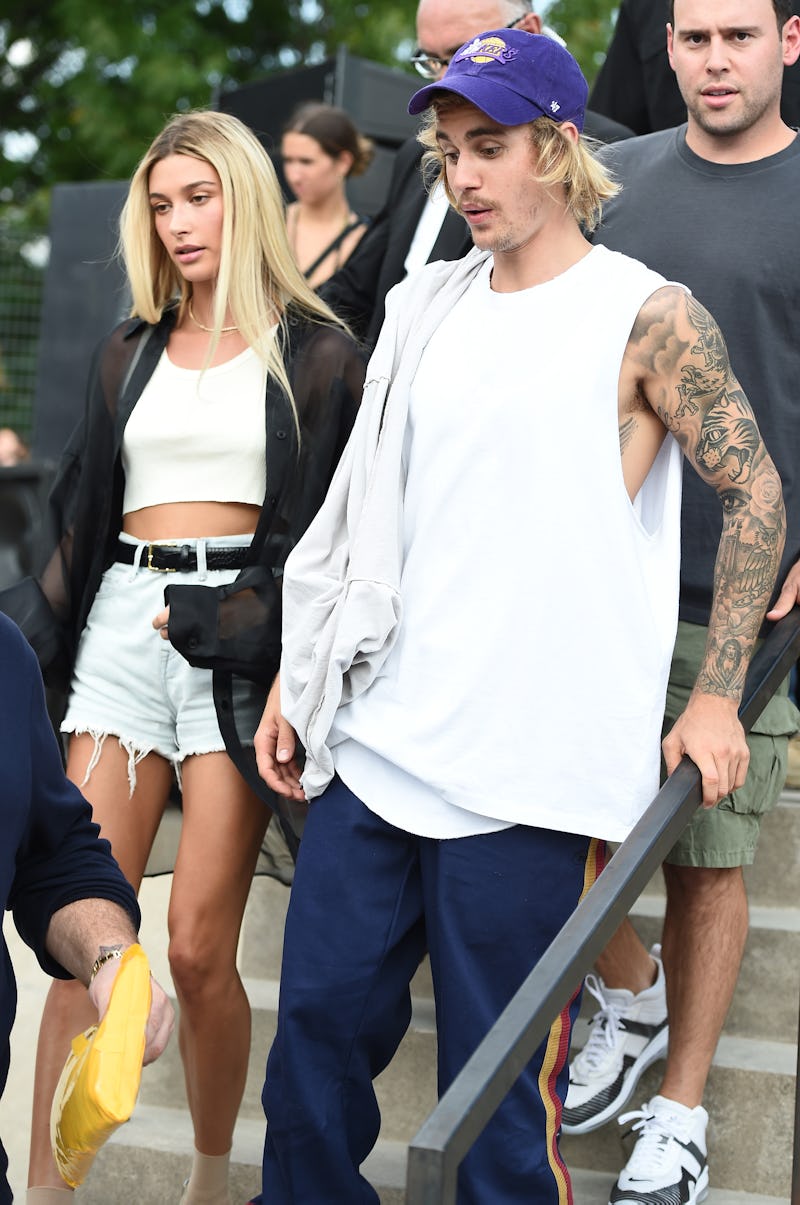 Theo Wargo/Getty Images Entertainment/Getty Images
The holiday season is all about family togetherness. This Thanksgiving was Justin Bieber and Hailey Baldwin's first one together as husband and wife — that's a pretty big deal for any couple, famous or not. And to the relief of anyone who has just married into a new family, Hailey Baldwin's new mother-in-law is thrilled to have her with them. On Thanksgiving, Bieber's mom referred Hailey Baldwin as her "daughter" in a "Happy Birthday" post on Twitter, and if that's not the official stamp of approval, I don't know what is.
Pattie Mallette tweeted, "HAPPY BIRTHDAY @haileybaldwin !! I LOVE YOU!! I'm SO #THANKFUL to have you as a daughter!!!" Not only is the model accepted by her new mother-in-law, she is actually viewed as a daughter. That is really just so sweet. Mallette is truly welcoming her into the family.
She did more than just that tweet to acknowledge Baldwin's birthday. She shared plenty photos and video on her Instagram Story Nov. 22 as well.
According to an article from People, Mallette shared a video of her son shoving a large sheet cake into his wife's face in celebration of her birthday. She probably should have seen that coming since the candles were not even lit while he was singing "Happy Birthday" to her.
Thankfully that did not cause any drama and there were zero hard feelings. Instead, the newlyweds just laughed, kissed, and he even licked some of the frosting off of her face.
All's well that ends adorably, right? Well, that's not actually the known phrase, but it is definitely applicable here. That birthday celebration really was all sorts of adorable.
Not only that, but he also had a backup cake waiting in the wings. This one was full of lit up candles. Thankfully, he did not put that cake in her face. That could have been a bit dangerous!
Unfortunately, Instagram Stories delete after a day. A fan saved the video from Mallette's Instagram Story and posted it on Twitter.
Mallette posted the birthday cake festivities on her Instagram Story.
Mallette is so on board with her son's marriage that she even put up a an emoji slider poll on her Instagram Story. She asked her followers to share how much they "LOVE" a photo of their cake-filled kiss.
She didn't even give them a choice about whether they love the photo or not. She just asked them "how much" love they had for the photo. Clearly, there's just no other option in her eyes other than to "love" the photo, and ultimately their relationship.
Aside from the birthday cake documentation, Mallette shared yet another photo in honor of her daughter-in-law's birthday. This time it was a selfie with Baldwin kissing her on the cheek along with a "Happy Birthday" graphic as decoration.
Hailey's cousin Kahlea Baldwin shared some photos of the cakegate aftermath on her Instagram page. It really was just all laughs and smiles.
Baldwin got not one, but two birthday cakes in honor of her special day. She also got a lot of love from her new husband. That is all very special. Even so, few things could be more touching than her mother-in-law's sincere birthday wishes and warm welcome to the family. That is probably the best gift she could have ever received.