This Justin Bieber & Hailey Baldwin Update Could Be A Big Step For The Couple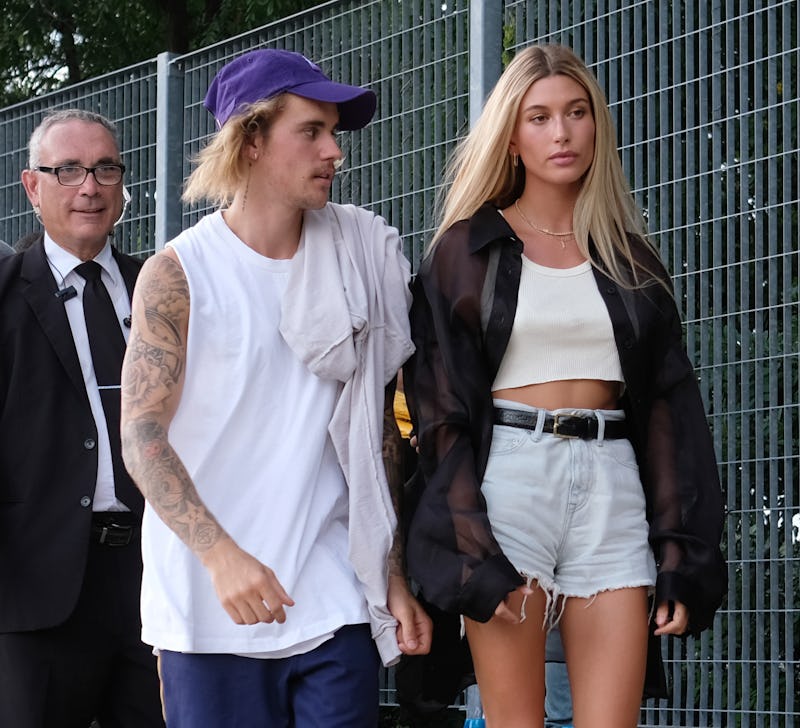 Nicholas Hunt/Getty Images Entertainment/Getty Images
Fetch your dossier on all things Biebwin, because there's another Justin Bieber and Hailey Baldwin update to add to the mix. On Friday, Oct. 19, TMZ reported Baldwin applied to register the trademark for the name Hailey Bieber. TMZ reportedly obtained the application documents that purportedly show the model called dibs on "Hailey Bieber," and she may use the name for a clothing project further down the road. (Bustle reached out to a rep for Baldwin but has not heard back.)
This reported trademark situation means one of two things. Either Baldwin and Bieber are already married and Baldwin wants to make sure her married name will be available when she wants to use it commercially, or they are not yet married but Baldwin just likes to plan ahead. Whatever the case, it'd be both a savvy move and another major relationship milestone for the pair.
After dating on and off for years, Baldwin and Bieber got engaged in July while on vacation in the Bahamas. And judging by some of the stories that surfaced last month, it looks like they may not want to go the long engagement route. On Sept. 13, TMZ reported the couple was spotted picking up a marriage license at the NYC Marriage Bureau. It appeared as though a time limit was set: Per the Office of the City Clerk in New York, a New York State marriage license is only good for 60 days. So, it stood to reason that Bieber and Baldwin would probably get hitched 60 days after they received the license.
Less than 24 hours after TMZ told the world the duo obtained a license to wed, People reported that sources claimed Bieber and Baldwin actually secretly got married on Sept. 13. One insider told People that the duo will eventually have a religious ceremony and reception where they can celebrate their nuptials with loved ones. Another source claimed to the magazine that Bieber and Baldwin "went ahead and did it without listening to anyone."
One source told People that the couple is excited to have a wedding, but wanted to get the paperwork part handled first. The insider reportedly said,
"But for other reasons, it was easier for them to get the legal stuff out of the way now and to get married. It was more of a necessary ceremony to make it legal. It doesn't seem like it was a big deal to them."
So, it seemed as though Bieber and Baldwin were reportedly tying the knot in secret when we all just thought they were fetching a marriage license... or were they? A few hours after the wedding report kicked down the front door to the internet and made itself real cozy on our timelines, Baldwin tweeted that she and Bieber were still fiancée and fiancé. She wrote, "I understand where the speculation is coming from, but I'm not married yet!"
But then, she deleted the tweet. And just a little over two weeks after the maybe-marriage happened or didn't happen, Baldwin and Bieber went to the Stratford Perth Museum in Ontario to check out the exhibit all about the "What Do You Mean?" singer. And during said visit, Bieber apparently introduced Baldwin as his wife? Oh, and just this week, Us Weekly reported that Bieber and Baldwin apparently told a fan that they are married? Oh, but they have not officially said they are married?
It's starting to feel like we'll never know if they actually said "I do" last month, isn't it? Married or not, TMZ's report regarding the trademark application suggests Bieber and Baldwin's relationship has been made even more official— whatever that means at this point.