Justin Hartley & His Fiancée Put Kevin & Sophie From 'This Is Us' To Shame With Their Cuteness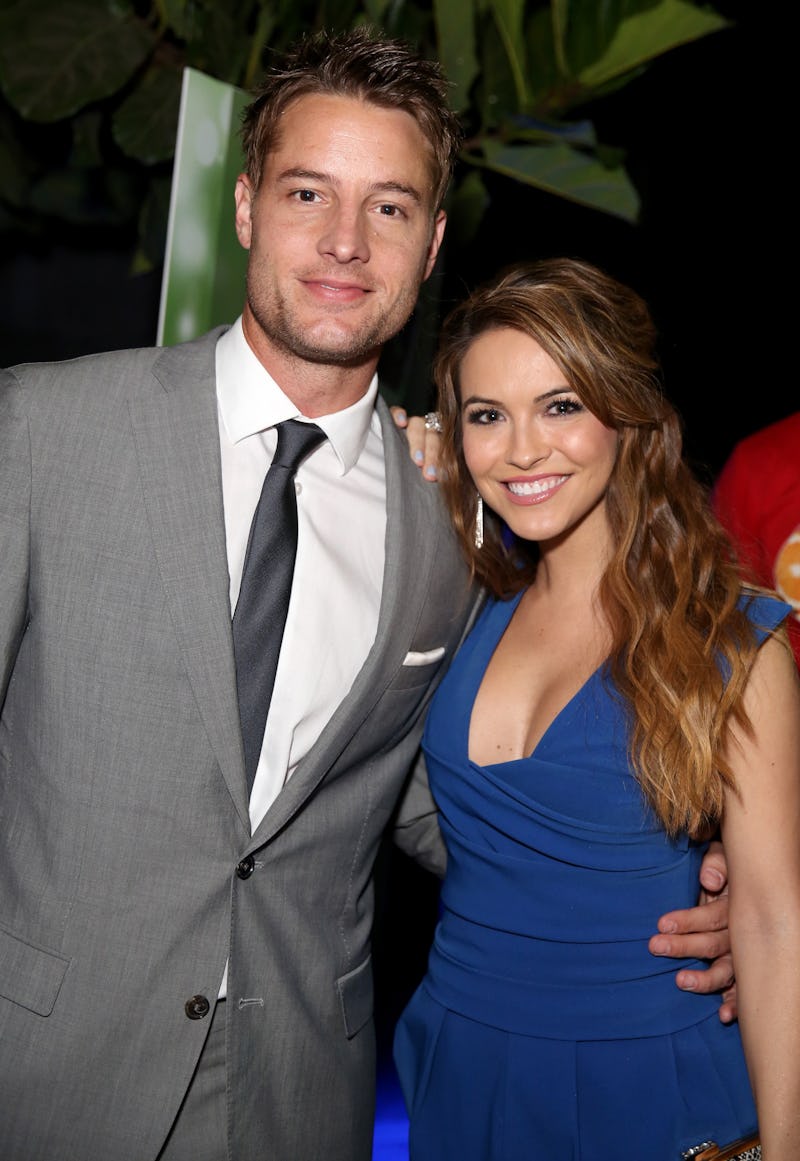 Chelsea Lauren/Getty Images Entertainment/Getty Images
He may be in love with Sophie as Kevin Pearson on This Is Us, but in real life Justin Hartley's fiancée, Chrishell Stause, is the only person he has eyes for. In July 2016, Hartley proposed to Stause, who is also a well-known actor, but in the soap opera world. Based on their Instagrams, Hartley and Stause are clearly head over heels in love, and it's something neither of them hide.
The way Hartley talks about his fiancée will make you swoon — hard. While chatting with Harry Connick Jr. on Harry in March (via People), the 40-year-old actor gushed, "It's a special thing, isn't it, that when you find that one person — and it sounds so cheesy." (Wait, is this a line from Kevin?) He continued, "Some people are like, 'Oh, there's one person for everyone.' But when you meet that one person, you realize like, 'What the hell have I been doing my whole life? This is the person.'"
They made their first public appearance as a couple in January 2014, so they've been together for quite a while. In addition to their extremely good looks, they both have the soap world in common. Like Hartley, who appeared on Passions and The Young and the Restless, Stause has made quite a name for herself on daytime television. She's had roles in The Young and the Restless, Days of Our Lives, and All My Children.
Stause obviously feels the same way as Hartley does when it comes to their relationship. If you check out their Instagrams, you will quickly notice that they are each other's biggest fans and supporters. It's as sweet as it sounds, so you probably want to check out the following photos.
He Can't Help But Praise Her
It's wonderful when couples support each other.
Repping "The Big Three"
Here she is promoting "The Big Three" with Hartley and his 13-year-old daughter, Isabella Justice. This is seriously an adorable photo.
All You Need Is Love
It's true for these two.
She Adores All The Kevins
There's little Kevin, teenager Kevin, and adult Kevin. How can she not support every Kevin on This Is Us?
K-I-S-S-I-N-G
The cuteness is never-ending.
Paris, Baby
The perfect city to celebrate romance.
How Are They This Cute?
Raise your hand if you've never taken a candid photo as cute as this. Yeah, ditto, my friend. But, really, does it get cuter than this? You can tell how much they care for one another.
What A Gift
"Thankful."
Watching Him On Ellen
When you're significant other is on The Ellen DeGeneres Show, you definitely cheer for them.
He's Always A Winner In Her Eyes
And showing up at an award show is always a must.
The Perfect Instagram
The really are perfection.
He Makes Her Smile
You know it's love when your person makes you this happy.
This Photo Says It All
This is what true love looks like, people.
According to People, the couple will wed in October, so prepare yourselves for even more swoon-worthy Instagrams. Hartley's vows to Stause will surely be just as romantic as when his This Is Us character showed up at Sophie's doorstep and said those three sentences.