Justin Timberlake Admits He "Stumbled Through" That Janet Jackson Super Bowl Controversy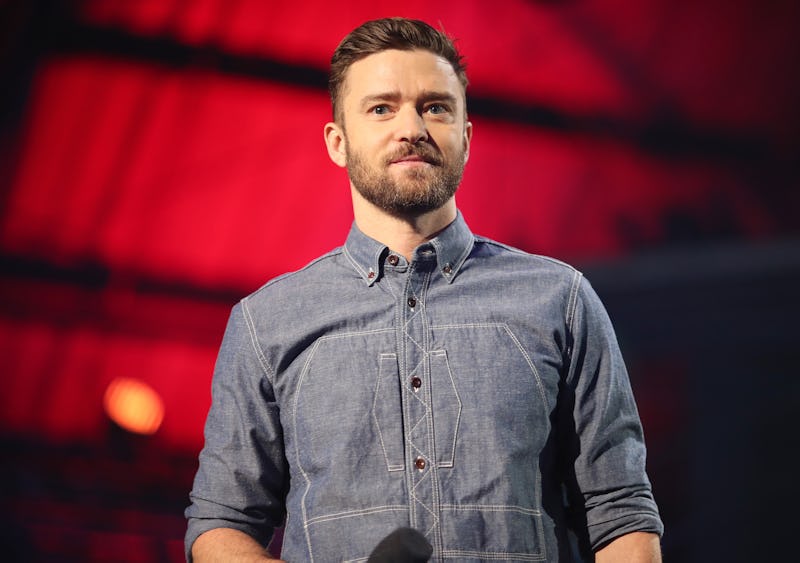 Christopher Polk/Getty Images Entertainment/Getty Images
Fourteen years ago, the Super Bowl was rocked by a scandal that has come to be known as "Nipplegate." While she was headlining the 2004 Super Bowl, guest performer Justin Timberlake accidentally exposed Janet Jackson's nipple live on air by tearing away her shirt during a rendition of Timberlake's "Rock Your Body." Now, Timberlake is addressing the Jackson wardrobe malfunction less than a month before he headlines the 2018 Super Bowl Halftime Show, admitting he mishandled the situation all those years ago.
In an interview with Beats 1 host Zane Lowe, Timberlake revealed he understood why, after his return to Super Bowl was announced, people wanted to talk about Jackson. Especially since there were many fans who didn't feel he handled the controversy very well back then — Timberlake included. "Yeah and I stumbled through it, to be quite honest, I had my wires crossed," he said of the performance. "And it's just something that you have to look back on and go, like, 'OK, well, you know, you can't change what's happened but you can move forward and learn from it.'"
So what did the singer learn from that incident? To not do anything like that again. He told Lowe in the teaser — the full interview airs in full on Thursday, Jan. 18 — that, when he sat down to talk about headlining the show with NFL execs, he assured them that there would no wardrobe malfunctions. Which isn't the first time he's said this. After all, back in October, Timberlake told Sunday Night Football on NBC, without hesitation, "That won't happen this time."
The singer was also asked, during his Beats 1 Radio interview, whether or not he had made amends with Jackson. "Absolutely," he said. "And I don't know that a lot of people know that."
When it was first announced that Timberlake was the headliner, people took to Twitter to share their feelings. While some were happy to hear the singer would be bringing sexy back to the Super Bowl, others couldn't help but feel like Jackson had gotten the raw end of the deal.
"Justin Timberlake is welcomed back with open arms by the NFL to perform the SuperBowl but Janet Jackson was blackballed," one person tweeted. While another wrote, "What I don't understand is how Justin Timberlake is headling [sic] the Super Bowl when HE exposed Janet Jackson's breast during her 2004 set, yet she's the one banned from performing a halftime ever since." Of course, Jackson wasn't banned from the Super Bowl, but she did get blamed in the court of public opinion for the accidental wardrobe malfunction while Timberlake got away unscathed.
According to Billboard, after the incident, Timberlake reportedly told Access Hollywood, "Hey man, we love giving you all something to talk about." Meanwhile, Jackson released a statement in which she apologized for the "costume reveal" gone-wrong: "It was not my intention that it go as far as it did. I apologize to anyone offended — including the audience, MTV, CBS and the N.F.L." She was also uninvited from that year's Grammys, where Timberlake won two awards.
Even Michael Powell, the FCC chairman who was most outspoken about Jackson, admitted to ESPN Magazine in 2014 that she was wrongly held accountable for the incident. "It all turned into being about her," he said. "In reality, if you slow the thing down, it's Justin [Timberlake] ripping off her breastplate."
So many people believed Jackson was banned from the Super Bowl that the NFL released a statement after Timberlake's headliner status was announced. The statement even teases the the possibility that Jackson could join Timberlake onstage:
"There's no ban. We are not going to comment on any speculation regarding potential guests. There may be no guests. Along with Pepsi, we're excited to have Justin Timberlake."
Some on Twitter even wondered if the singer's latest interview also left open the possibility Jackson would be in attendance. After all, he says "we're not going to do that again," which could mean he and Jackson will come together for another performance.
But this isn't the first time Timberlake has admitted he didn't do right by Jackson in the wake of the controversy. In 2007, he told MTV that he could have handled things better. "I'm part of a community that consider themselves artists," he said then. "And if there was something I could have done in her defense that was more than I realized then, I would have." He also said, "I probably got 10 percent of the blame, and that says something about society. I think that America's harsher on women."
A decade later, that's still true, but it's important that Timberlake continues to talk about this incident. It's important to hear him admit that he handled it wrong and would do things differently now, even if it's just so he can clear the air before hitting the stage on Feb. 4. And it's important that this maybe, possibly, is the hint of a chance for Janet to get a well-deserved do-over.