Justin & Jessica Looked Chic At The Golden Globes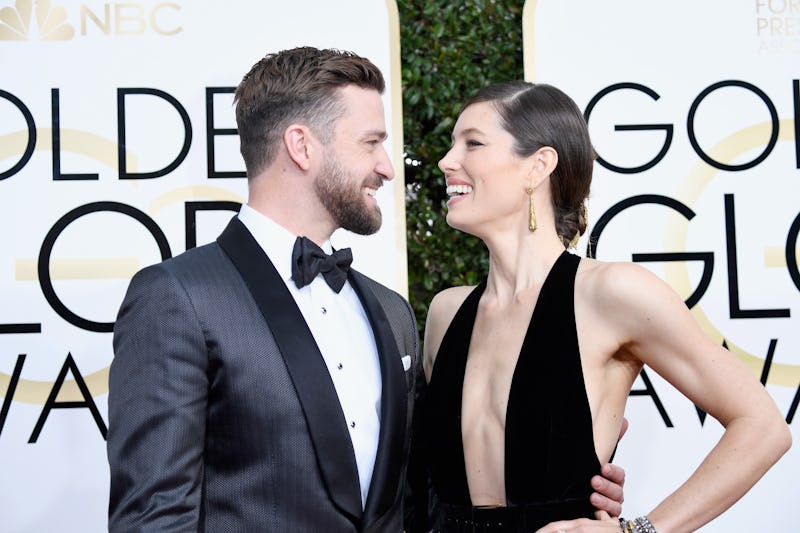 Frazer Harrison/Getty Images Entertainment/Getty Images
You'd be hard-pressed to find a more adorable couple than these two, and it's no surprise that Justin Timberlake and Jessica Biel's 2017 Golden Globes look totally nailed it. The couple showed up to the event together, likely spending the time on the red carpet before the show hoping for Timberlake to make good on his Best Original Song nomination for "Can't Stop The Feeling."
According to The Telegraph, Timberlake will join Ryan Reynolds and Golden Globes host Jimmy Fallon for the opening segment of the show, and given the trio's collective sense of humor, it's sure to be a treat. Biel will likely be watching proudly from the audience, wearing an absolutely stunning gown with a plunging neckline and a glittering skirt. Biel told E! red carpet host Ryan Seacrest that the gown is Elie Saab. Timberlake, on the other hand, wore a classic black tux — and of course he looked as handsome as can be.
Together, these two are just about as chic as you can get. Check out the perfect pair's red carpet look below — hopefully, they'll have more to celebrate than their devastating good looks by the end of the night.
Here's Justin's look:
That tux is next level, but Biel's gown is on another planet entirely:
Of course, these two almost always look better together, so here they are in all of their glory:
Just in case you were wondering, these two really are that perfect.