These Photos Of JT & Jessica Biel Visiting LeBron's School Will Instantly Make You Smile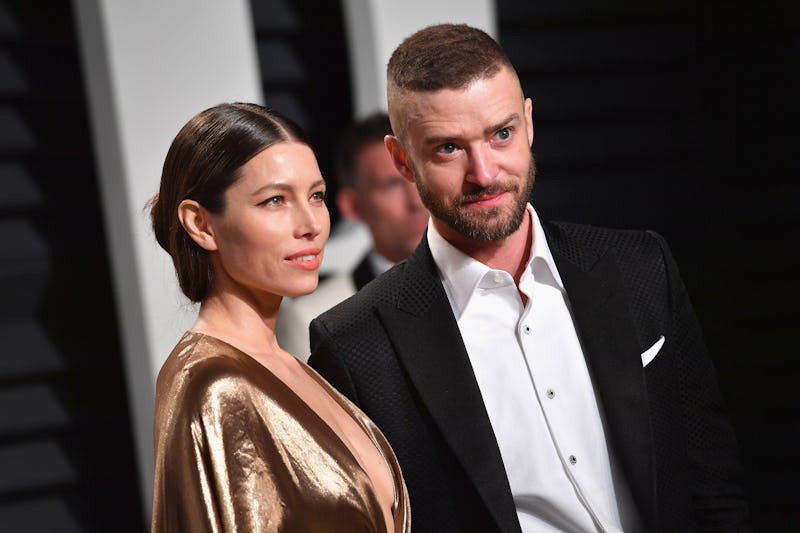 Pascal Le Segretain/Getty Images Entertainment/Getty Images
School just got a whole lot cooler, thanks to a couple of popular celebrities. According to E! News, Justin Timberlake and Jessica Biel visited Lebron James' school where they surprised students at the Akron, Ohio location. And it's safe to say that based on the photos from the surprise visit, the superstars' appearance was a major hit.
In the midst of the singer's Man of the Woods tour, in which he stopped in nearby Cleveland on Oct. 2, the husband and wife duo made a surprise visit to James' I Promise School on Oct. 3. The school recapped the exciting day on their official Instagram page. Alongside a photo of Timberlake and Biel meeting with students, the school wrote, "When @justintimberlake and @jessicabiel show up to @kingjames' I PROMISE school to surprise his kids...we show them ALL the moves!"
It's no surprise that the students and faculty at the I Promise School had a blast during the surprise visit. After all, it's not everyday that a worldwide famous superstar visits you in the midst of a math or English lesson. Even though he wasn't there in person, James wrote about his friends' special visit on Instagram and detailed why it meant so much to him and everyone else involved. He wrote:
"I SINCERELY Thank and Appreciate my brother @justintimberlake and his wife @jessicabiel on visiting my kids @ipromiseschool!! I bet they were so ecstatic to see you guys!! Well I bet the teachers and faculty was too! Ha! Looked like a great time. Means a lot to me for you guys to take time out of y'all busy schedule and I know it meant a lot to my kids too! THANK YOU GUYS AGAIN SO MUCH!"
As you can see in the photos that the basketball player posted, it's clear that not only did the students enjoy the visit, but Timberlake and Biel had a great time, too, as they learned a little bit more about the school, it's staff, and all of the students.
James' I Promise School, which opened for its inaugural class in July, is incredibly unique. As Time notes, it's a public school funded in part by the Akron Public School system and James' own philanthropic organization. The school is geared towards at-risk students in the Akron area and recently opened with grades three and four (with other grades soon to be offered).
The I Promise project is obviously one very near and dear to the athlete's heart, particularly because he grew up in a similar situation to his students, as he related on Twitter. "This skinny kid from Akron who missed 83 days of school in the 4th grade had big dreams for the kids in Akron to give them everything they need to find their passion, give back to our community and change the world!!"
Considering that Timberlake and James have been friends for some time now, whether they're having private chats during basketball games or supporting their friend's music, it's not all that surprising that the "Cry Me a River" singer and his wife would support their friend's latest endeavor in such a majorly positive way.