Justin Trudeau Is The Photobomb King We Need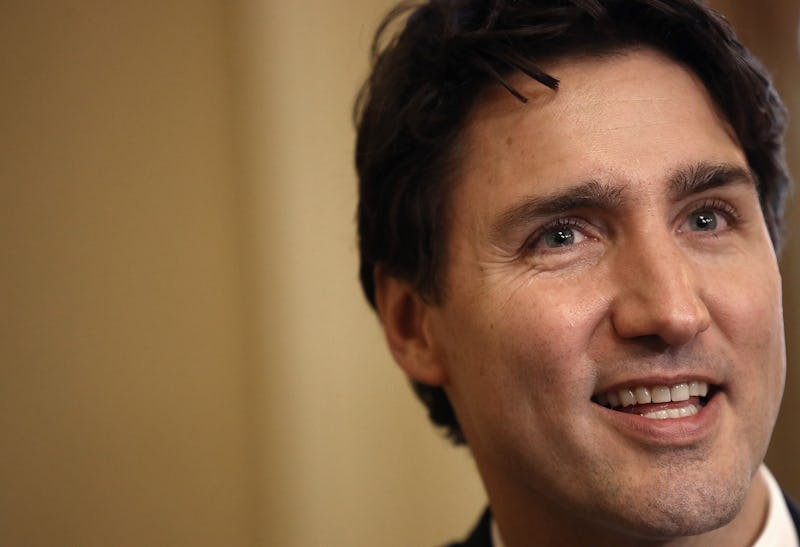 Win McNamee/Getty Images News/Getty Images
While America's leader is currently in Saudi Arabia causing up a stir about whether Trump bowed or curtsied to King Salman, Canada's leader is in his home country, causing a stir about something less controversial. The beloved prime minister was out for a jog on Saturday when he ran into a group of teenagers in formal wear and became part of their special day. The resulting photos of Trudeau photobombing students' prom photos are endearing and hilarious.
Trudeau's official photographer, Adam Scotti, snapped the initial photo of the PM casually running through the group of students in his short shorts and T-shirt. The photo itself is pretty entertaining, considering Trudeau is basically lost in the sea of students in dresses and suits, the majority of them seemingly oblivious to the famous politician running through their group without a care.
Scotti explained on his Instagram that he and Trudeau were taking photos for a series they are working on about running. He wrote:
This is part of a little side project to document the places we go and the runs we go on. Sometimes it's just scenic shots, other times, it's running past an unsuspecting grad group - half clued in, others were more distracted by the ginger with the camera. A memorable moment for all. I always love to watch people's faces as they realise who just ran past, often several paces after he has passed.
However, the students did eventually recognize Trudeau, and asked him to pose for a photo with them on the special day. The result was a remarkable shoot for some lucky high school kids.
This isn't the first time Trudeau has accidentally slipped into people's photos during a special occasion. Last August, Trudeau photobombed a couple's wedding photos. He was finishing up a surf session at Tofino, British Columbia, wetsuit half stripped off, when a bride ascended down the beach to her wedding ceremony. Trudeau tried to get out of the way, but inadvertently ended up being a part of the photos.
Just a few days before the wedding incident, a family ran into a shirtless Trudeau emerging from a cave during a hike in Quebec, and they snapped the selfies to prove it. Trudeau has received attention for his good looks, and when photos of young Trudeau recently emerged, the internet could not hold back.
Unlike America's president, who reportedly doesn't exercise because he believes that people contain a finite amount of energy and he doesn't want to use up all of his, the PM of Canada enjoys keeping fit and is not afraid to do so in public, to the delight of many.