Justin Trudeau Is Using The Arts For Diplomacy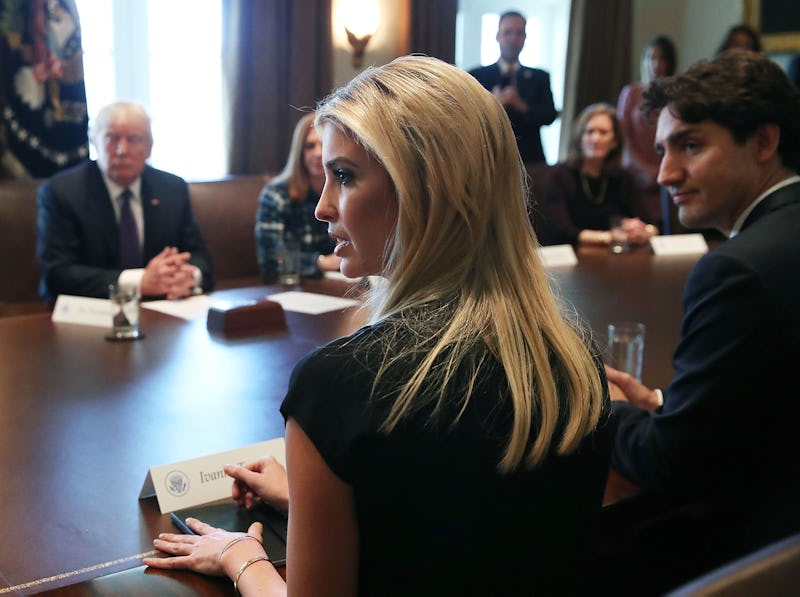 Mark Wilson/Getty Images News/Getty Images
President Donald Trump has made his views on foreigners and arts funding pretty clear. And with the impending court battle over the revised travel ban gearing up and the NEA and NHA on the chopping block, now's the time for people in power to make their stances clear. We know where Canadian Prime Minister Justin Trudeau stands on both issues. And it seems he's trying to impress them as politely as possible on members of the First Family and Cabinet. On March 16, Ivanka Trump and UN Ambassador Nikki Haley accompanied Trudeau to see Come From Away, a play about Canadian hospitality and friendship across borders during a time of fear and uncertainty. And from the looks of it, Trump and Haley had a great time.
The New York Times reports that Trudeau gave a short speech to the audience before the show. In it, he commended the play for its themes, saying, "The world gets to see what it is to lean on each other and be there for each other through the darkest times." Come From Away tells the true story of passengers of 38 airplanes forced to land in Gander, Newfoundland during the 9/11 attacks. There, the locals welcome the foreigners, and together they overcome prejudice to form lifelong bonds and friendships. Touching, right?
The show, which opened on Broadway on March 12, is particularly timely, and it's getting great reviews. Did Trudeau just want to chill with Trump and Haley while enjoying Canada's latest hot export? Or was there a more specific political intent behind his choice of get together? Considering Trudeau is a politician, it's safe to assume the latter. And on this night he appealed to the arts to try to help change minds.
But as we all know, art alone can't convince politicians or administrations to change their positions. Who can forget when Vice President-elect Mike Pence went to see Hamilton and, even though he was booed by the crowd and got a personal shout-out from the stage, still called it an "incredible production." But Pence applauding the openly gay star of the play's performance doesn't seem to have radically changed the administration's stance on LGBTQ rights.
Still, the arts need all the support and publicity they can get right now. And using them to start conversations about civil and human rights is as good a reason to support them as any. No word yet on what Ivanka thought of the play, but hopefully she'll go back and bring her dad next time.