'Jersey Shore's JWoww & Roger Celebrated Their Anniversary, Despite Their Recent Split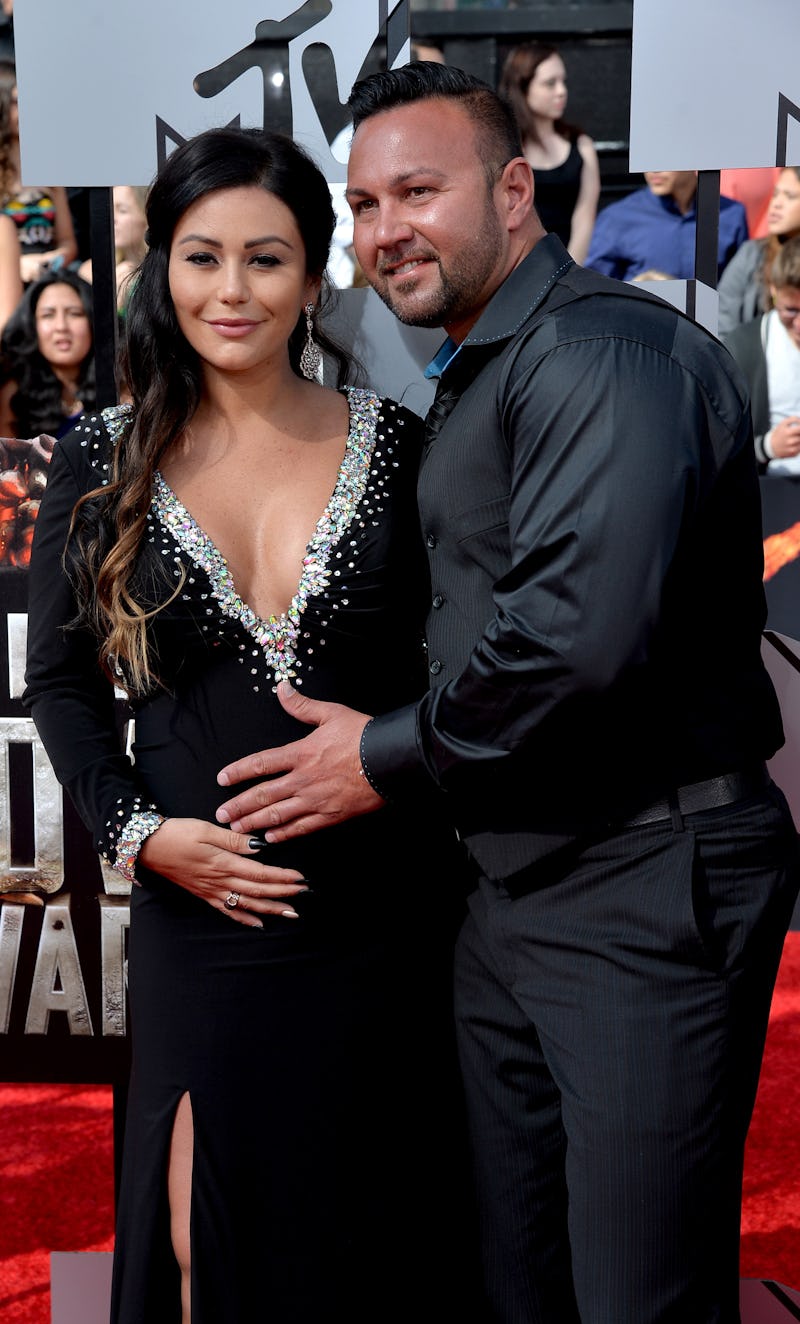 Michael Buckner/Getty Images Entertainment/Getty Images
Are Jenni "JWoww" Farley and Roger Mathews together or not? There seems to be some grey area here. Yes, JWoww filed for divorce recently, but it's just such a confusing situation, since JWoww and Roger celebrated their anniversary together on Sunday, which he documented in an Instagram video.
In the video, the two were walking outside toward a horse-drawn carriage. The father of two captioned the Instagram post, "It all started with a smile." JWoww said, "The horse. Oh my god." Roger told her, "Your chariot awaits." The Jersey Shore star remarked, "That's why you were worried about timing."
He even referred to her by a pet name in the video, saying, "Let me get that door for you, babe. Happy Anniversary." JWoww responded, "Oh my, thank you. Look at that," while her husband gave her a bouquet of flowers. It's unclear what's going on in regard to their divorce proceedings, but it's apparent they haven't cut each other out of their lives entirely. Not only did the exes have an anniversary date night together, but Roger made it very public with not one, but two, Instagram posts.
JWoww didn't post anything about it or comment on the posts. As of this moment, she doesn't even appear to be following her husband on Instagram anymore.
That same night, Roger posted a photo sitting with JWoww at dinner with the caption, "Rome wasn't built in a day," seemingly referring to the rebuilding of their relationship.
Sure, it may seem shocking that these two are out dinner, even though JWoww filed for divorce. But then again, it's also not that surprising, especially for anyone who has been lurking on Roger's Instagram page.
On Sept. 30, Roger shared a photo of himself, JWoww, and their daughter Meilani at a Disney Junior event together.
Just three days before the family's Disney outing, the news that JWoww filed for divorce broke via the Asbury Park Press. In the complaint, they cited the ever-popular "irreconcilable differences" as the reason behind their split. The complaint read,
"The plaintiff and the defendant have irreconcilable differences which have caused the breakdown of the marriage for a period of at least six months which make it appear that the marriage should be dissolved and that there is no prospect of reconciliation."
When Bustle reached out at the time, JWoww's reps had no comment on the divorce reports.
That same day, Roger posted a very emotional video rant proclaiming his determination to restore their relationship. In the video, Roger declared, "Here's what's also true: I'm not done fighting." He also said, "I'm gonna win my wife back, I'm gonna win her affection back, I'm gonna win her love back. I have no intentions of being a single dad."
It's got to be confusing for JWoww and Roger's followers to see the two celebrating an anniversary, even though she filed for divorce. But this reconciliation is also something their supporters have been hoping for. Roger has always been very open on social media, and based on his posts so far, his Instagram page is the top source for all updates on their relationship status.