Kacey Musgraves Wore A Long, Blonde Wig To The Met Ball & Looks Totally Unrecognizable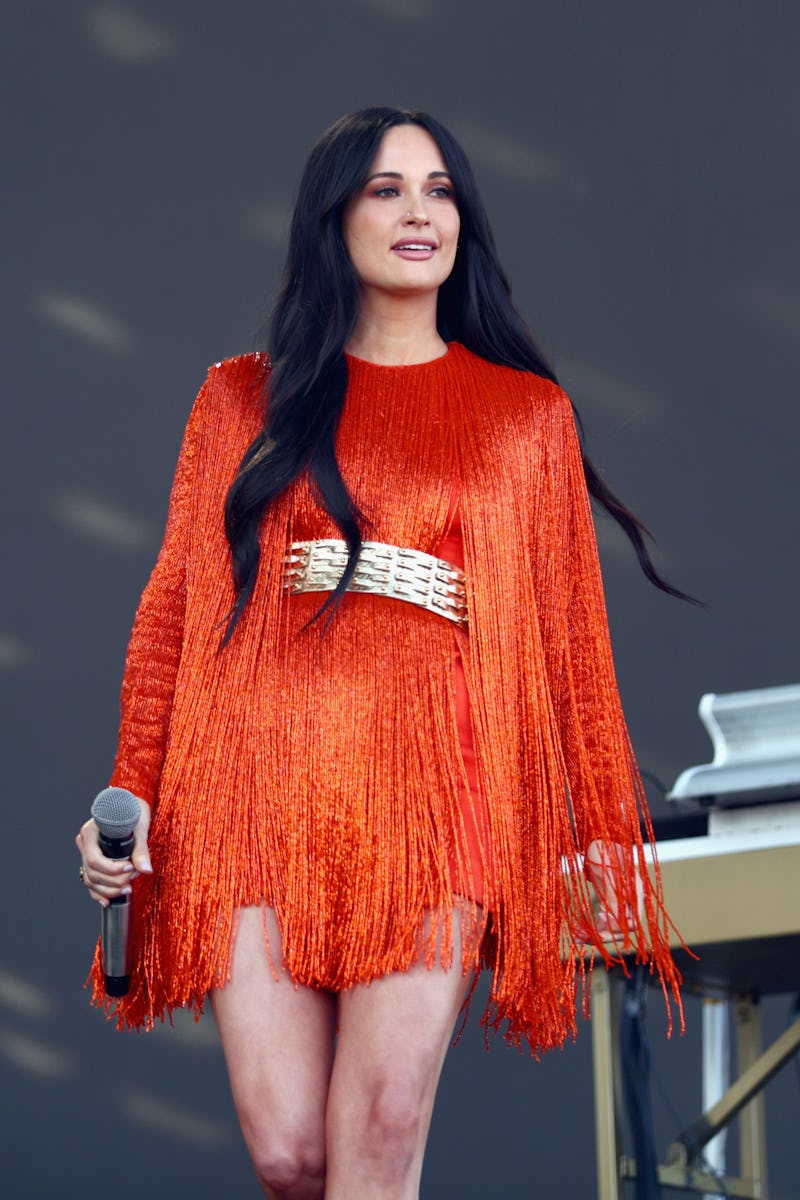 Rich Fury/Getty Images Entertainment/Getty Images
There's no better place to debut a new hair look than at fashion's biggest night. And making a drastic move for her first time at the ball, Kacey Musgrave's 2019 Met Gala look included blonde hair. Plus, the country singer rocked it with an all-pink Moschino dress, living her best "Barbie Girl" life.
Musgrave gave fans a big hint of what she'd be wearing for the night, initially posting a photo of a pair tiny Barbie sunglasses via her Instagram page May 6. Later that day, the singer posted a photo to her IG story of a packaged Barbie doll dressed in a Moschino gown. Little did fans know at the time, Musgraves would actually be on her life-size swag, sporting the exact look worn by the doll. If this is Musgraves version of camp, it's a version that's receiving praises.
While Musgraves may be new to the Met Ball scene, the "Golden Hour" singer still managed to make her outfit as memorable as any time she's stepped on a red carpet.
"I felt like I was in a doll factory being painted up," Musgraves said during the live coverage of the Met Gala on E!
The country singer rocked a long blonde wig for the event, steering away from her typical dark brunette hair to replicate the look of her boxed-up Barbie doll.
As for her full look, the singer wore a hot pink leather jacket dress with a matching fur drape piece. Not to mention, Musgraves rocked a real pair of sunglasses as her Barbie along with a purse shaped like a hair dryer. How fitting for this drastic and plastic hair change?
Despite Musgraves' ensemble replicating a fake figure in pop culture, the look is real bold. Tying in the silver zippers on the jacket, the now-blond Musgraves sported a pair of shiny silver heels.
People spoke with Musgraves' stylist Erica Cloud about how the Barbie look tied into the Met Gala's camp theme.
"I wanted to replicate the earrings that the Moschino Met Ball Barbie wears and Forevermark had the perfect diamond drops," Cloud said. "Dripping in diamonds is very decadent and going high-low with the accessories adds to the camp feel — it's choosing the most beautiful diamonds, but also Aldo shoes and a plastic clutch."
Musgraves wore an affordable pair of took the Barbie theme to the next level and pulled up to the Met Gala in a matching hot pink corvette.
This isn't the first time Musgraves has donned a bright pink look. The singer took the 2019 Oscars in a tulle baby pink Giambattista Valli gown.
Pink has been a recurring theme in most of Musgraves' red carpet look. In April, the country star rocked rainbow and tie-dye in a fashionable '70s-inspired suit.
Bright pink is one of Muscgraves' go-to colors, and this one for the Met Gala will go down in fashion history. Musgraves hair is far from a plastic, but her first time out the gate at the Met Gala is surly fantastic.