'The Bachelorette' Fans Think This Kaitlyn & Shawn Photo Means They Could Be ALREADY Married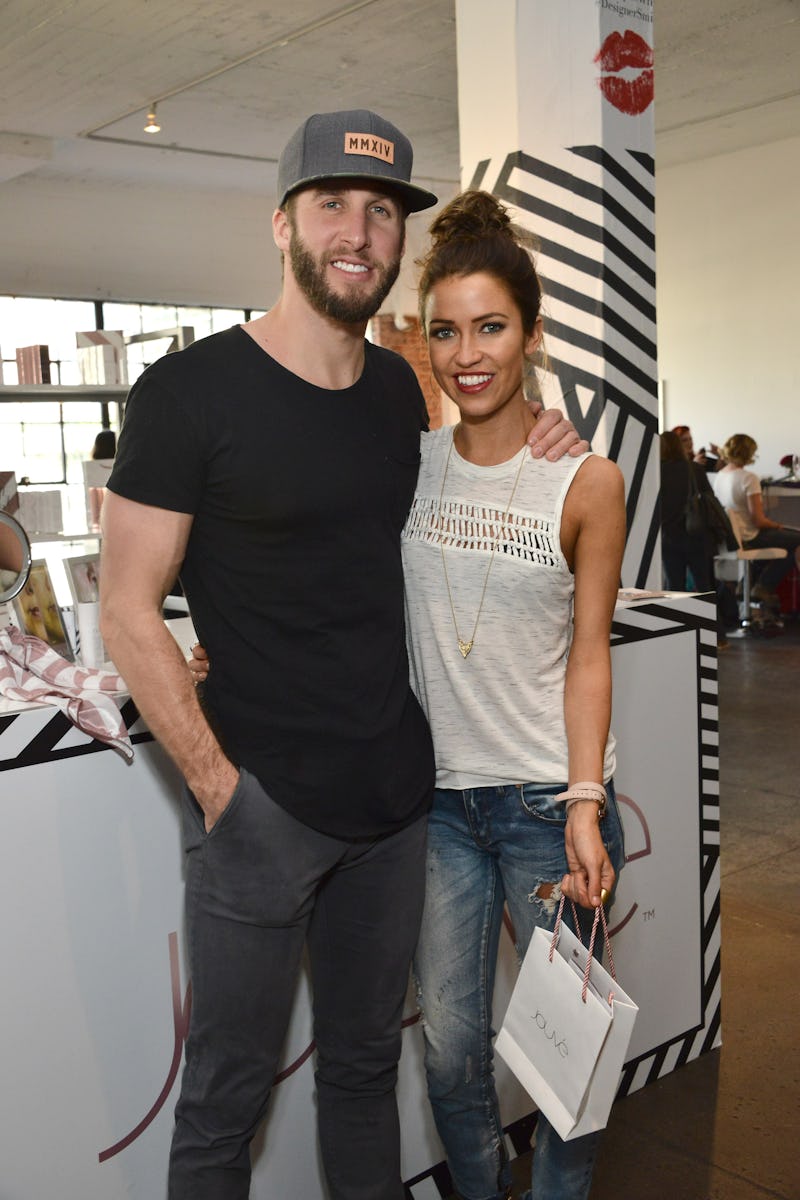 Araya Diaz/Getty Images Entertainment/Getty Images
Although it's been nearly three years since they got engaged at the end of Bachelorette Season 11, Kaitlyn Bristowe and Shawn Booth have yet to announce their wedding date. Despite their plans to seemingly take things slow, a new photo posted on Wednesday, April 18 had fans wondering if Kaitlyn and Shawn are already married.
The social media snapshot, which features Kaitlyn in what appears to be a white wedding gown and Shawn in a tan colored suit, was posted to Kaitlyn's Instagram page on Wednesday, April 18. And while it didn't offer much information about whether or not the pair actually tied the knot, the accompanying caption did hint that some type of announcement is on the horizon. Explaining why her podcast with Shawn is running behind, Kaitlyn wrote, "This is the reason my episode of #GrapeTherapy with Shawn B will be late. But we will explain! Can't wait for the actual photos."
While it's certainly exciting to see that Kaitlyn and Shawn are seemingly closer to tying the knot than ever before, the newly posted snapshot appears to capture a behind-the-scenes moment from a recent photoshoot that the couple took part in for the cover of an upcoming issue of Wedding Vacations magazine. And although the photo offered no confirmation of an actual wedding between the two, commenting fans couldn't help but to assume that the pair had finally made things official.
Throughout the years, Kaitlyn and Shawn have always responded to questions about their impending nuptials with humor, often joking about privately eloping in Las Vegas. Shawn once told People that he was imagining their wedding "in Las Vegas, at a little chapel" during a interview shortly after the pair got engaged in 2015. Laughing the comment off, Shawn ultimately assured his fiancée that he was just joking about wanting to tie the knot in Sin City. During the engagement cover story with People, Kaitlyn said that she was "imagining a destination wedding" because planning a ceremony just sounded too difficult to manage. She told People, "I am so low-maintenance — I don't want to pick out flowers or colors, I don't care!"
Fast forward to September 2017, when she was again asked when she and Shawn were getting married, Kaitlyn brought up the Las Vegas notion once again, telling People: "We actually have a trip planned in a little while for Vegas." Meanwhile, Shawn attempted to maintain a bit of suspense about their marital status, quipping: "Maybe we already got married and nobody knows yet."
Though they both continue to remain elusive about their wedding details, a November 2017 interview seems to prove that the day may not be as far off as some may think. During a sit down with the The Morning Breath, Kaitlyn revealed that she had already picked not just one, but two gowns that she plans to wear on the big day.
Although it's immediately unclear whether the dress (tagged in the photo as a design from Kleinfeld Canada) featured in Kaitlyn's recently posted Instagram pic is actually one of the bride-to-be's real-life ceremony choices, it's worth noting that she looks absolutely stunning, while Shawn is equally as handsome in the snapshot. Another behind-the-scenes pic from the Jamaica-based photoshoot, which was shared on Kaitlyn's IG just a day prior, shows the reality star wearing an entirely different dress, that according to the tag also seems to be from Kleinfeld Canada.
Despite not being married, just yet, Kaitlyn and Shawn's romance has been going strong since they first laid eyes on one another in Spring 2015 and they have been seemingly inseparable ever since.
As one of the cutest couples in Bachelor franchise history, Kaitlyn and Shawn have undoubtedly proven that slow and steady wins the race when it comes to their relationship – and there's certainly nothing wrong with that.