Kaitlyn Wants To Return Her 'Bachelorette' Ring To Shawn For This CUTE Reason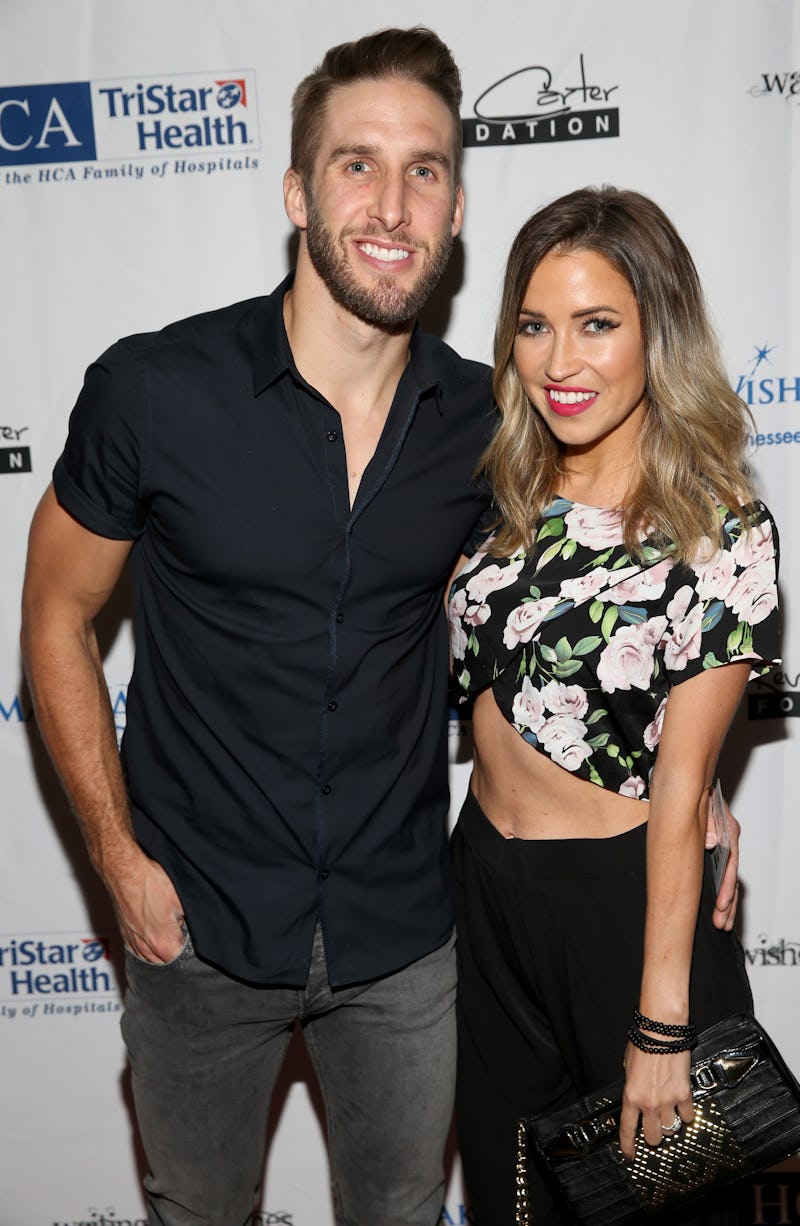 Terry Wyatt/Getty Images Entertainment/Getty Images
Kaitlyn Bristowe and Shawn Booth got engaged during her 2015 season of The Bachelorette. Fast-forward three years: Kaitlyn and Shawn's wedding updates indicate that they are still happily engaged — and are OK to stay that way for now, according to an June 12 interview in Us Weekly. Kaitlyn told the publication that her mind has been on their engagement — and even getting re-engaged to Shawn.
Kaitlyn explained the following to Us Weekly:
"I feel like we are going backwards! I feel like we've talked about him re-proposing because sometimes I don't even want to wear a ring anymore cause I want him to have it just so he can surprise me."
Why the surprise? Kaitlyn explained to the publication that when Booth proposed to her during The Bachelorette finale in 2015, she already knew it was coming. According to the interview, she would like to relive the proposal with the element of surprise — to the extent that she has considered giving Shawn her engagement ring back for the re-proposal.
Kaitlyn told Us Weekly:
"Because we always talk about him proposing when I'm not expecting it, rather than when I'm on the show where I knew it was coming. So yeah, I've thought about giving the ring back to Shawn so that he could use it to propose when the time comes, and we can start wedding planning when we feel that it's that time."
While their current focus is their engagement, Kaitlyn and Shawn have given some thought to their wedding's location. "We talk about doing it in Hawaii," she told Us Weekly, adding that the couple seems to "go back and forth with if we want it big or small, we haven't made the decision on that." Previously, Kaitlyn told People in in September 2017 that the couple even considered eloping in Las Vegas. "We actually have a trip planned in a little while for [Las] Vegas," Kaitlyn told the publication. "So it might be in the near future!" Who knows, the couple just might elope in Vegas — or somewhere else — at some point.
Though their wedding date and location is uncertain for now, Kaitlyn seems to be sure of one main thing for their future: she and Shawn want to start a family. "We always tell everybody that we talk more about kids and a family more than a wedding," Kaitlyn told Us. "We don't know how many, but we know we want them and we know we want them in the next few years."
Kaitlyn and Shawn met during her season of The Bachelorette, in which she gave her final rose to Shawn over runner-up Nick Viall (who would go on to participate in Bachelor in Paradise and become the Bachelor in 2017).
Back in April, Kaitlyn and Shawn threw Bachelor Nation for a loop when they did a wedding photoshoot an issue of Wedding Vacations magazine. Kaitlyn posted an Instagram photo of herself in a white wedding gown and Shawn in a tan-colored suit — a snap that had Bachelor fans wondering if the couple had already secretly tied the knot. She wrote the following in the caption for the snap:
This is the reason my episode of #GrapeTherapy with Shawn B will be late. But we will explain! Can't wait for the actual photos 💕
That kind of speculation made some sense though. Back in September 2017, Shawn joked to People in 2015, "Maybe we already got married and nobody knows yet."
Alas, The Bachelorette couple isn't married yet, but Kaitlyn and Shawn's engagement seems like a blissful one.