Kaley Cuoco & Karl Cook's Wedding Photos Will Make You Wish You Had Scored An Invite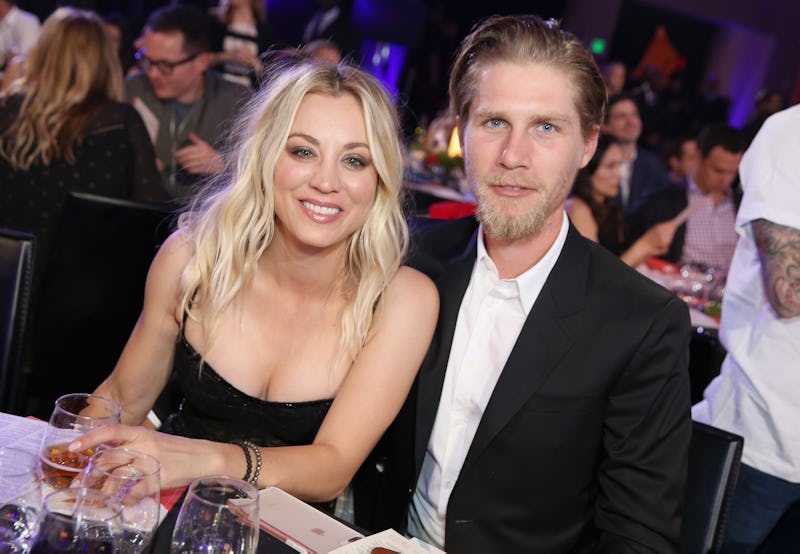 Rachel Murray/Getty Images Entertainment/Getty Images
What happens when two horse fanatics tie the knot? If these photos from Kaley Cuoco and Karl Cook's wedding are any indication, the answer to that particular question seems to be, an equestrian-themed wedding extravaganza, obviously! After having dated for roughly two years, Cuoco and Cook officially became husband and wife, on Saturday, June 30. Fans of the happy couple who'd have given just about anything to snag an invite to Cuoco and Cook's special day: you're in luck. Because even those who didn't catch the event in real life now have the opportunity to relive the evening on Instagram, where the wedding's actual attendees (bride and groom included) have been posting up a storm.
As Cuoco's fans on social media would probably have to agree, the actor's first Instagram post of the evening was a real doozy, as far as its tear-jerking tendencies are concerned. The truly picture-perfect black-and-white photo shows the couple engaged in a sweet kiss inside what appears to be a row of horse stables turned dreamy wedding venue. Those who follow Cuoco on social media know the star is extremely passionate about animals, especially horses. That, coupled with Cook's status as a professional equestrian, seems to have inspired the wedding's primary theme. "Legally KCSQUARED 6-30-18," Cuoco wrote, captioning the photo.
(Just so we're all on the same page here, the delightfully creative hashtag pretty obviously refers to the first and last initials of both parties' full names.)
Fans who'd like a more substantial glimpse into what the Cuoco-Cook wedding actually looked like should head on over to the Instagram account associated with Lauren Tatum, Cuoco and Cook's wedding planner, who kindly gave Bustle permission to showcase some of her, ahem, brilliant work from the weekend's big event. Tatum posted a medley of photos throughout Saturday evening, though perhaps some of the most dazzling are those picturing the gorgeous reception hall, the enormous horseshoe-shaped altar, and, of course, the life-sized floral arrangements. (Those who'd like to take a deeper dive into her elevated aptitude for wedding decor might want to check out Tatum's professional website.) Talk about a fairy tale wedding, no?
And if the string of photos to come out of the weekend's Cuoco-Cook wedding are any indication, it seems safe to say the evening's guests were having about as much fun as the couple themselves. Captioning the second of two back-to-back Instagram posts from Saturday's bout of matrimonial magic, Cuoco seemed to sum up the tenor of the evening's festivities pretty perfectly. "Ok let's party!!!" she wrote, tacking what appears to be the couple's adorable relationship tag onto the end of the caption: "#kcsquared."
Suffice to say, the "let's party" sentiment expressed in Cuoco's caption seemed fitting for a number of reasons. One, that same air of playful excitement feels very present in her Instagram post's accompanying photo, which pictures the newly-minted Mr. and Mrs. celebrating their first moments of married life doing what the famously goofy pair does best: Acting silly, and charming the pants off pretty much everyone in their vicinity. Seriously though, who else has suddenly adjusted their ideas about what the "perfect wedding photo" is supposed to look like?
The photo sees Cuoco and Cook standing in the foreground of what appears to be the flower petal-laden entryway of their expertly-decorated wedding chapel. In a move that already feels like a welcome departure from traditional matrimonial garb, the photo reveals that Cuoco might have engaged in a little quick-change of sorts between the wedding ceremony and the reception that followed. In a similar vein to the gorgeous lace gown she appears to have donned walking down the aisle (at least, that's what it seems like, based on Cuoco's first IG post from the ceremony) , Cuoco's reception ensemble was an equally elegant white-lace jumpsuit that managed to scream "Just married!" and "I have impeccable, forward-thinking taste in fashion!" all at once.
And, in case there were any doubts as to just how ready to party they were, post-I Do's, the couple seals the deal with their playful poses in Cuoco's second post. Which is mostly to say, the bride is pictured throwing up a very enthusiastic peace sign and popping her left foot while her new husband holds her sweetly by the waist.
Judging by Saturday's wedding-themed Instagram post from Mayim Bialik, Cuoco's Big Bang Theory co-star, it certainly looks like the reception party was a big hit. Per Bialik's post, which pictures her sitting beside actor Wil Wheaton at one of the reception's glamorous dining tables, it seems pretty clear that the Cuoco-Cook wedding bash was, quite appropriately, chock-full of references to the bride and groom. One of those references, as Bialik's post spotlights front-and-center, came in the form of a delicious-looking dessert bearing the moniker "KC-squared."
Cuoco's onscreen husband, Johnny Galelecki also attended the wedding, and shared his best wishes for the happy couple on Instagram.
So, who else is currently really wishing they too had earned themselves a spot on Cuoco and Cook's guest list? Judging by the recent deluge of social media photos from the couple's big day, it seems pretty safe to say their exquisite wedding bash was one for the ages.