Kamala Harris Has A Plan To Protect Abortion Rights That Goes Beyond Codifying Roe V. Wade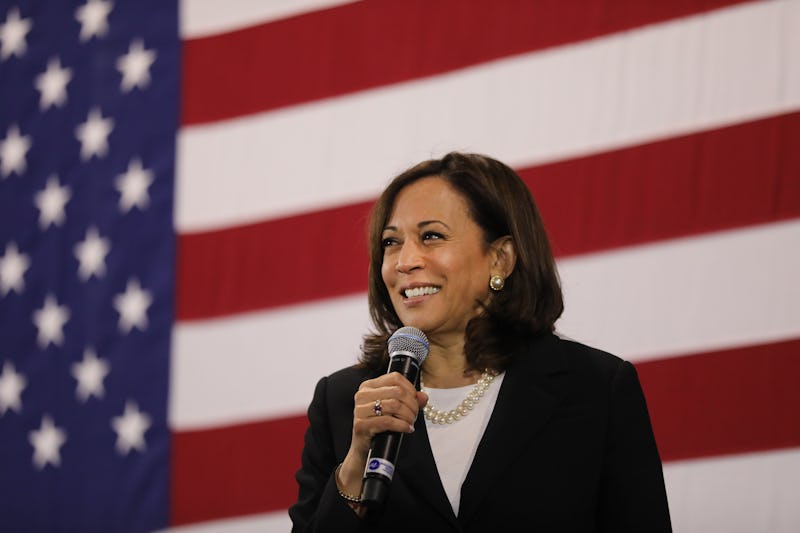 Spencer Platt/Getty Images News/Getty Images
In recent months, anti-abortion legislative efforts have ramped up in a number of states across the country. But on Tuesday, one presidential hopeful released details about her idea to fight back against them. Kamala Harris' abortion rights plan would require states to seek permission from the Department of Justice before establishing any restrictive laws. And if it gets passed, it will totally change the way states pass abortion legislation.
The plan is called The Reproductive Rights Act. Per CNN, Harris said on Tuesday that, if elected president, she would establish a pre-clearance requirement for "states and localities with a history of unconstitutionally restricting access to abortion." In other words, her new plan would flip the current state of reproductive rights battles on its head: instead of requiring organizations like the ACLU and Planned Parenthood to prove a new anti-abortion law is unconstitutional in a court of law, this plan would require states to prove to the DOJ that their law is constitutional to begin with.
Harris' campaign team published a press release explaining the reasoning behind the new plan. It reads in part,
With the specter of a hyper-partisan Supreme Court, these attacks have laid bare the pressing need to pass federal legislation protecting reproductive rights, including access to abortion. But the truth is, simply codifying Roe v. Wade isn't enough.
Under the Reproductive Rights Act, any states or localities with a "pattern" of violating Roe v. Wade in the last 25 years would be subject to the pre-clearance requirement. The press release defines examples of a pattern as "settlements or final findings by a court that a law or practice runs afoul of Roe, such as rulings in South Carolina, Iowa, and Georgia." Additionally, under the guidelines of this proposed act, no abortion law or practice will take effect unless the DOJ determines that it complies fully with the precedent of Roe.
The press release further clarifies,
More than just codifying every woman's federal right to an abortion, this will shift the burden to jurisdictions with a pattern of violating Roe to prove any new law or practice does not deny or abridge the fundamental right to access abortion...[Additionally], women and health care providers will have the ability to challenge DOJ's approval of a law or practice in federal court, serving as a check on hostile administrations.
Harris isn't the only presidential candidate who has come out with a comprehensive policy plan around abortion and reproductive rights. Kirsten Gillibrand and Elizabeth Warren each released their own proposals earlier this month, both on Medium.
Though their plans vary, all three candidates share the goal of legally reinforcing the precedent of Roe, in various ways. Additionally, Gillibrand has confirmed that, if elected president, she will only nominate Supreme Court judges who are committed to upholding Roe, and Warren has argued the necessity of "passing federal laws to preempt state efforts that functionally limit access to reproductive health care."
For more info on where all of the presidential candidates stand on abortion rights, you can read this breakdown of each of their beliefs.