Kamil Broke Up With Annaliese In Front Of An Entire Audience On 'BiP' & NOBODY Is Pleased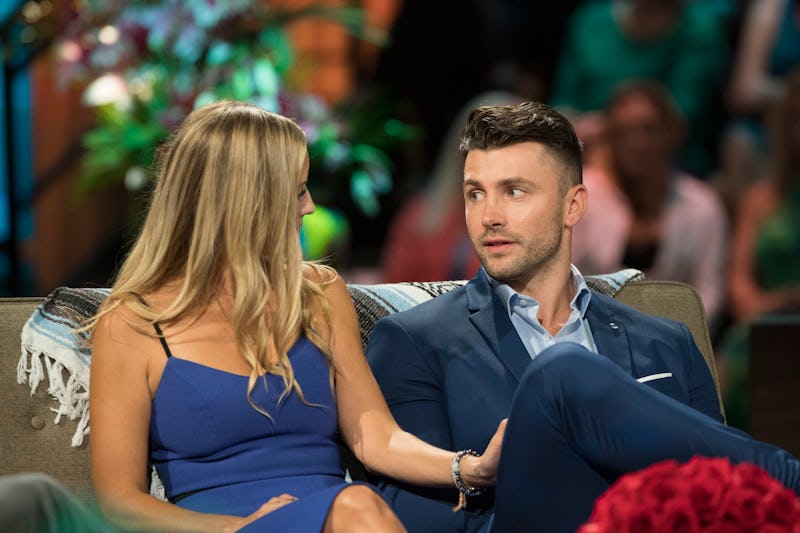 ABC/Paul Hebert
Annaliese connected with a few different guys before she and Kamil really hit it off in Mexico, but once they were coupled up, it certainly seemed like they were solid. They left Paradise for home without getting engaged, but ultimately, they were still happy. It's clear that it didn't last long, though. When Kamil & Annaliese broke up on Bachelor in Paradise, it was kind of a mess.
Things started off OK, and Annaliese obviously had no clue what was about to happen. "We're in a good spot. Long distance has been hard and it's not always easy, but I definitely think Kamil is somebody that I wanna go through the good and the bad with," she told host Chris Harrison. "We're in a good spot."
Then Kamil joined her onstage, and things went downhill quickly. "I know Annaliese is ready for a guy to get down on one knee right now and get engaged, and you deserve the best, and I think I might not be the guy for you," he said. "I just feel like I kinda lost that spark we had in Paradise after leaving, and didn't experience it in the real world."
The audience was stunned, and the other cast members in the audience like Tia, Astrid, and Bibiana were visibly upset with Kamil and how he chose to handle things. "You're great, I don't wanna string you along and pretend that we have something special still," Kamil continued. "It's just not working out for me and I think it'd be best for us to slowly part ways."
Annaliese made it very clear for the entirety of the season that she was looking for a proposal at the end of her Paradise journey, and toyed with the possibility a few different times with a few different people. But when she talked about her future with Kamil, she was more sold than ever. "I am so in love with Kamil and I'm so excited … for him to get down on one knee and propose," she said.
When the big moment for a proposal came earlier in the finale, Kamil nearly made the big leap, but just wasn't ready yet. "I love you and I want to have a future together. I know you're ready for engagement, but right now, I'm not," he told her. "I need to move at a pace that is long-term for us. The love for you that I have is very strong. And I want it to blossom outside of Paradise."
Kamil's decision to not get engaged at the end of BiP is a completely understandable one. By the end of filming, you've only known your partner for a few weeks, at best. That's insanely fast to get engaged, and a relationship that progresses off-camera is probably way less stressful to explore.
The decision of Kamil's that isn't OK is the one to wait until the reunion special to break up with Annaliese. It's absolutely cruel and fame-grabbing to stun someone with a huge, emotional devastation in front of a live audience and millions of viewers. It's an unfortunate trend that Arie started last year on The Bachelor, when he turned Becca's life upside down while flanked with a camera crew.
Kamil was booed out of the room, as he should have been, and Annaliese ultimately came back to get the last word. No one deserves that kind of public humiliation, especially someone like Annaliese, who was nothing but hopeful in the process she'd embarked on. She'll eventually move on to someone much better, and hopefully that's the last we'll see of Kamil for a long time to come.