Fans Weigh In On Kanye West's Rumored Makeup Line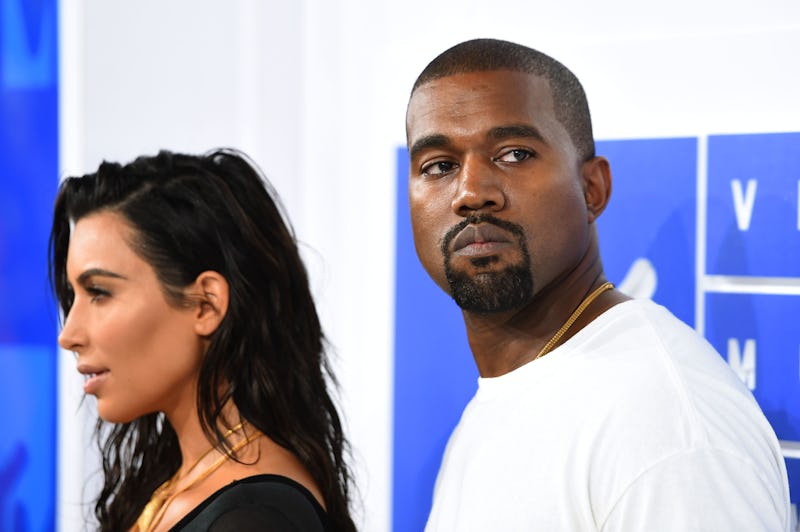 Larry Busacca/Getty Images Entertainment/Getty Images
Keeping up with the Kardashian clan is seriously becoming a full-time job. Between the cosmetics companies, fashion collections, runway shows and more, it can all be a little overwhelming. But, it doesn't seem as though this family will be slowing down anytime soon, so fasten your seat belts and follow along for the ride! The reactions to Kanye West's rumored Donda makeup line prove that some people are not necessarily sold on this latest reported enterprise.
West has branched out from more than just music to put his stamp on the fashion world, and now, according to TMZ, he's potentially got a makeup line in the works. The reported range is rumored to be named after his mother, Donda, who died in 2007 and could include perfumes, lotions and other cosmetics, the publication reports. Bustle has reached out to West's reps for comment.
The collection may only be a rumor at this point, but it's enough to get folks talking on Twitter. Some devoted fans definitely have a "Kanye does no wrong" mindset and would love to buy every item in a beauty line of his creation. Others aren't necessarily sold on the idea. But, one thing's for sure, if West does have a makeup brand in the works, he's got some great people to help him bring his vision to life.
There's, of course, the successful makeup maven Kylie Jenner, but he's also acquainted with the team of makeup artists who help to bring the Kardashians' various beauty looks to life — which includes Mario Dedivanovic, for example. Here's what people on the internet are saying about this rumor.
1. Too Expensive
Right off the bat, fans are concerned about the price of these items since his Yeezy label isn't exactly affordable.
2. Confused
Some folks are still trying to process the news of this potential company, and honestly, who could blame them? It's a lot to take in.
3. What Next?
Seriously, what will West think of next?
4. Make Room
Some folks are fully prepared to clear space in their makeup drawer to own the full Donda line.
5. Still In Shock
Meanwhile, others are still in shock.
6. Personal Makeup Line
After hearing this news, people are becoming inspired to create collections all their own.
7. Expect The Unexpected
People are also responding to the news with, "Of course he is." Because with West, you just have to expect the unexpected.
8. Phenomenal Work
West definitely has a team of great people he could potentially pull together.
9. What A Guy
It takes a special person to juggle this many things at once.
10. Goodbye Money
The fans who are on board with the idea are more than ready to hand West all of their money.
11. Interesting
This news is interesting, to say the least.
Take some time to process your emotions because this is a lot to take in. Could a Kanye Lip Kit be in our future? I can't wait to find out.