What Karen Handel's Victory in Georgia Could Mean For You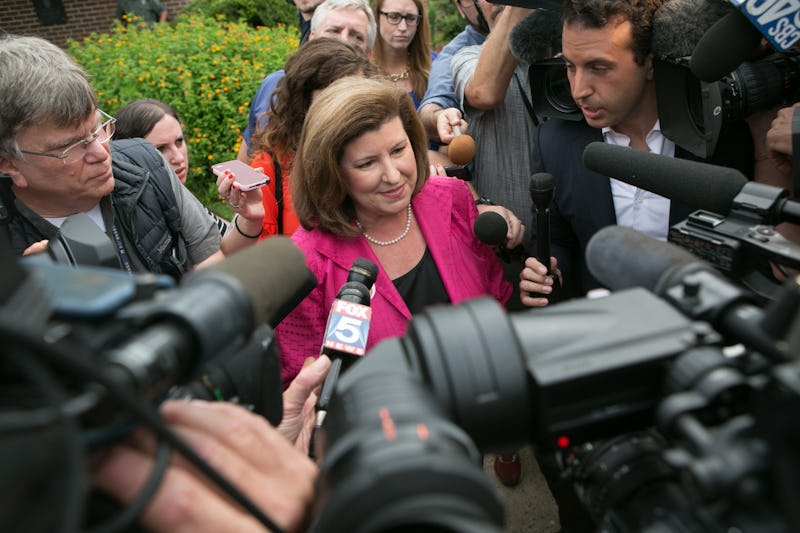 Jessica McGowan/Getty Images News/Getty Images
If you wondered what the Tuesday defeat of Democrat Jon Ossoff would mean for Georgia women, brace yourself. Karen Handel's victory in Georgia could put women's ability to fairly access healthcare in further danger. Congressional Republicans, who are currently working on an Obamacare repeal bill, could use Handel's victory to support the American Health Care Act.
Handel's win in a special election for Georgia's 6th District against Ossoff marks a setback for Democrats, who treated the special election — the most expensive House race in history — as a referendum on Trump's policies. While Handel's victory does signal that Democrats should rethink their congressional campaign strategy, it also could mean that women's health care is at risk.
Handel's victory may add fuel to the ACA repeal effort because this race was seen as a barometer of the public's political mood, and according to STAT, Handel is a major opponent of Obamacare policies. "The system we're under now under Obamacare is collapsing," Handel said in a debate against Ossoff. She supported this claim with her own personal experience, saying that he and her husband get insurance from a state marketplace exchange. "Steve and I have seen our monthly premium go up from about $350 a month to nearly $1,200 a month. Our deductible from $2,500 to $10,000. So the status quo is unacceptable," she said.
In particular, Handel opposes the individual mandate, the signature policy of the Affordable Care Act, which was deemed constitutional in 2011 in the landmark Supreme Court case National Federation of Independent Business v. Sebelius.
Handel is also a vehement opponent of a women's right to have an abortion, which was codified by Roe v. Wade in 1973. She even chose to end the Susan G. Komen Foundation's charitable contribution to Planned Parenthood when she led the breast cancer organization. The version of the AHCA the House passed proposed defunding Planned Parenthood entirely for a year.
If the Senate bill, which is currently being kept under wraps and has not been released, is anything like the House version, Republican Obamacare repeal legislation could disproportionately affect women, according to reports. This is especially salient since the AHCA limits protections for patients with preexisting health conditions. Critics noted that many of the preexisting conditions that would be no longer protected are those that affect women most.
After her 4-point win became apparent, Handel, during her victory speech on Tuesday night, thanked President Donald Trump. She drew cheers of support for this comment, and also riled up the crowd with another related to Republican efforts' to repeal the Affordable Care Act. "We need to finish the drill on health care," she said, according to the Washington Post.