This Sneak Peek Of Kat Von D's Vegan Shoe Line Will Leave You Shook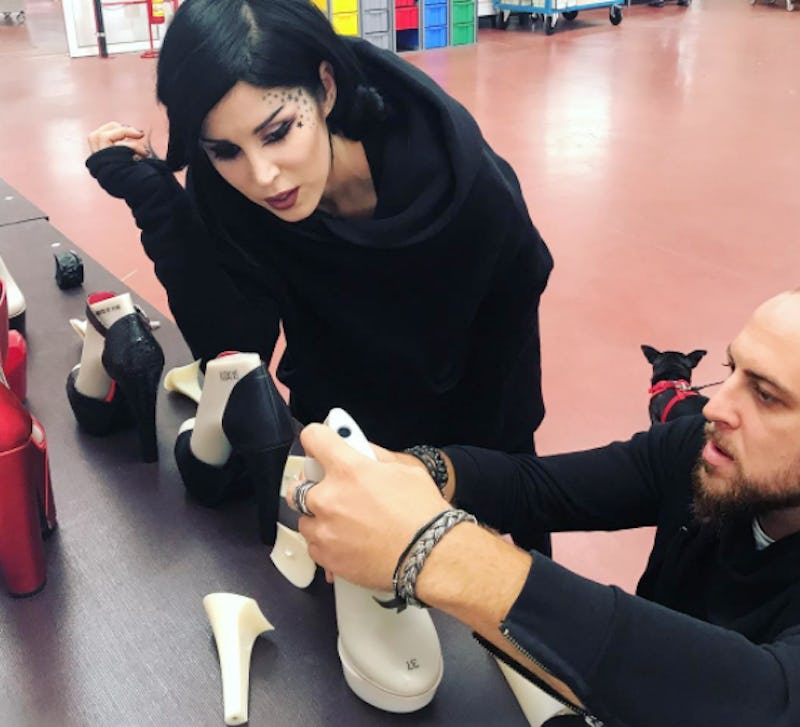 thekatvond/Instagram
Kat Von D is so committed to animal rights causes that the tattoo artist reformulated her makeup line to be entirely vegan. Now, she is creating a vegan shoe line so that her fans can enjoy super stylish heels and more without causing any harm to animals. Get ready to slay in the most animal-friendly way.
Kat Von D shared a look at her upcoming vegan shoe line on her personal Instagram and OMFG, you guys! The footwear appears to be exactly what Kat Von D-evotees have been expecting, but better. It's "leather." It's edgy. And it's more than we could have dreamed.
Let's be honest, the teases and prototypes will leave you shook AF. Some images show how the geometric heels are taking shape in the development phase, while others show what complete shoes may eventually look like. And the excitement is almost too much to handle.
Yes, the shoes fall in line with Kat Von D's personal style, which is equal parts goth, rock 'n' roll, and tattooed diva. But that makes complete sense, since so many of her diehard fans draw serious inspo from her edgy look.
In the tease, the makeup maven and newly-minted designer showed off a motorcycle bootie, which looks expensive and to be of the utmost quality. Go ahead and gawk, please!
KVD noted that the bootie is a prototype and that she will be changing it up a little. Personally, I think it is gorgeous as is from the front ariel view. Von D also espouses the virtues of the materials, which is important since she is going against the grain and not relying on animal skins to create shoes that are stylin' and that will go the distance.
Regardless, since the advance look at the shoes is this good, one can only imagine how hard the final version will slay.
Just look at these heels! If you are of the same mindset as Kat Von D and your animal sympathies extend to your fashion choices, these shoes will certainly be on your wishlist. You can look forward to being able to strut your sexy stuff without anything weighing on your conscience.
We don't know the key details, such as when the KVD shoe line will arrive in stores or online, how many styles are being created, or what the price range will be. Von D only noted that they are "#comingsoon." But how soon is TBD.
All of that information is secondary, since the visual hints were so major.
It's also worth noting that KVD shared the sneak peeks of her vegan shoe designs while she was in Italy overseeing the process. She is clearly intricately involved, since the line will carry her name and is attached to her aesthetic.
Notice that she had hashtagged the images with #VonDShoes, so perhaps that is the official moniker for our new fave shoe line? It could be.
If you are absolutely jonesing for the KVD shoes to be available for purchase and need something to calm you down in the interim, why not have a look at the limited edition Kat Von D Saint and Sinner palette, which was inspired by how stained glass in the cathedrals in Europe? It's another awesome KVD eyeshadow palette that adheres to her signature style and honors her commitment to cruelty-free, non-animal sourced items.
Kat Von D's makeup line and her forthcoming shoe collection are all the evidence you need that animal-friendly items can be utterly fabulous and beautiful. After all, fashion and beauty with a compassionate heart are always a "do."