Kate Hudson Gave Birth To A Baby Girl With A Super Meaningful Name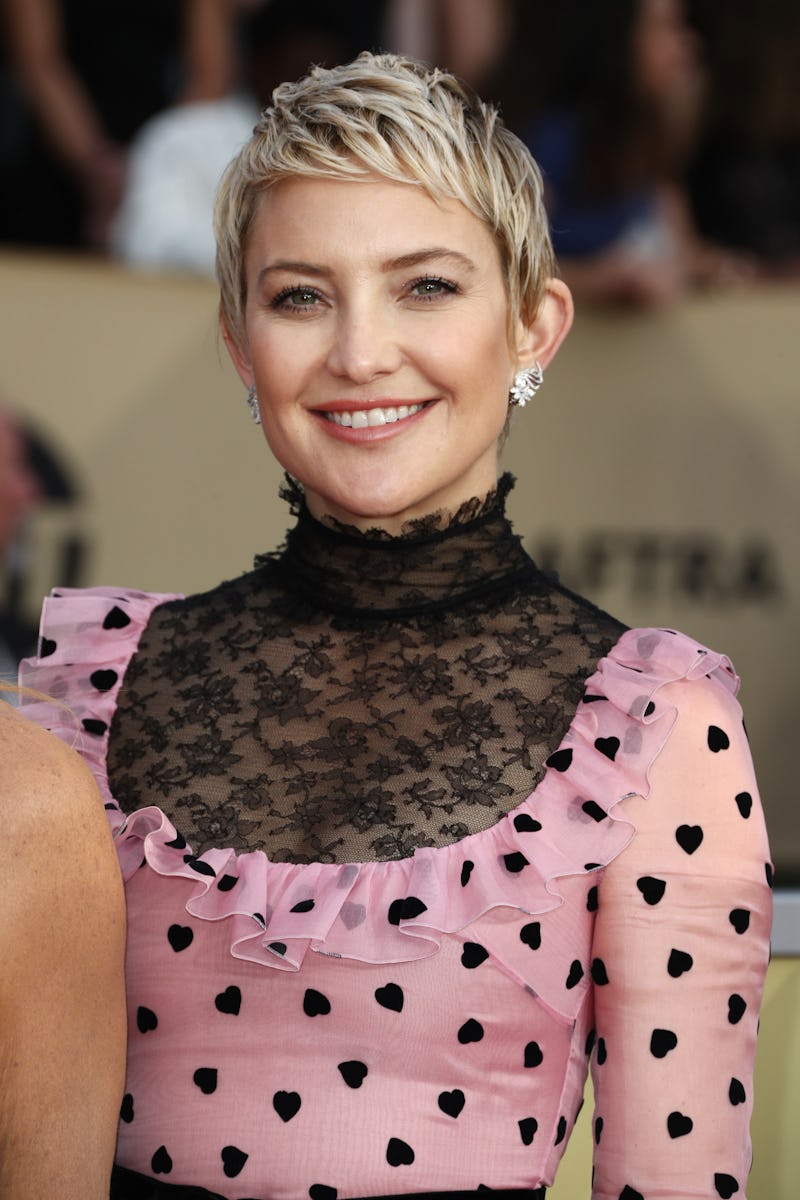 Frederick M. Brown/Getty Images Entertainment/Getty Images
Here is some very exciting news: Kate Hudson gave birth to a baby girl, the actor confirmed in an Instagram post on Wednesday. Next to a series of images revealing details about the birth and her daughter's name, Hudson captioned her exciting announcement, "She's here," with pink heart emojis. This is Hudson's third child, but her first with her boyfriend, Danny Fujikawa. (Bustle has reached out to Hudson's reps for further comment, but did not receive an immediate response.)
According to her Instagram, Hudson's baby girl is named Rani Rose Hudson Fujikawa and was born on Tuesday, Oct. 2. As she explained in the post, Rani is pronounced "Ronnie" and they chose this moniker for a very special reason. The Marshall actor explained about the name,
"We have decided to name our daughter Rani (pronounced Ronnie) after her grandfather, Ron Fujikawa. Ron was the most special man who we all miss dearly. To name her after him is an honor."
Her name is beyond meaningful and makes for an absolutely beautiful tribute to Fujikawa's father.
Hudson also updated her followers about how she, Rani, and her family are all doing after the birth. She wrote,
"Everyone is doing well and happy as can be. Our family thanks you for all the love and blessings that have been sent our way and we send ours right back."
In April, the 39-year-old revealed she and Fujikawa were expecting their first child together. In the sweetest Instagram video, Fujikawa, Hudson, and her two boys (14-year-old Ryder Russell with ex-husband Chris Robinson, and 7-year-old Bingham Hawn with her ex-fiancé Matt Bellamy) all popped balloons to reveal the sex of the newest addition to their family. Obviously, they were very excited to learn they were having a girl.
"SURPRISE!!!" her pregnancy announcement read. "If you've wondered why I've been so absent on my social channels it's because I have never been more sick! It was the most sick first trimester of all my children." Hudson later wrote, "We have been trying to keep this pregnancy under the radar for as long as possible but I'm a poppin now! And it's too darn challenging to hide, and frankly hiding is more exhausting then just coming out with it! My kids, Danny, myself and the entire family are crazy excited! A little girl on the way."
Ever since revealing her pregnancy, Hudson has kept her fans updated with plenty of baby bump posts on Instagram. She also appeared on The Ellen DeGeneres Show in September with her mom Goldie Hawn and opened up about her third child. "Let's just say you've probably never had anyone this pregnant on your show," Hudson joked. "[My] water could go any second."
Hudson also admitted to host Ellen DeGeneres that she and Fujikawa had yet to select a name. "We have a couple of them and we're going to decide when the day comes," she revealed at the time.
It's unclear if they really did wait until she gave birth to decide, but whatever the case, Hudson and Fujikawa couldn't have chosen a more perfect and touching name for their baby girl.