Why Kate McKinnon's Emmy Win Has Hilary Voters Wringing Their Hands All Over Again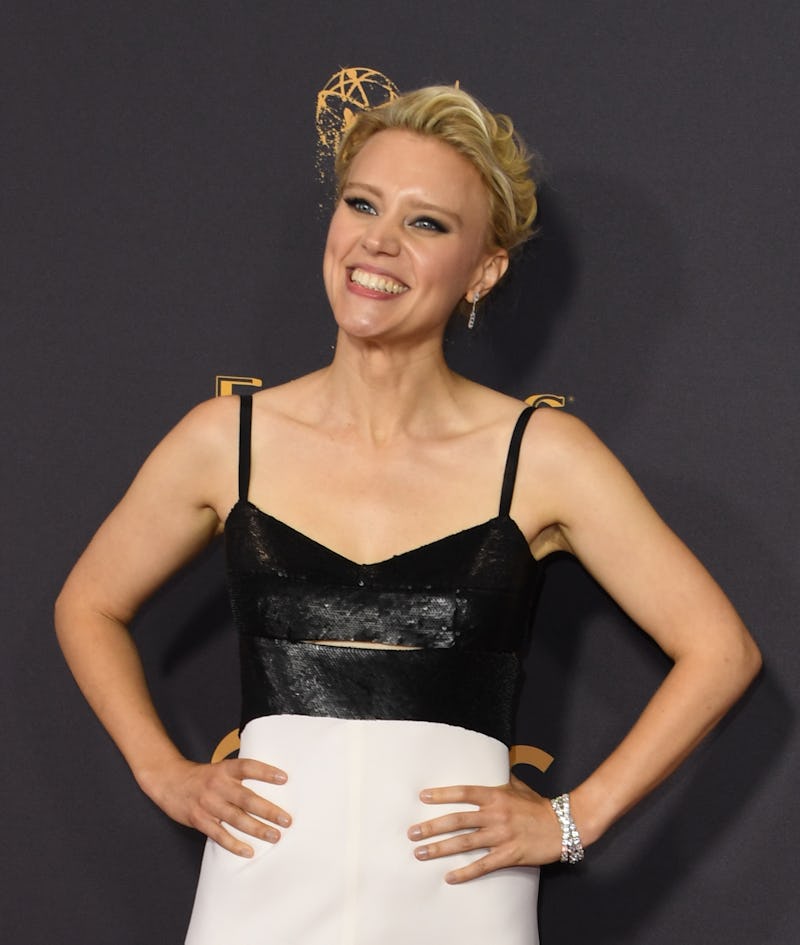 MARK RALSTON/AFP/Getty Images
Saturday Night Live and its resident Hillary Clinton impressionist Kate McKinnon had plenty to do this year on the show, and her work as the political legend ultimately earned Kate McKinnon the Emmy for Outstanding Supporting Actress In A Comedy. At the Sept. 17 ceremony, Gina Rodriguez presented the Ghostbusters star with her second consecutive trophy (she also won in 2016). McKinnon's competition for the honor included her Saturday Night Live co-stars Vanessa Bayer and Leslie Jones, as well as Anna Chlumsky for Veep and both Judith Light and Kathryn Hahn for Transparent, but it was her time spent as Clinton that gave her the trophy. Perhaps unsurprisingly, Twitter had all sorts of feelings about McKinnon's win, with many users noting that the Emmy was a nod for Clinton in the first place. A consolation prize, if you will.
During her acceptance speech, McKinnon said,
"Being part of this season of Saturday Night Live was the most meaningful thing I'll ever do, so I should probably just stop now. Thank you so much to Lorne Michaels for letting be a part of this... On a very personal note, I want to say thank you to Hillary Clinton, for your grace and grit."
(Of course, the band started playing McKinnon off as she started talking about Clinton, which is a metaphor in itself about the way the world treats women.)
Playing such a major political player is beneficial to becoming friends with one, as it turns out — Clinton and McKinnon are friends, even seen having dinner in New York City shortly after Inauguration Day. These two have a personal relationship, which probably helped McKinnon in her portrayal of Clinton.
It's obvious that McKinnon feels deeply for Clinton and that playing the politician is one of the highlights of her career. Who could forget this emotional moment that aired after the election?
This win is great for McKinnon, but bittersweet for Clinton voters and fans, who saw this as a sort of small win for the beleaguered legend. She may not be in the White House, but the following Twitter users recognize that this win is another way Clinton is still being recognized.
There Were Tears
Happy tears, sad tears, whatever kind of tears — Clinton supporters have been teary since the election, and the Emmys didn't help them hold back.
There Were Congratulations
Forget the subtext of the moment — McKinnon still won an award, so congratulations are in order! It's great to see that her fans didn't forget that.
There Were Bittersweet Comments
It's not good enough, but it's good enough for right now. Clinton didn't win, but in a way she... sort of did? Clinton supporters are still working themselves through the stages of grief, so where each person stands at the moment is clear in their Twitter response.
And Plenty Called Out That Cut-off
McKinnon was just about to wrap up her speech when she stopped to thank Clinton, and at the same moment, magically, the music started to play her off — and Twitter noticed. In this case, it was probably a coincidence, but sadly, it served as a metaphor for something that is all too normal in today's world — women being told to shut up. It's definitely happened to Clinton herself.
Is McKinnon's Emmy for being Clinton a consolation prize? Yes. Would Hillary Clinton in the White House be much better than this for her supporters? Absolutely. But in today's crazy world, Clinton fans are simply taking what they can get. McKinnon's hilarious and graceful portrayal of Clinton broke barriers just like the woman who inspired the impression.