Kate Middleton Wore Her Royal Wedding Dress TWICE Before — And It Proves She Respects Meghan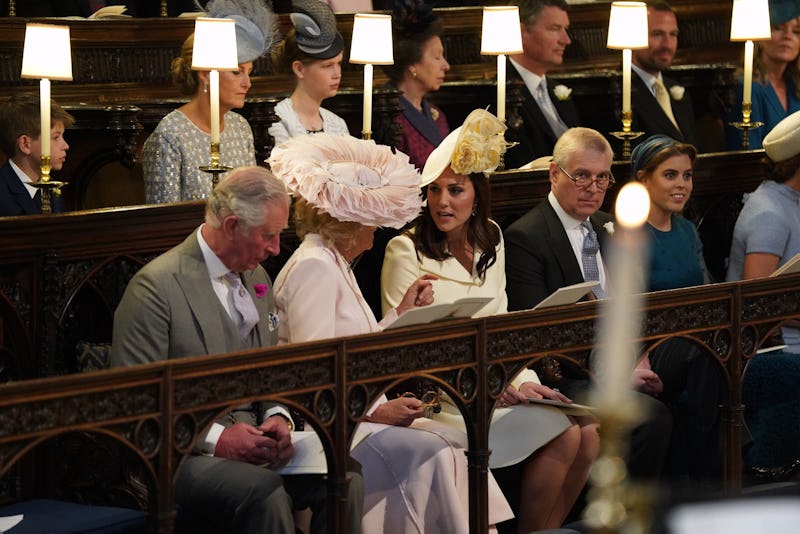 WPA Pool/Getty Images Entertainment/Getty Images
When it comes to a royal wedding there might be a lot of guests, but there's only one dress that matters — the brides. Proving that, Kate Middleton wore a dress that she's already worn twice before, according to Harper's Bizaar. Yes, really. While that might seem like a fashion faux pas, it's actually the most respectful thing that she could have possible worn.
The royal wedding was the first time the Middleton has made a public appearance after announcing the birth of her and Prince William's third child Prince Louis. Instead of focussing on that, Middleton made sure that all eyes were on Meghan Markle for her big day. According to numberous publications, Middleton wore an Alexander McQueen dress and Philip Treacy hat that she has already worn twice before.
The first time was to Princess Charlotte's christening. The second time she wore the look was to Queen Elizabeth II's birthday party. The royal wedding of Prince Harry and Markle was lucky number three for the special outfit.
While this might seem like a bad thing, it's actually proves a lot about Middleton and Markle's relationship. The Duchess of Cambridge chose to not upstage the bride by wearing something ultra-colored or over the tip. Instead, she simply wore something that was appropriate and didn't take away from Markle's gown.
Middleton did have a special role in the big day though. Although she wasn't named maid of honor, she was in charge of wrangling up the entire bridal party. Considering that everyone in the party was under the age of eight, that was a big task. Actually, it was one that she also got at her sister Pippa Middleton's wedding.
There are six bridesmaids — 3-year-old Princess Charlotte, 3-year-old Florence van Cutsem, 6-year-old Remi Litt, 7-year-old Rylan Litt, 4-year-old Ivy Mulroney, and 2-year-old Zalie Warren — and four page boys — 4-year-old Prince George, 6-year-old Jasper Dyer, and 7-year-olds Brian and John Mulroney — in the royal wedding.
After the children were brought into the church — and apparently hurriedly walked out as well — Middleton took her seat in the front row right next to Camilla, The Duchess of Cornwall. The two did not share any sister-to-sister moments during the event, but it's clear to see that these two women respect each other tremendously.
It would have been royally impossible for Markle to ask Middleton to be her maid of honor, even if that's what she would have wanted. For the record, there were other close friends in the running though. According to royal protocol, Markle could not have had someone higher in rank than her as her bridesmaid.
"Kate would upstage her sister," royal expert Judy Wade previously explained to People of Pippa's wedding. "It's a tricky situation for Pippa. She would want her sister by her side, as who else would she trust to make things go well? But if your sister is a future queen, she is going to upstage the bride and draw attention."
In fact, the rule is so set in stone that Pippa Middleton could not even ask her little sister to be a bridesmaid in her wedding. Instead, she had the same task in her sister's wedding as in Markle's — to make sure all of the children got to and inside the wedding on the day of the big event.
Fashion has a powerful tie to not just the royal wedding, but all events. People often put a lot of thought into what they wear to an event. That's especially so on the day of a royal wedding that will be seen by millions. There's no doubt that Middleton put a lot of thought into her choice, even though she has worn it twice before.