Kate Middleton's New Short Hair Is Excellent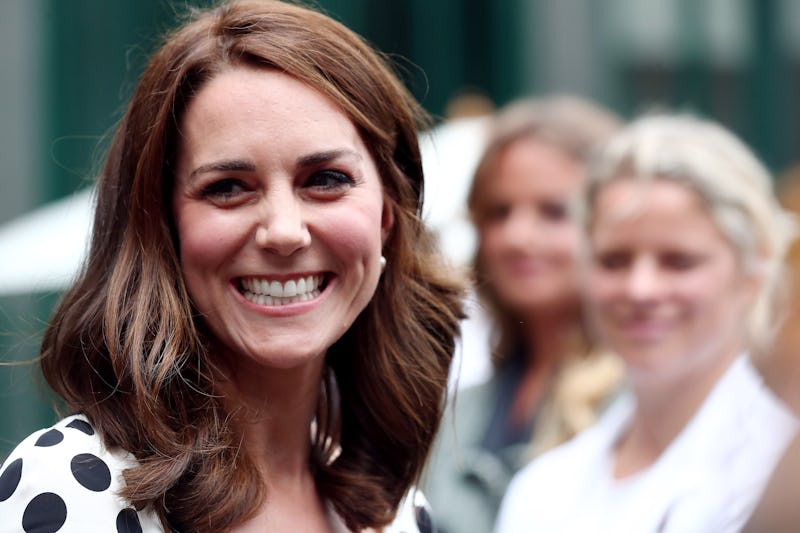 WPA Pool/Getty Images Entertainment/Getty Images
There's no telling if the Duchess of Cambridge has fallen prey to the same "it is way too hot for me to have this much hair" feeling many folks do during the warm (OK, sweltering) months, but one thing's for certain: Kate Middleton's short haircut is perfect for summer.
Middleton debuted her new look July 3 at the All England Lawn Tennis and Croquet Club at Wimbledon. And while this cut is as sleek and chic as it gets on its own, she upped the ante with a Dolce & Gabbana polka-dot dress and a classic white Victoria Beckham leather tote.
According to E! News, Middleton was at Wimbledon to watch Andy Murray compete. She reportedly chatted with some Wimbledon officials and players, but also stopped to speak with the ballboys and ballgirls working the day's matches.
The Duchess' new haircut is perfect for a breezy day at Wimbledon, but it's also perfect for summer in general. While Middleton's previous past-the-shoulder 'do was as classic as that Beckham tote, her shorter cut is not only trendy, but it also accentuates the natural curl and bounce in her hair — something plenty of folks discover is one of the benefits of short hair.
With as much as Middleton will be getting out this summer, it's no surprise she went for a lighter look. Regular royal duties aside, she will be embarking July 17 on a five-day tour of Germany and Poland with Prince William and their children, Princess Charlotte and Prince George.
In a statement, a Kensington Palace spokesperson said, "The Duke and Duchess are very much looking forward to this tour and are delighted with the exciting and varied programme that has been put together for it. They have decided that their children, Prince George and Princess Charlotte, will travel with them and we expect the children to be seen on at least a couple of occasions over the course of the week."
The statement also said, "They look forward to a busy and impactful tour, and are grateful that they will have the opportunity to meet the Polish and German people — such important friends of the United Kingdom — as a family."
Sounds like the Duchess is going to have a busy rest of the summer — including inspiring a new wave of short haircuts, of course.