Kate Just Wore A Stunning Yellow Brooch That Has A Surprisingly Significant Meaning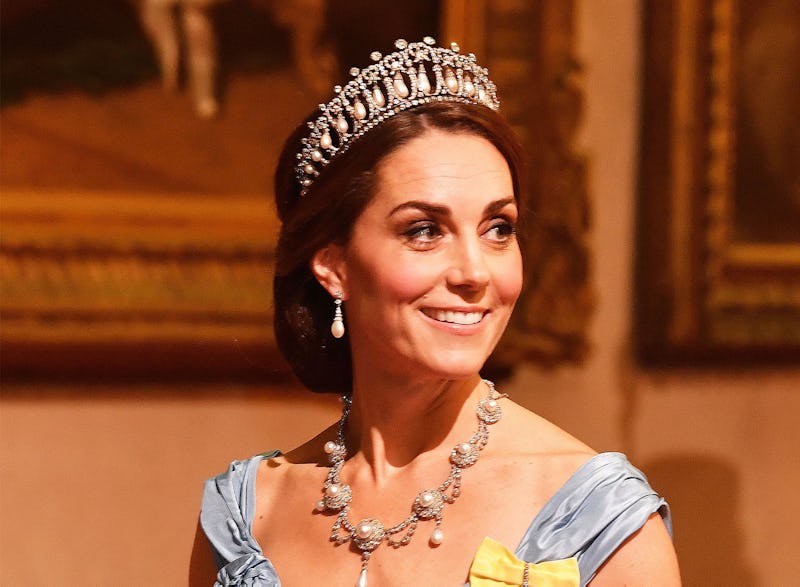 WPA Pool/Getty Images News/Getty Images
It's been a busy time for the royal family, with Meghan Markle and Prince Harry off on their whistle-stop tour of Australasia and the rest of the family holding down the fort at home. In fact, Prince William and Kate Middleton had a pretty important duty last night as they helped Queen Elizabeth welcome the monarchs from the Netherlands. The couple attended a swanky state dinner dressed in all their finery. However, it didn't take long for people to hone in on an unusual accessory on Kate's powder blue dress. So, what is Kate Middleton's brooch? It turns out it's actually a major royal honour.
The bright yellow ribbon quickly caught the internet's attention as it not only stood out from her Alexander McQueen dress, but it also featured a detailed cameo surrounded with diamonds. If you think the portrait on it looks familiar, you'd be right as it actually features a portrait of her grandmother-in-law Queen Elizabeth — topped off with a detailed crown.
I secretly hoped that Kate had been named president of the Queen's fan club, however it turns out that the brooch is actually an honorary symbol of her service to the royal family.
According to Town and Country, The brooch is called the Royal Family Order and they are "given from the queen to relatives in the royal family as a reward for their service". Good Housekeeping also added that they are specifically for "female family members" and Kate Middleton isn't the first high profile royal to be awarded one, as Princess Diana was given one too.
Although this is the first time Kate Middleton has been pictured wearing her order, journalist Joe Little of Majesty magazine revealed that she had actually first worn the pin last year. He tweeted, "The Duchess of Cambridge is wearing the family order for the second time. It's first outing was at the Diplomatic Corps reception in December."
He also added that unlike previous iterations of the Royal Family Order, Kate's version was made from glass rather than ivory — a welcome cruelty-free change.
Simply marrying into the royal family isn't enough to earn an order from the Queen, however. According to People magazine, earning an order comes down to a combination of time in the family and work.
Although Kate does do quite a bit of work for the royal family, the outlet revealed she has actually attended fewer engagements than Camilla Parker-Bowles and the Countess of Wessex; which isn't a huge surprise as she's got a small army of little ones to look after at home.
Kate's Royal Family Order was hard-earned, however there could been another honour bestowed upon her in the future. If you take a look at the photos of the state dinner, you'll notice that the countess of Wessex and Camilla Parker-Bowles were wearing blue sashes bordered by a strips of yellow. These are another form of royal order called the Royal Victorian Order, which PEOPLE speculates she may receive after a bit more time and "more engagements in the service of the royal family".
So even if Kate's brooch isn't the most cutting-edge, Kate's yellow order is still a pretty cool accessory with a great story behind it. Fingers crossed she snags that blue sash soon.