Kate Mulgrew Narrates Memoir On Communist Russia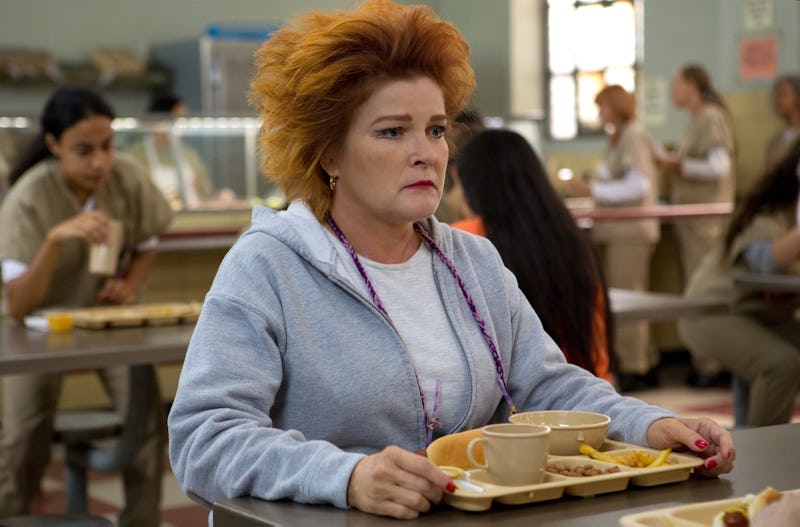 Netflix
Miss Orange Is the New Black? Bustle has got a treat for you: Kate Mulgrew, aka Red Reznikov on the Netflix series, tells a different kind of story with her latest project: The Girl from the Metropol Hotel audiobook. Written by acclaimed Russian writer, Ludmilla Petrushevskaya, the book details the author's experiences growing up in the Soviet Union during the 1940s and 1950s. The book certainly sounds like something Red, a Russian immigrant, would want to read.
As it turns out, this isn't Kate Mulgrew's first foray in audiobooks. In addition to narrating her 2015 memoir, Born with Teeth, which won the 2016 Audie Award for Best Narration by Author, Mulgrew is also the woman responsible for bringing the audio versions of horror master Joe Hill's books to life, including The Fireman and NOS4A2.
Fans know that Russian author Ludmilla Petrushevskaya excels when it comes to telling twisted fairy tales. Since 1988, Petrushevskaya has published several short-story collections, including: There Once Lived a Woman Who Tried to Kill Her Neighbor's Baby; There Once Lived a Girl Who Seduced Her Sister's Husband, and He Hanged Himself; and There Once Lived a Mother Who Loved Her Children, Until They Moved Back In.
But this memoir is far from a fairy tale. In a chapter titled "The Courtiers' Language," Petrushevskaya ruminates on starvation and survival as "a little girl from an educated family, out and about in a city full of riff-raff." She tells of the lengths to which her aunt and grandmother went in order to keep her alive, of bartering for bread and kerosene, and of how she disappeared and had her own adventures, in spite of her family's worries.
The next chapter, "The Bolshoi Theatre," finds the young Petrushevskaya performing acts of daring in order to sneak inside an opera house for shelter, warmth, and the chance to hear The Barber of Seville performed by an evacuated opera troupe. Later, we hear more of just how dire her family's circumstances were during the war.
Listen to a clip Kate Mulgrew's narration of The Girl from the Metropol Hotel audiobook by Ludmilla Petrushevskaya below:
The Girl From The Metropol Hotel audiobook, written by Ludmilla Putrushevskaya and narrated by Kate Mulgrew, $17.95, Amazon