Katharine McPhee Just Confirmed Her Engagement With The Help Of An Ariana Grande GIF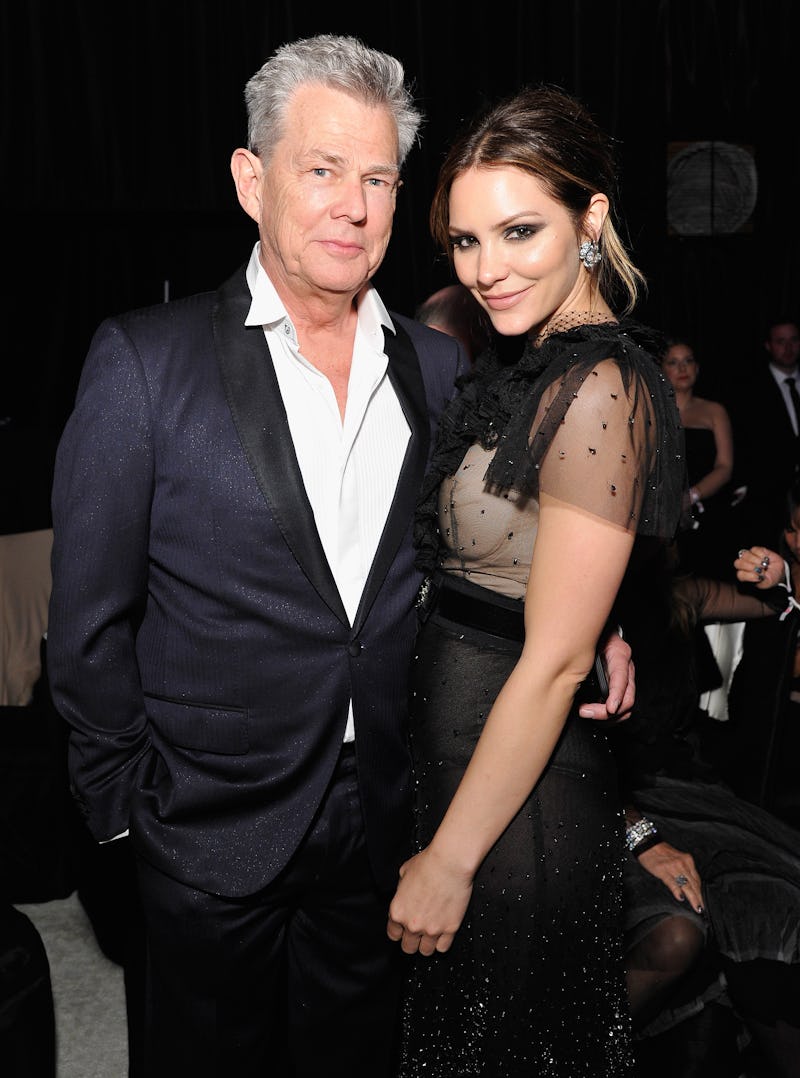 John Sciulli/Getty Images Entertainment/Getty Images
Another celebrity couple will soon be walking down the aisle. Katharine McPhee and David Foster are engaged, McPhee and Foster's reps confirmed to Bustle on Tuesday, July 3. TMZ was the first to report their engagement. What makes the news all the more exciting is how McPhee confirmed her engagement to Foster on Twitter — by using a GIF of Ariana Grande.
On Tuesday, the American Idol star tweeted only a diamond ring emoji. She accompanied the brief post with a GIF of Grande standing on the 2016 Billboard Music Awards red carpet with the singer asking, "And what about it?" There you have it, they are very much engaged, and what's it to you?
McPhee also revealed details about the proposal on Instagram on Tuesday. She shared a screenshot of a text message conversation with JustJared founder Jared Eng. McPhee also commented on her post with heart, diamond ring, smiley face emojis and added, "cc: @jaredeng." According to the screenshot, Eng texted the singer, "Well he did a mighty fine job with the ring. So beautiful and classic." He also asked the former Scorpion actor, "How did he know your ring size?? And where did he do it?? And did he get down on one knee??"
She gladly offered up a few pieces of information. "He did it at the top of this mountain in Anacapri [in Capri, Italy]," she texted Eng. "Totally dark only stars. Thankfully he didn't push me off the cliff. He said it was one or the other. And in the end he spared me. [crying laughing emoji]."
Currently, McPhee and Foster are on a luxurious European vacation, which both have been sharing photos of on Instagram. Sources who spoke with TMZ said the couple was on the island of Capri on Sunday when the actor was reportedly spotted wearing her engagement ring. According to TMZ, McPhee was also seen showing off her diamond to family and friends on FaceTime.
The musical pair first sparked romance rumors in September 2017. At the time, sources told People they were "absolutely not dating." However, in October 2017, they were seen walking arm-in-arm in Brentwood, California. That same October, his daughter, Erin Foster, commented on McPhee. "She's amazing," Erin told People. "I really like her. She's awesome." She also added, "My dad is kind of a hopeless romantic, and Katharine's awesome. We really, really like her, and we've known her for a really long time. And if he's happy, we're happy."
In November 2017, McPhee briefly talked about Foster to People. "It's great that they want to do that," she said about speculation regarding her dating life. "I think it's so amusing that people are amused by my love life." She also said, "Here's how I look at it: I'm not doing anything wrong, so whether people think it's true or false, I don't, you know, there's nothing bad happening in my life, so people can just say whatever they want."
This will be the second marriage for McPhee, who was previously married to Nick Cokas from 2008 to 2016. Foster has been married four times before, most notably to former Real Housewives of Beverly Hills star Yolanda Hadid. He was also married to B.J. Cook, Rebecca Dyer, and Linda Thompson.
As RHOBH fans know, Foster and Hadid used to throw memorable dinner parties, which usually ended with jam sessions around the piano. One time Babyface even joined in on the fun and so did Andrea Bocelli. Seeing as Foster and McPhee are both talented musicians, can you imagine what their dinner parties will be like? Basically, guests should expect a mini-Broadway show.
It sure seems like McPhee couldn't be happier with her current relationship status. She shared a photo on her Instagram Story Tuesday of Foster on a boat, and she captioned it with a bunch of hearts. Yeah, she's happy.
Editor's Note: This story has been updated to include Foster's rep's confirmation of the engagement.