Steven Avery's New Lawyer Specializes In Wrongly Accused Clients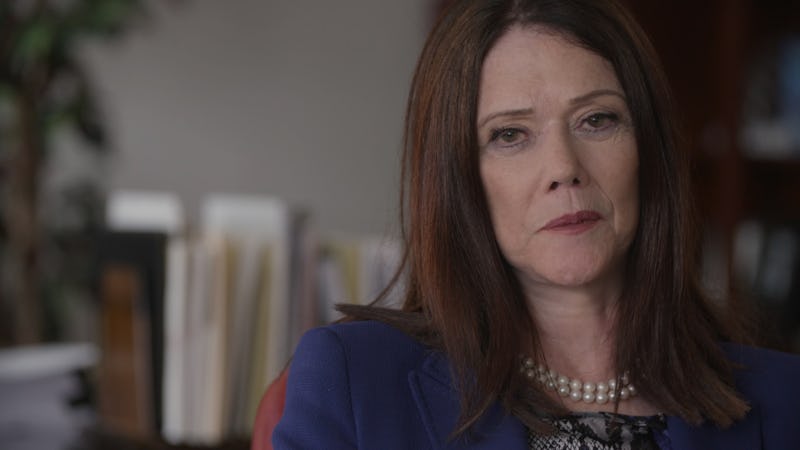 Netflix
Years after Jerry Buting and Dean Strang defended Steven Avery in the murder trial of Teresa Halbach, a new face is stepping into the ring for Making A Murderer Part 2. Attorney Kathleen Zellner specializes in cases dealing with wrongly accused clients, so she might be just what Avery needs to turn this 15-year-old ordeal around. According to Zellner's website, she has "righted more wrongful prosecutions than any private attorney in America" during her 23 years in practice. The site also offers a section outlining her professional successes and victorious cases— it's clear that most of them deal with people whose criminal proceedings were mishandled in some way.
One of those cases was that of Kevin Fox, an Illinois man who was found in 2007 to have been framed for his daughter's murder by local police, according to the Chicago Tribune. He and his wife were awarded millions of dollars in damages. Zellner also represented Jerry Hobbs during his lawsuit against Lake County, Illinois officials. Hobbs was cleared in 2005 after spending five years in jail, when DNA proved that he did not kill his daughter and her friend, according to another Chicago Tribune article. He was awarded more than $6 million in damages.
Her website also states that she represented one of the survivors of Larry Nassar, convicted sex offender and former USA Olympics gymnastics coach, as well as plenty of other cases that made headlines.
But not all of her cases have been so successful. According to Digital Spy, Zellner represented serial killer Larry Eyler during his trial for a 1984 murder, and had conflicting feelings about the ordeal. After Eyler died, she claimed that he had confessed to her about 21 other murders he'd committed, and she was unable to tell anyone due to attorney-client privilege. The outlet continues that following that experience, Zellner has said she'd never want to represent a guilty client again.
Avery was convicted in 2007 of the murder of freelance photographer Teresa Halbach, according to Newsweek, but he's maintained his innocence in the years since, and Making a Murderer cast doubt for many over whether his investigation was handled properly by local authorities. Zellner's work on Avery's case is palpable even before Season 2 of Making a Murderer. In recent years during her work on the case, she's filed new motions and brought up new evidence that could help Avery prove his innocence once and for all.
Rolling Stone reports that some of Zellner's new motions could implicate members of Avery's family, and her other focuses heavily lay with continued forensic testing. "Since 2007 there have been significant advances in forensic testing and so clearly we're going, the clearest way to do this is with scientific testing and that's what we will be asking to do," Zellner told local TV station WBAY last year.
She also said that she feels Avery's willingness to cooperate further convinces her of his innocence. "When someone wants every possible test done that could be done that would prove their guilt or innocence, that's when you know they're innocent," Zellner said in the same interview. Avery's legal troubles are still ongoing, and not everyone is as convinced of his innocence as Zellner. But she'll be a key player in Part 2 of the documentary, so viewers should be paying attention.