Kathryn Hahn's New HBO Series Sounds Like The Sex-Positive Show You Need In Your Life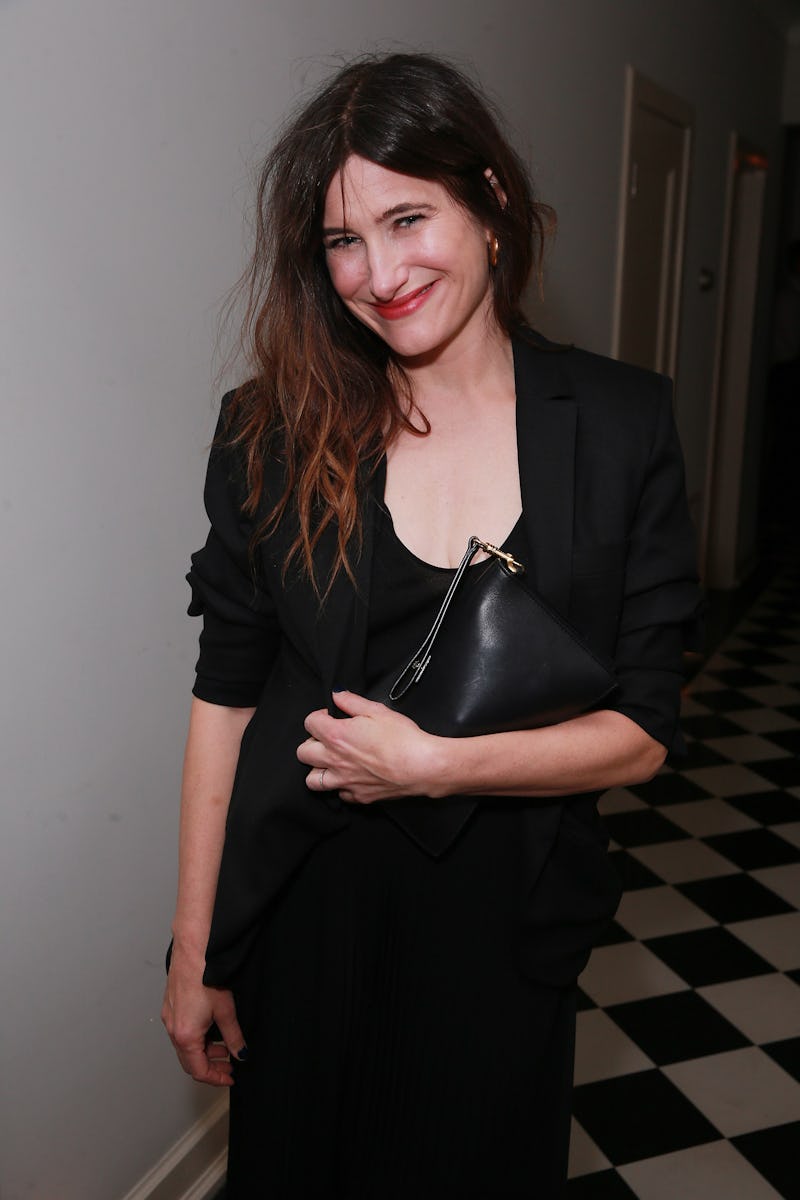 Rich Fury/Getty Images Entertainment/Getty Images
For those who were sad to hear that Amazon canceled I Love Dick, a series that flipped the script on female desire, you're going to love this news. Kathryn Hahn will star in HBO's comedy pilot Mrs. Fletcher, according to TVLine. And it seems this new show will give Hahn a chance to show off her comedic chops in a sex-positive series that already sounds like one to watch.
Mrs. Fletcher is based on the 2017 novel by The Leftovers author Tom Perrotta, clearly a favorite of HBO that NPR called "raunchy but sweet." Hahn is set to play Eve Fletcher, a 40-something divorcée whose son has gone off to college. As the HBO description explains, "Hoping to jump-start her love life, she adopts a sexy new persona and discovers that her world is full of unexpected — and sometimes complicated — erotic possibilities." It also sounds right up Hahn's alley since she previously got raves for her performance in 2013's Afternoon Delight, where she played a sexually frustrated stay-at-home mom.
Variety described Mrs. Fletcher as "a dual coming-of-age story" that revolves around a mom and her son, no word yet on who will play that role, who are "exploring the impact of Internet porn and social media on our most intimate relationships."
To help Hahn tell this story, the series is also enlisting an impressive group of women.
While the pilot will be written by Perrotta, it will be directed by Nicole Holofcener, who helmed Enough Said and Lovely & Amazing. The series will be executive produced by Jessi Klein, who's worked on Inside Amy Schumer and Netflix's Big Mouth, along with Sarah Condon, who produced both Bored To Death and Looking for HBO.
With Mrs. Fletcher, HBO is bringing more female leads to its network, which is already gearing up for new seasons of the female-led Big Little Lies and Insecure, and Lena Dunham's new series Camping starring Jennifer Garner. With this series, though, there's a focus on female sexuality that not many shows on TV tackle. Specifically this is going to look at what it's like dating in the digital age when you're over 40.
Online dating is certainly a topic filled with humor, but with Hahn as its star, it's hard to believe this show won't be full of heart, too. Especially since Hahn has been vocal about telling stories about women embracing their sexuality. Last year, Hahn wrote a letter to her sexual self for Glamour letting her younger self know things would get better. She wrote:
"At 44, you will realize something astounding: Life just gets sexier and sexier. Your sexual self will become this enormous, loud thing that you no longer take for granted, no ­longer deny. You will refuse to put a lid on it. You will listen to it. My God, you will hear it roar."
It's a side that not many female characters get to show, but already Hahn has gotten a few opportunities to do so. Fans got to see Hahn explore this side of herself on I Love Dick, which focused on female desire from a female point of view.
"I feel like there is so much unmet desire in so many women," Hahn told IndieWire last year and hoped that women would see themselves in her I Love Dick character. "I hope women can speak to owning their own desire and speak to asking for what they want and to stop apologizing for being loud or who they are; to be able to own their voices."
From the sounds of Mrs. Fletcher, Hahn is going to once again play an empowering character that will be in control of her own sexuality and unafraid to speak about. What's not to like about that?