Kathy Griffin Apologizes For Her Controversial Trump Photoshoot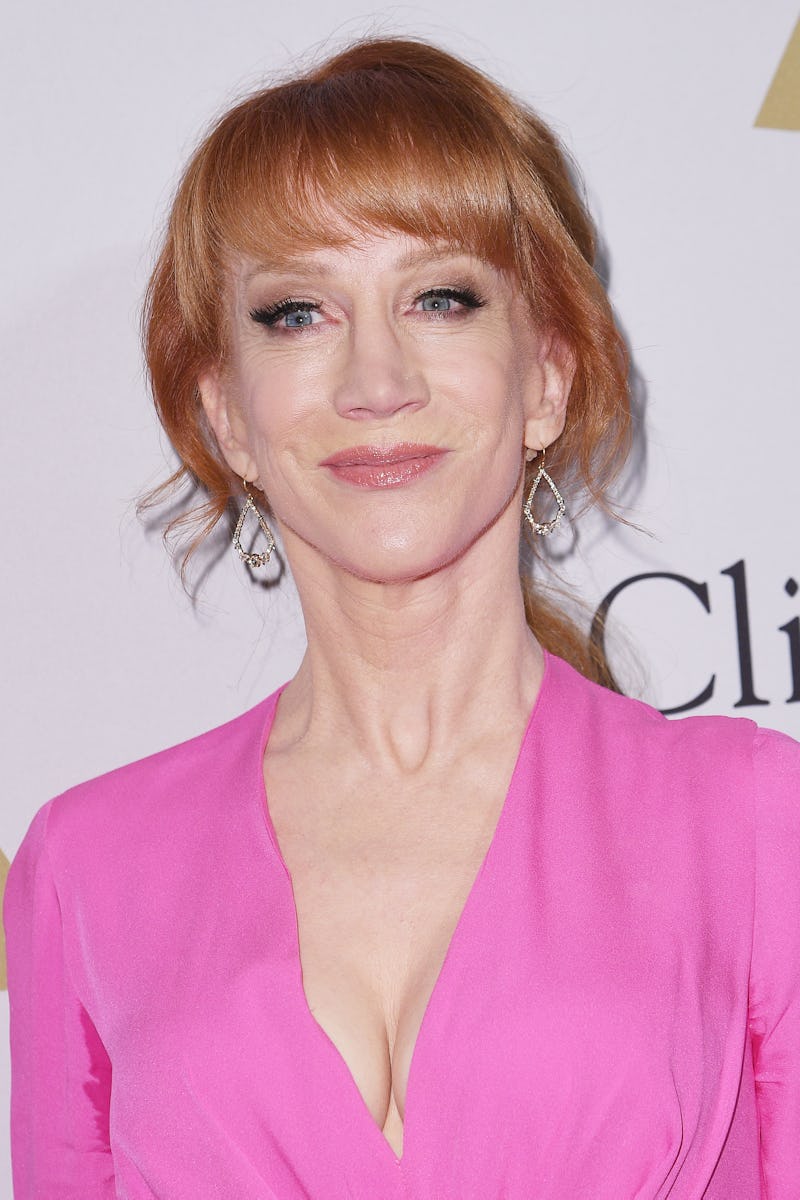 Kevork Djansezian/Getty Images Entertainment/Getty Images
Kathy Griffin is a comedian whose humor pushes boundaries, but for some, the star's recent anti-Trump photoshoot went too far. The photo, which was released on Tuesday, features the star holding up a gory replica of a decapitated Donald Trump head. The provocative shot drew an immediate reaction, especially from conservative commentators on Twitter, though some of Griffin's fans and liberal figures like Chelsea Clinton also took offense. Though she initially defended the shoot, Griffin apologized for the photos in an Instagram video on Wednesday. In the short video, she offers a sincere apology for the photos and shares that she's asked the photographer to take them down.
Celebrity photographer Tyler Shields has a reputation as a provocateur. In an interview with Entertainment Weekly, he defended the photoshoot on the grounds that it was intended to be more of a symbol than a personal threat. He also noted that the project was a test of free speech, and that while potentially disturbing, the comedian was within her rights.
Griffin initially defended the photo, as well, in a series of now-deleted Tweets, saying "1/ I caption this "there was blood coming out of his eyes, blood coming out of his…wherever" and "2/OBVIOUSLY, I do not condone ANY violence by my fans or others to anyone, ever! I'm merely mocking the Mocker in Chief."
In a behind-the-scenes video from the shoot that has now been removed from YouTube, it's clear the Griffin knew the photos could cause a stir. According to CNN, Griffin told the camera that she was "not afraid to do images that make noise." She also joked that despite free speech laws, the photos would have her thrown in jail. "We have to move to Mexico today, but we're going to go to prison," she told Shields, "federal prison...We're not surviving this, OK?"
In response to the photos, Trump himself took to Twitter on Wednesday tell Griffin she should be ashamed:
The outcry over the photo reached a breaking point, and Griffin released a full apology. She addresses fans and critics alike in the short video, saying:,
"I sincerely apologize. I'm just now seeing the reaction to these images. I'm a comic, I cross the line, I move the line, then I cross it. I went way too far. The image is too disturbing, I understand how it offends people, it wasn't funny, I get it. I've made a lot of mistakes in my career, I will continue, and I ask for your forgiveness."
While the photo has resulted in Griffin losing an advertising campaign with the toilet step stool company Squatty Potty, it's unclear how it will affect the rest of her career. Griffin has been part of CNN's New Year's Eve coverage and a spokesperson for network has stated, "We found what she did disgusting and offensive. We are pleased to see she has apologized and asked that the photos be taken down. We are evaluating our New Year's Eve coverage and have made no decisions at this point."
Griffin's photo poses an important question on the limits of celebrity political commentary, and for some commentators, this action felt more damaging than helpful to the progressive cause. It has sparked substantial conservative outrage, and many liberals, including Griffin herself, have decided that the photoshoot isn't defensible.