Katie Price Is Under Investigation After Being Arrested For Drink Driving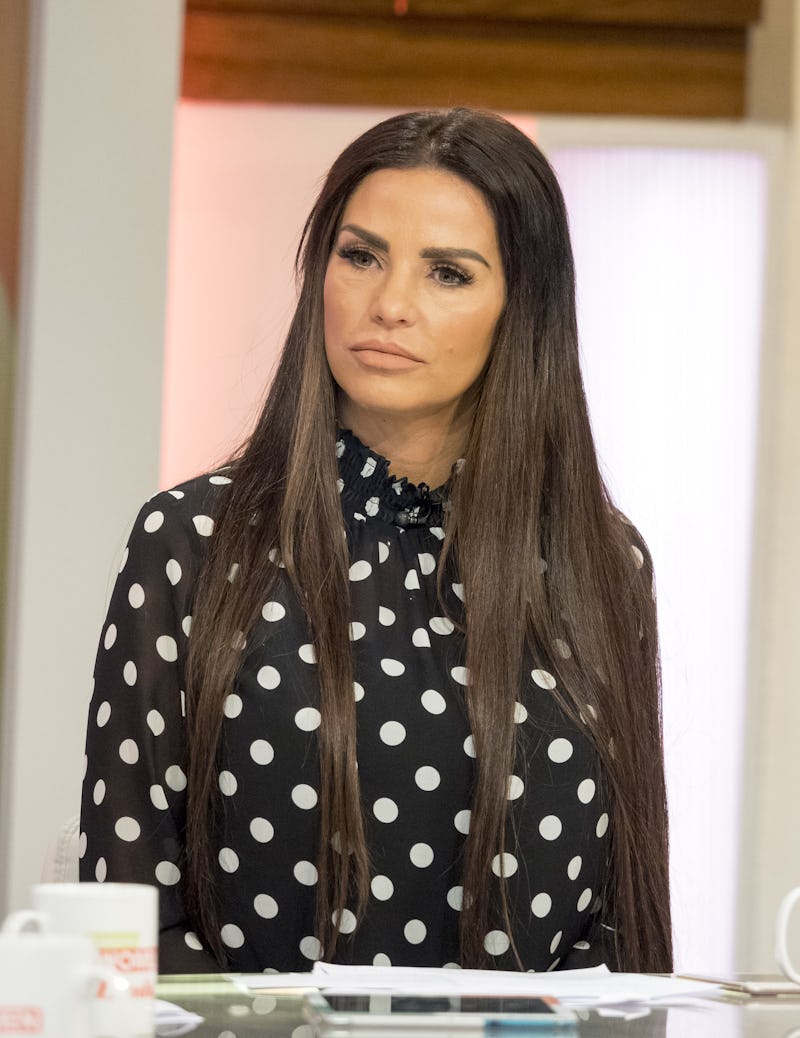 Ken McKay/ITV/Shutterstock
It's been a difficult year for Katie Price. Over the last 12 months, her mother has been diagnosed with terminal cancer, she separated from husband Kieran Hayler, and now, she's in trouble with the law as on Wednesday, Katie Price was arrested for drink driving.
According to the BBC, Price crashed a vehicle — her beloved £75,000 pink Range Rover, The Sun claims — at around 2 a.m. on the morning of Oct. 10. The damaged vehicle had reportedly stopped at the roadside on Shooters Hill Road in Woolwich, London. Scotland Yard confirmed to the BBC that the woman inside the vehicle was then arrested and taken into custody at a police station in south London. According to The Sun's report, Price was given a breathalyser test and then promptly arrested at the scene. She has since been released under investigation, and not charged. I have reached out to Price's representative for comment.
A Met Police spokesperson confirmed all of the above to The Sun on the day of the accident, corroborating reports that the crash took place "at approximately 2 a.m.," when "British Transport Police officers came across a car showing signs of damage stationary at the roadside in Shooters Hill Road, Woolwich." The Sun also reported that the crash took place after Price attended her ex boyfriend's 30th birthday party at the Meze Restaurant, in Bexleyheath, south east London.
The incident happened just two months after Price's six month driving ban was lifted, which came about when, back in February, Price was caught going 10mph above the speed limit, as The Sun reported.
Price also previously lost her license back in 2012, when she'd failed to respond to two speeding tickets, as the Daily Mail reported. Price's explanation? "I don't open my post," she reportedly told Bromley Magistrates' Court. "My mum does the post, she checks it all. Well, she opens my post. Anything that needs to go to the management, she pays my bills, she's got my chequebook, she does everything for me. I know that sounds bad."
IMHO, it is quite obvious that Price is going through a difficult time at the moment. She has been incredibly open with fans about some of the hardships she has been facing, and while drink driving is obviously wrong in every way imaginable, some of the vicious comments I have seen on the Internet are so unnecessary.
According to The Sun, Price's ex Kris Boyson has been her "rock" while all of this has been going on. A source told he paper: "Kris stayed by her side the whole time and even sat waiting in the police station all night. He kept hold of her belongings for her and arranged to give her a lift home too. He's been a real rock to her, even when she dumped him and started dating Alex [Adderson]."
Whatever it is that Price is going through at the moment, I personally hope that she is getting the support that she needs.