Katie & Tom Schwartz Receive RSVPs On 'Pump Rules'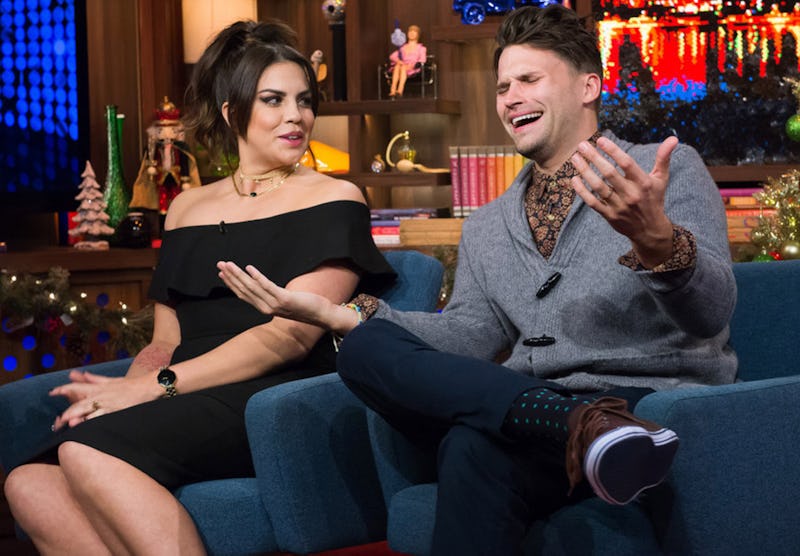 Charles Sykes/Bravo
If there is a true villain on this season of Vanderpump Rules, it is the nameless RSVP cards. Now, I am not here to point fingers or speculate on how those cards wound up that way, but I will say this: I immediately felt a violent pang of sympathy anxiety for Katie and Schwartz when they said they forgot to put a line for their guests' names on the RSVPs. Just when you think the wedding planning headache couldn't pound more, the RSVP cards come back only to be like, "lol who needs to know who's attending the reception anyway."
I know, I know. Out of everything that happened in the episode, I'm fixated on the RSVP debacle? The Bubbas didn't even seem that stressed out over it. Also? That scene lasted, like, all of two minutes. And yet, it really stuck with me.
What are they supposed to do? Attempt to match the check marks on the RSVP cards to the handwriting on the now-empty envelopes she was just about to throw out? But what about the guests who used typed return address stickers? And what about the guests who didn't bother to put a return address on the envelope at all? Would it be easier to send out some amended RSVP cards and try again? Oh, right. The wedding budget. Augh, if only the tea towel save the dates didn't cost $18 a piece. I guess they'll just try to figure out who's responsible for which wiener drawing and hope for the best.
For a moment there, I was ready to throw back some shots of tequila, pick up my phone, and text-yell at whoever let those nameless RSVPs happen. Even if the nameless RSVP card situation was party my own, er, Katie's fault. And I don't even like taking shots.
But in the final scene of the episode, Katie uttered something to Schwartz that made me feel a little better. Right before she stormed out of a bar and called an Uber for one, Katie said, "I've been working myself to the bone, everything for this wedding. I did not ask Ariana to be bridesmaid for a f*cking reason reason. She is a self-entitled, elitist, stuck-up person."
When I replaced "Ariana" with "RSVPs," the catharsis was almost too much to bear: I've been working myself to the bone, everything for this wedding. I did not ask the RSVPs to be anonymous for a f*cking reason. The anonymous RSVP is a self-entitled, elitist, stuck-up card.
Well, every anonymous RSVP except for the RSVPs with the wiener drawings, that is. Those RSVPs can stay.