Katy Perry Explains The Purpose Behind Her Pop Sound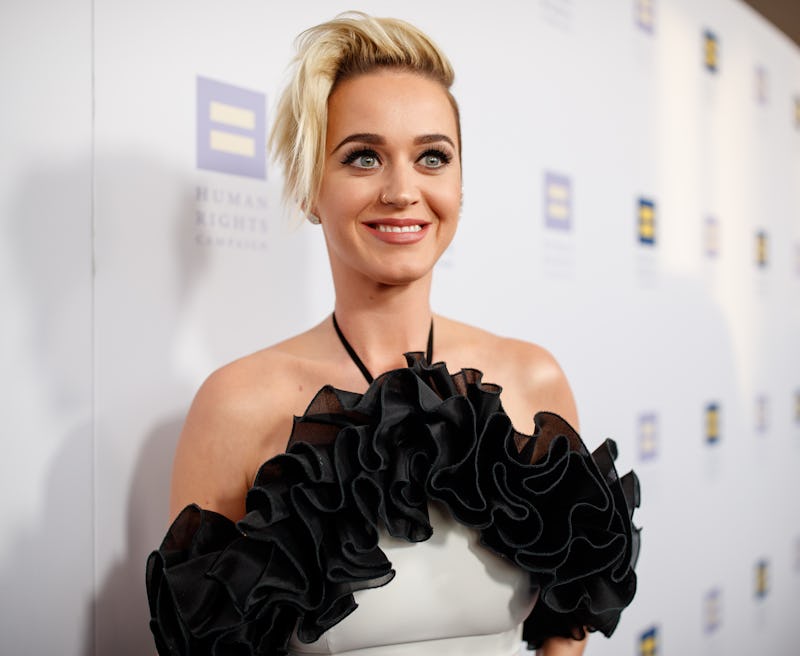 Christopher Polk/Getty Images Entertainment/Getty Images
She's changing her tune for a really good reason. In a recent interview with Vogue, Katy Perry explained her new purposeful pop sound, and it's everything that the world needs right now. In an effort to make her voice count, the singer revealed that she plans to use her art to educate and uplift her audience going forward. Perry went on to explain her progression into social consciousness, revealing that she once was the "queen of innuendo," and is now using her platform to "stand for something." As many continue to be affected by the events taking place in our country, the singer's new sound could, without a doubt, be exactly the thing her fans need to hear.
The 32-year-old entertainer also said that she intends to shed some of the "fluff" that was once a huge part of her pop star persona — an element that we've already witnessed a bit in her latest single, "Chained to the Rhythm." She revealed the reasoning behind her new mantra, saying,
I've seen behind the curtain... and I can't go back. I used to be the queen of innuendo, everything done with a wink. Now I want to be the queen of subtext, which is a cousin to innuendo, but it's got more purpose."
Over the past few years, it's become more and more apparent that Perry's hope is to have fans remove the mental "chains" of oblivion and become more "woke" when it comes to the perils of the society that we live in today. And her stance on politics has also become increasingly evident as of late. She ardently campaigned for Hillary Clinton during the 2016 presidential election, and, more recently, she began stressing the importance of speaking out and standing against some of the oppressive views of our current government.
After Clinton's devastating loss to Donald Trump, Perry explained that she, like many of us, was terribly "disheartened" for quite some time. However, she expressed that the upset was a necessary "awakening" for America and revealed her encouraging belief that the future is female:
"I think we were in a false utopia... we can't ever get that stagnant again. I am so grateful that young people know the names of senators. I think teenage girls are going to save the world! That age group just seems to be holding people accountable. They have a really strong voice — and a loud one."
Perry's most recent string of performances have, no doubt, had strong and blatant references to her opposition of Trump and his widely-criticized, dictatorial political agenda. One of the biggest statements, in which she performed on stage as giant skeleton figures of President Trump and UK Prime Minister, Theresa May, danced along, happened at the 2017 Brit Awards and became a largely discussed topic in the media, helping to solidify her stance as the pop star antithesis of governmental complacency.
I don't know about you, but I'm looking forward to championing behind the "new and improved" Katy Perry and her mission to help mend America's greatness.