Katy Perry & Orlando Bloom Dress Like Santa For A Good Cause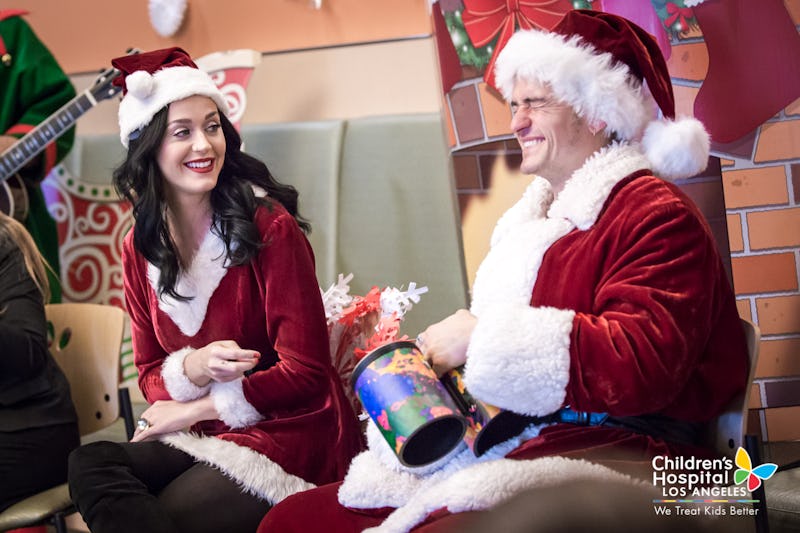 Photos courtesy CHLA
There is nothing better than celebrities who use their platform and spotlight to draw attention to great causes. Both Katy Perry and Orlando Bloom have devoted much of their time to charitable causes and using their voices for good and they are both UNICEF Goodwill Ambassadors, which is a pretty impressive feat in my book. To spread some special holiday cheer this season, Perry and Bloom dressed like Santa & Mrs. Claus to visit a children's hospital, and it was sweet and inspiring.
Perry does have a reputation for spreading kindness to all of her fans, both young and old, and I think it is especially touching that both her and Bloom were able to do this wonderful thing together. A couple that gives back together, stays together, right?
Perry and Bloom visited Children's Hospital Los Angeles on Dec. 20 dressed in their Claus gear, and the hospital captioned the adorable photos on their Facebook page, "Never naughty, always nice. The kids at CHLA received a much-deserved visit from Santa and Mrs. Claus ... who happen to look a lot like Katy Perry and Orlando Bloom!"
D'awww!
The hospital also released a statement to Bustle about the visit, which reads,
This week, Katy Perry and Orlando Bloom came decked out as Santa and Mrs. Claus to surprise patients at Children's Hospital Los Angeles and spread some holiday cheer. They joined families for a holiday sing-along, handed out gifts, took photos with each family, and asked everyone what the holidays meant to them. They also visited several patients who were too sick to leave their rooms, including a megafan who got a surprise happy birthday duet from Katy and Orlando.
While at the hospital, Bloom and Perry also visited young patients who were too unwell to leave their beds and brought up their spirits with sing-a-longs. As Us Weekly notes, a mother of an infant patient at the hospital shared an adorable photo on her Instagram with the caption, "Katy Perry and Orlando Bloom came an sang us Christmas carols. It was so beautiful."
Perry already has a longstanding relationship with Children's Hospital Los Angeles, and in October of this year she attended and performed at their benefit gala, which ended up raising $4 million to support the hospital's pediatric medical care and research. At the time, Perry told the L.A. Times of her work with the children's hospital, "I'm a really open human. So I feel everything... Children are vulnerable. We have a responsibility."
Bloom has also taken part in many inspiring efforts to be a voice for children in need and in May of this year, he wrote a special piece in TIME magazine about children's education after a visit to war-torn Eastern Ukraine.
What I learned from their children's hospital visit and their pasts, is that both Perry and Bloom are shining lights in the Hollywood world. They are simply people that want to spread love to others.