Katy Perry Is Headed To 'American Idol'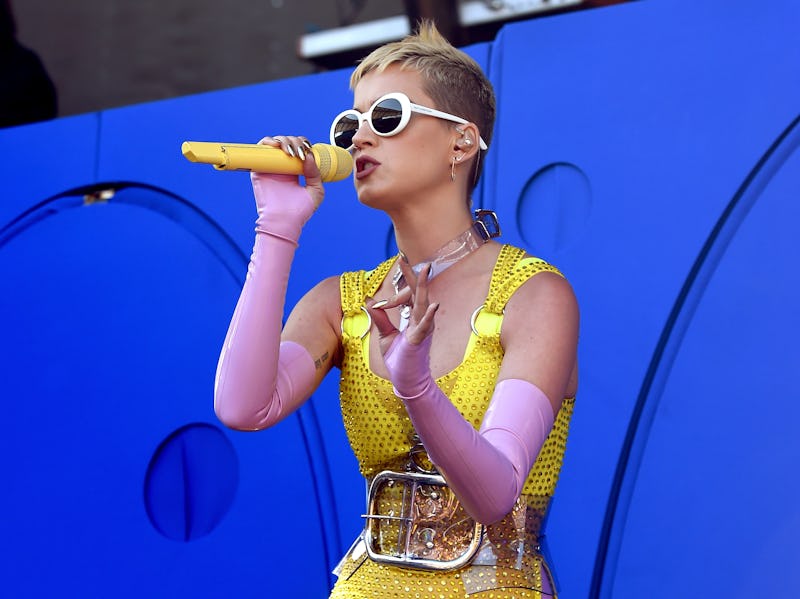 Kevin Winter/Getty Images Entertainment/Getty Images
The commander of the whipped cream bra cannon cavalry could be the next Simon Cowell after all. Shortly after pop star and Guinness World Record-holder Katy Perry added fuel to the American Idol judging rumor fire on The Ellen DeGeneres Show, ABC announced that she will be part of the reboot. As The Wrap reported on Tuesday, ABC confirmed at its upfront event that Perry will indeed be a judge on Idol. She's got the critical ear of the tiger, and we're going to hear her roar, er, judge.
When the singer appeared on Tuesday's episode of Ellen, former Idol judge Ellen DeGeneres brought up a certain report about Perry and the revival of the long-running singing competition series. The "Bon Appétit" chanteuse gave a cryptic non-answer, took a long sip from a mug, and honked like a goose. Though she never actually said yes, she also never went all Cowell on us, i.e., she did not say no. Some hours later, ABC revealed that Perry has joined the Idol roster.
In a statement (via The Wrap), Perry said,
"I am honored and thrilled to be the first judge bringing back the 'American Idol' tradition of making dreams come true for incredible talents with authentic personalities and real stories. I'm always listening to new music, and love discovering diamonds in the rough — from mentoring young artists on my label, or highlighting new artists on my tours, I want to bring it back to the music."
As cool as this news is, I wouldn't say it comes as a huge shock. I mean, when DeGeneres brought up Idol, Cheshire Katy Kat literally did this:
And this:
And those goose honks?
The goose honks really gave away the answer.