Katy's Grammys Performance Came With A Message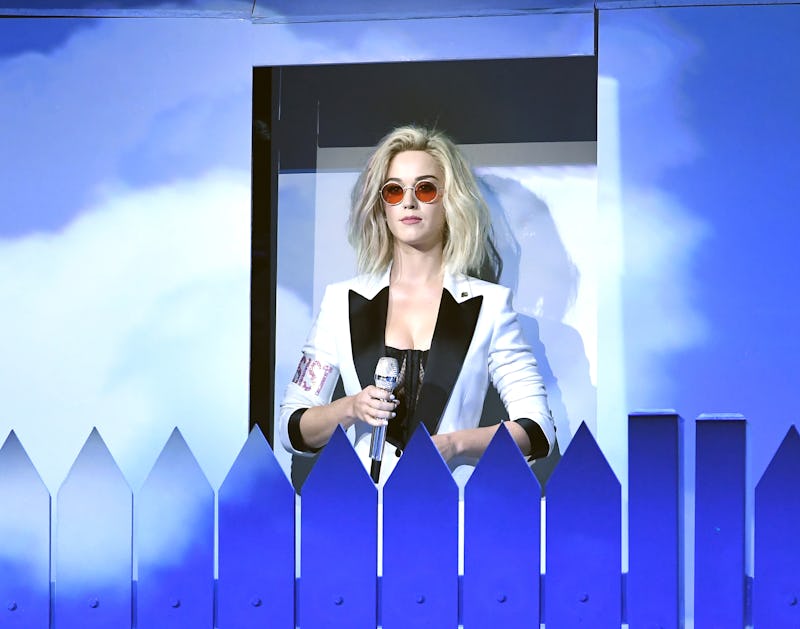 Kevork Djansezian/Getty Images Entertainment/Getty Images
Katy Perry made waves on the 2017 Grammys red carpet when she showed up in an incredible Tom Ford gown, complete with a metallic drop waist bodice and a fringed blush skirt. During her Grammys performance, though, she took her fashion from fun to somewhat political — though part of it was so subtle, you just may have missed it.
Perry took the stage to perform her new single, "Chained To The Rhythm," alongside Skip Marley. The song's lyrics and overall message definitely show off a more conscious side of the pop star. "So comfortable, we live in a bubble, a bubble/So comfortable, we cannot see the trouble, the trouble," she sings. Given the current political climate in the United States, lyrics like that are hard to overlook — especially when you factor in that Perry is a very outspoken Hillary Clinton supporter, and also participated in the Women's March in Washington DC.
Simply put, Perry seems to have transformed her messaging from the sticky-sweet goodness of "I Kissed A Girl" to the nostalgic dance floor jam that was "Teenage Dream," all the way to one that sends a bigger message. All of that considered, it's no surprise that she wore white pantsuit (a symbol of suffragettes and Clinton supporters) as well as an armband that said "PERSIST." In case you missed it during the performance, check her out below.
Can you spot the arm band? Here's a better look:
You can just barely make out the end of the word on her left arm here. Luckily, Twitter came to the rescue for a quick shot of the arm band.
If you blink, you might miss it — but the "PERSIST" armband is definitely there. At the end of her performance, Perry yelled, "No hate!" putting a cap on what was definitely a politically-charged performance. OK, Katy-Kat. We see you.