Katy Perry's 2017 VMAs Jokes Are Really Rubbing In The Fact That This Year Is A Dumpster Fire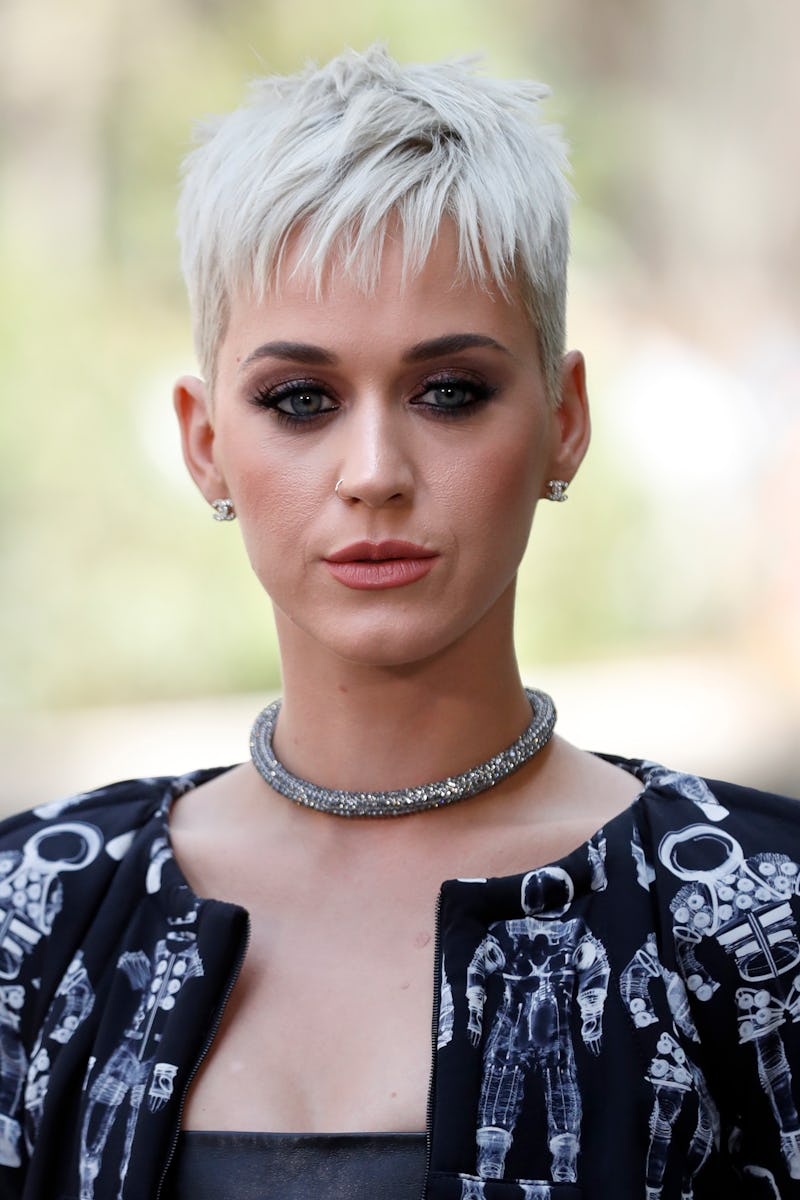 PATRICK KOVARIK/AFP/Getty Images
Hosting an award show is a tough job, but someone has to do it. And when the 2017 VMAs rolled around on Sunday night, Katy Perry's attempt was pretty solid, especially since she mentioned she was nervous during the pre-show. After the ceremony kicked off with an opening performance from Kendrick Lamar, Perry took the stage, and from the moment her monologue began, it was obvious that fans were in for a hilarious evening. Even though some of them were pretty cheesy, most of Katy Perry's jokes from the VMAs, especially the ones about the crazy year 2017 has been, were actually funny.
After her super cute intro video about visiting Mars (with surprise appearances from celebrities like Kevin Bacon and Buzz Aldrin), Perry showed up in a spacesuit of her own, just like the moonperson award that would be handed out all evening. And although most of her jokes centered on how rough it is in the world right now (and how fidget spinners are a thing), what better way to survive it than by laughing at it?
Here are some of Perry's jokes from the night, from open to close. Some of her lines were a little awkward, but in the end, she succeeded in getting everyone to laugh at the mess that's been 2017.
Her Play On The Handmaid's Tale
If you aren't obsessed with The Handmaid's Tale on Hulu, chances are you know someone who is — and it's a little scary how possible their reality seems right now. After arriving on stage from her "trip" to Mars, Perry called the outfit "very retro pilgrim," right before someone dressed as a handmaid brought her a newspaper with a headline reading "the world is on fire."
Her Reference To Fyre Festival
Remember that really expensive music festival that turned out to be a total hoax? Perry brought that up too, playing voicemails from a friend who was there and having a really, really bad time.
Her Mocking Of Social Media Influencers
At one point in the show, Perry brought out a doll strapped to her chest, claiming a publicist told her having a baby would make her more popular... and then went on to say that her baby's name was Bella Sponsored By Fit Tea. The joke got better, though, when DJ Khaled showed up with his baby, Asahd.
Her Appearance On Billy On The Street
During one of her pre-taped segments, Perry was being hounded by Billy Eichner as if she was a contestant on Billy On The Street... and he asked her if the rumors about her being Jon Benet Ramsay were true.
Her Joke About Her Single, "Save As Drafts"
Perry pulled up a few tweets she's been wanting to send to celebrities... including a promise she made to Hillary Clinton about putting out a record that everyone loves.
Her Game Of Thrones Reference
Unfortunately, the VMAs were on at the same time as the GoT season finale this year, so of course, Perry had to come on stage dressed as Daenerys, carrying a dog in a dragon costume. Because why not?
Some of Perry's jokes may have fallen flat, but she did her best to make the night worth talking about, which it certainly was.