Katy Perry Opened The VMAs With A Giant Bummer — Thanks, Katy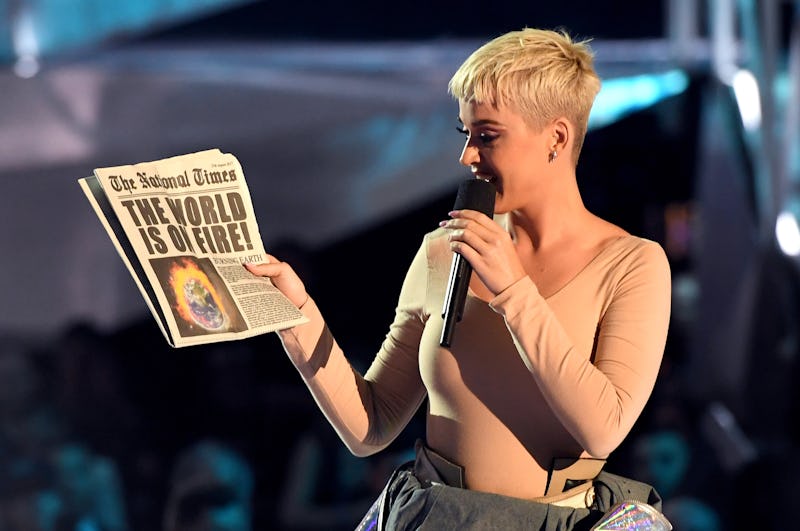 Kevin Winter/Getty Images Entertainment/Getty Images
In today's political climate, it would be impossible for any event to not reference it. Sunday night's VMAs started with Katy Perry emerging from "space" as an astronaut —and then got straight to the political commentary. Perry's VMA intro also included a Handmaid's Tale joke that will seriously bum you out. While the singer supported Clinton during the campaign, performing at fundraising events and constantly singing her praises, it seems like she's having more trouble using the VMAs platform to speak out against the current administration and the violent followers it has condoned.
After having a hanging rack filled with clothes brought out, Perry grabbed a handmaid's cloak and said:
"Oh my god this one is so beautiful. Wow, what is this? Is this Balenciaga for 2007? Very retro pilgrim. It's super cool. 2016 was terrible, but it feels like things are getting a little better, especially in fashion. Right? Correct?"
A handmaid then entered and Perry said, "Sorry, what is this?" as she gives the outfit to her. The handmaid hands Perry a newspaper that says, "The World Is On Fire." A very accurate statement, but one that Perry again leaves alone to do the talking, instead of explaining why its true.
While it's clear that Perry was trying to make a political statement, it was done in a very hit and miss style. Instead of taking a direct approach to call out Trump or the Alt-Right, as Paris Jackson boldly did in her speech right after, Perry beat around the bush.
Some viewers aren't happy, calling her out for only seeing the current state of affairs from her privileged position.
Here's hoping Perry uses the rest of the show to take a stronger stance against the white supremacists currently infecting our nation with hate. It's never too late to stand up for what's right, so let's see if Perry rises to the challenge.